I love using actual books for teaching kids yoga.
Books that have yoga poses already included in the story are wonderful, but if you need a book with a specific theme for teaching a kids yoga class you might want to go get a regular library book.
Most of my yoga classes revolve around stories, either a story that I make up on the spot, or one from a book.
Storytelling yoga, with made-up stories, is a fun way to get kids engaged and moving with very little planning. Once you know a handful of yoga poses that can fit into a storyline, you can be really creative and get right into storytelling with yoga poses.
Here's a good article with some tips on how to start Storytelling Yoga.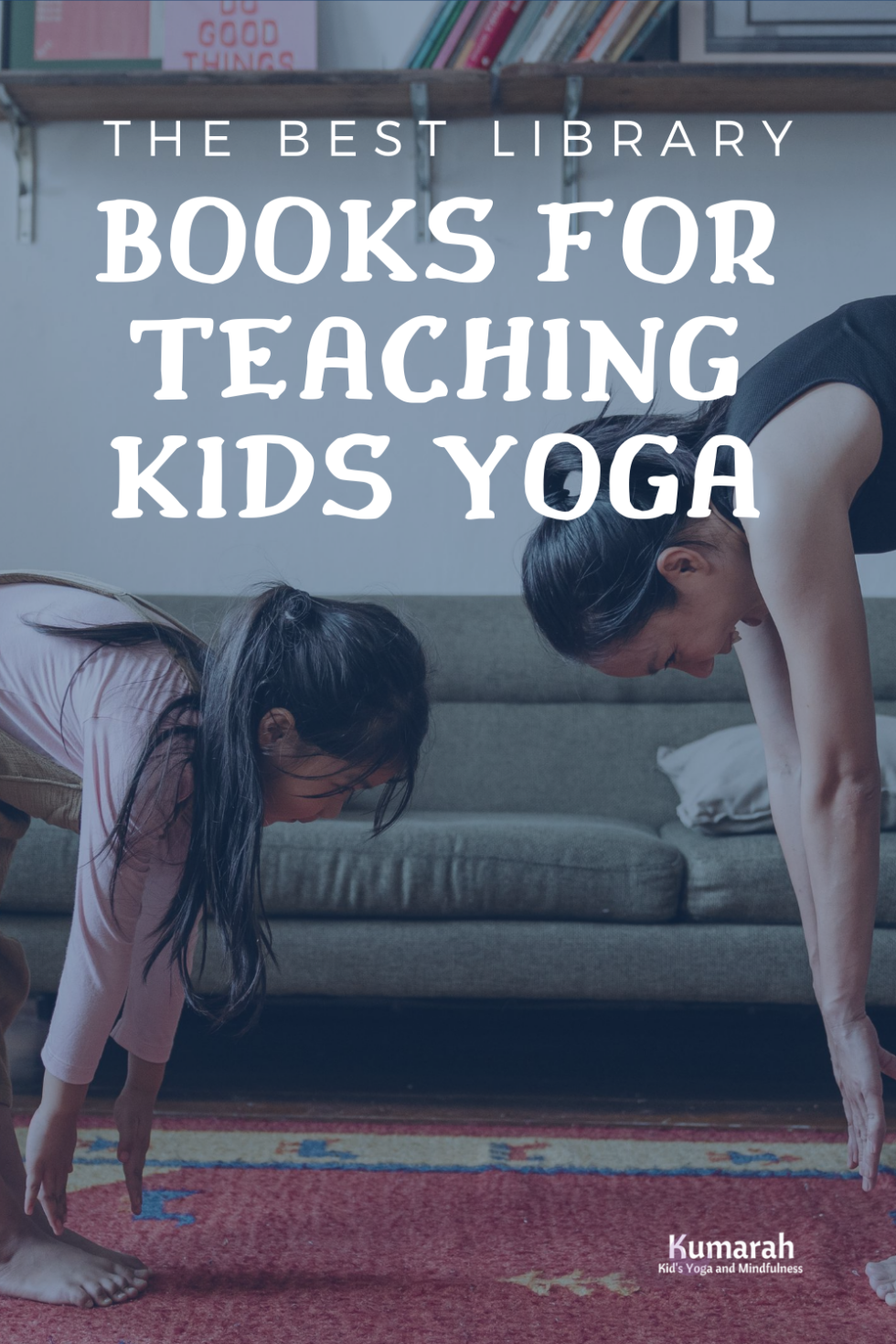 If, however, you'd like to use a real book, with an actual plot and storyline for doing yoga with kids, you have options!
Using actual books and doing yoga poses is really fun and easy once you get in the groove.
You can read the book, do yoga poses, get moving, and even work on some literacy skills.
Click here for more literacy and yoga ideas!
Why might you want to use books to help teach and practice yoga with kids?
Encourage kids to start yoga
I find that kids who are a little hesitant to start yoga might be willing to try the poses if they go along with something else that they are interested in.
Find a book they like that will work with poses. Then, say, hey let's read this book and try some silly poses to go with the characters in the book. Then add in some good breathing while you hold each pose and voila! You're doing yoga 😄
Add a little movement to literacy and reading to keep kids interested in the book
This can go the other way too. If kiddos are really active and have a tricky time getting through a book or story, you can add in movement and yoga poses to keep them engaged. The more that you involve them in the pose creation process the better.
To bring an extra element of structure to your kids' yoga class themes
Some classes have so many moving parts and different activities, it can be helpful to use a book and story time as the "glue" to hold a class outline together. Either start off the class and lesson with a book to introduce a topic or theme or use a book within the theme to keep it going.
Here is a list of awesome themes to use with your kids yoga classes.
Okay, so you want to start doing yoga with kids and books, what books should you use?
The best books for using with kids' yoga poses are ones that have a lot of animals, items in nature, or an adventure story. But you can really be creative. There are so many good options and once you know a lot of kids' yoga poses, you'll be on your way.
I also find that picture books, with few words per page are best for keeping kids attention. But you can use anything that you find suitable!
Here's a list of some favorite books to use with kids' yoga poses.
Imagination Books
Not a Box by Antionette Portis. A bunny plays in a box and imagines all the different things it could be.
Get your free lesson plan from my Free Resources Library here!
Journey by Aaron Becker. A girl goes on a journey with her magic crayon and imaginary friend. I wrote a post and lesson plan on this one that I use quite a bit! Find the article here.
Get the full downloadable lesson plan with the full-size kids' yoga pose cards included here.
Where the Wild Things Are by Maurice Sendak. A boy goes on an adventure to the place where the wild things are.
Anti-racist books
I am Enough by Grace Byers. A young girl compares herself to the beautiful and meaningful things around her.
The Last Stop on Market Street by Matt de la Pena. A young boy and his grandma take the bus across town and notice all the beautiful things in the city.
The Day You Begin by Jacqueline Woodson. Children of color contemplate how their differences make them special.
Follow the Drinking Gourd by Jeanette Winter. A story and song about the journey on the Underground Railroad.
Get the free lesson plan from my Free Resources Library here!
Animal Books
The Great Kapok Tree by Lynne Cherry. A great rain forest tree and all the animals that live in it convince a young boy why it is important to the ecosystem.
Get the full downloadable lesson plan with the full-size kids' yoga pose cards included here.
Brown Bear, Brown Bear, What Do You See? By Bill Martin Jr and Eric Carle. A good rhyming book with lots of animals. Also see Polar Bear, Polar Bear, What Do You Hear? And Panda Bear, Panda Bear, What Do You See?
The Mixed-Up Chameleon by Eric Carle. The chameleon wants to be like all the other animals he sees until he realizes a valuable lesson.
Can't Catch Me! By Constanze von Kitzing. A little lion tries to catch camouflaged animals on the savannah
We're Going on a Bear Hunt by Michael Rosen and Helen Oxenbury. A family goes out in nature on an adventure to find a bear.
I Want My Hat Back by Jon Klassen. A bear loses his hat and asks several different animals if they have seen it.
See the video of me going through the yoga poses here!
Books about Feelings
My Many Colored Days by Dr Seuss. A book about feelings, emotions, and the animals and colors that match our most expressive days.
Get the full downloadable lesson plan with the full-size kids' yoga pose cards included here.
Sometimes I Feel Like a Mouse by Jeanne Modessitt. A story about feelings being relatable to different animals.
See the video of me going through the yoga poses here!
Bug Books
The Grouchy Ladybug by Eric Carle. A ladybug tries to prove it's worth to all the animals that are bigger than him.
The Very Busy Spider by Eric Carle. A spider busily building her web doesn't get distracted by all the other animals as she completes her creation.
Fly! By Karl Newsom Edwards. A fly trying to discover his talent is supported by his other bug friends.
The Bug Girl by Sophia Spencer. A young girl discovers how much she loves bugs, even when others think she's weird.
Ocean Books
Commotion in the Ocean by Giles Andreae. A fun rhyming book that tells about all the different underwater creatures.
See the video of me going through the yoga poses here!
Ten Friendly Fish by Debbie Tarbett. Ten fish swim through the ocean meeting other friendly animals.
There Was an Old Lady Who Swallowed a Shell by Lucille Colandro. An ocean-themed book about all the things the old lady swallowed from the ocean.
Gratitude and Kindness Books
The Giving Tree by Shel Silverstein. A boy and tree go through life helping each other.
I have a full lesson plan with printable poses and gratitude activities here!
The Thank You Dish by Trace Balla. A family talks about all the people and animals that were part of making a meal they enjoy.
Hug Time by Patrick McDonnell. A friendly kitten goes out into the world to give hugs to all he sees.
The Whole Wide World and Me! by Toni Yuly. A young girl notices how she is similar to the many things in the world around us.
The World Shines for You by Jeffrey Burton and Don Clark. A beautifully illustrated reminder of all the amazing things in nature that surround us.
Winter Books
The Mitten by Jan Brett. A mitten is lost and used by animals to help them stay warm in the winter.
The Red Apple by Feridun Oral. A bunny trying to reach a red apple in winter enlists help from friends.
Farm Books
The Big Red Barn by Margaret Wise Brown. Go around the Farm and notice how all the animals settle down in time for sleep.
The Little Blue Truck Alice Schertle. A friendly blue truck and its farm friends help a bigger truck.
Zoo Books
Dear Zoo by Rod Campbell. A child writes to the zoo to send them a pet and gets a series of unsuitable animals.
Goodnight Gorilla by Peggy Rathmann. A zookeeper travels around the zoo to check that all the animals are ready for sleep.
Edward the Emu by Sheena Knowles. An Emu tries to be the coolest animal in the zoo by imitating others.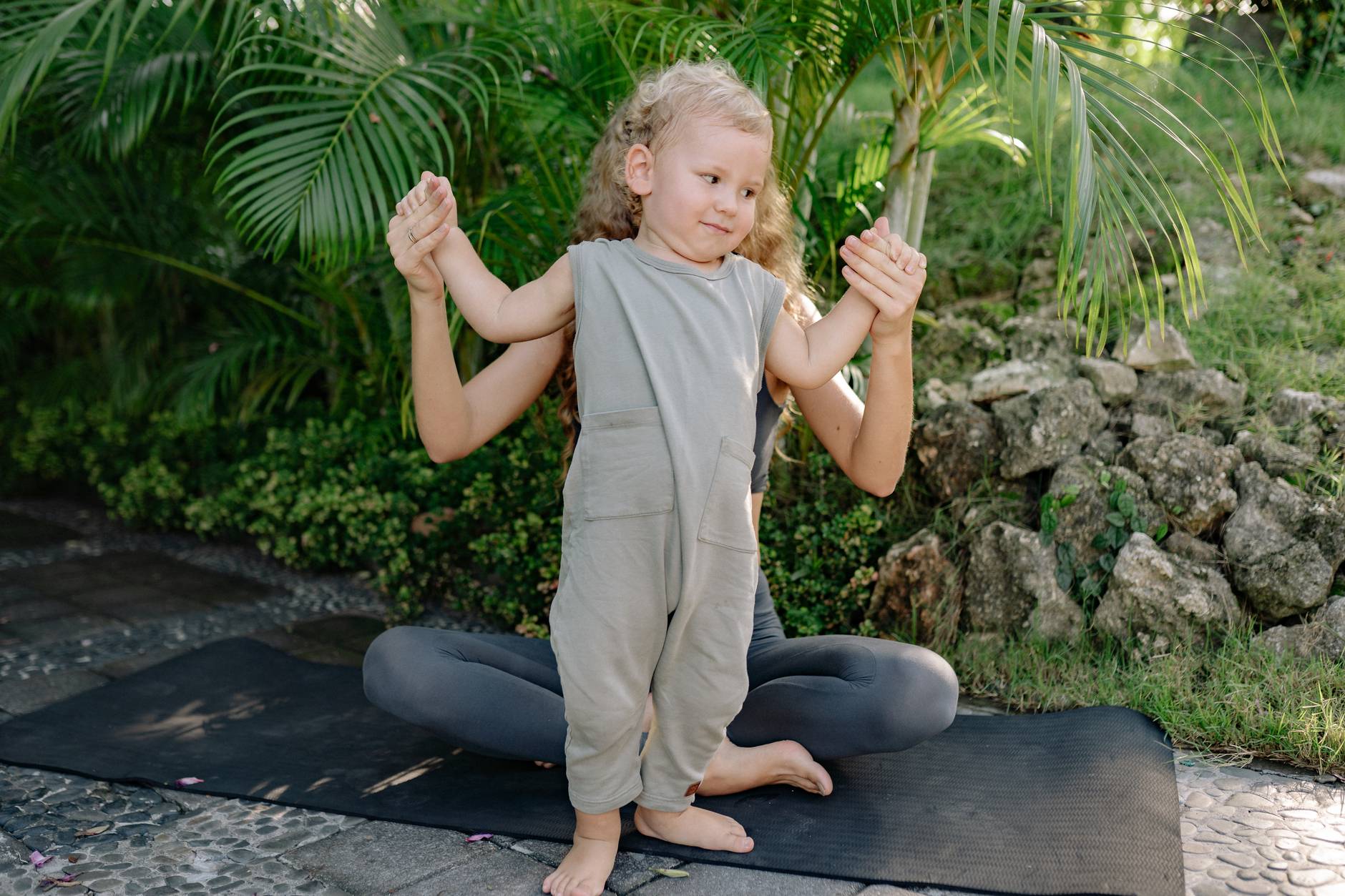 I hope you enjoyed this list of books that are good for teaching kid's yoga lessons! What other books have you used with kids and yoga poses?