Kids need movement, they need connection, and you need a little time for peace and quiet.
Are you stuck at home with kids? Trying to homeschool them or work at home simultaneously?
Maybe you've already tried implementing yoga at home with your kids.
It may be going well, but maybe you also just need a bit more space and time for yourself.
And you still want your kids to be moving and active, not just sitting on the iPad pressing buttons?
Live online yoga classes for kids may be the perfect answer!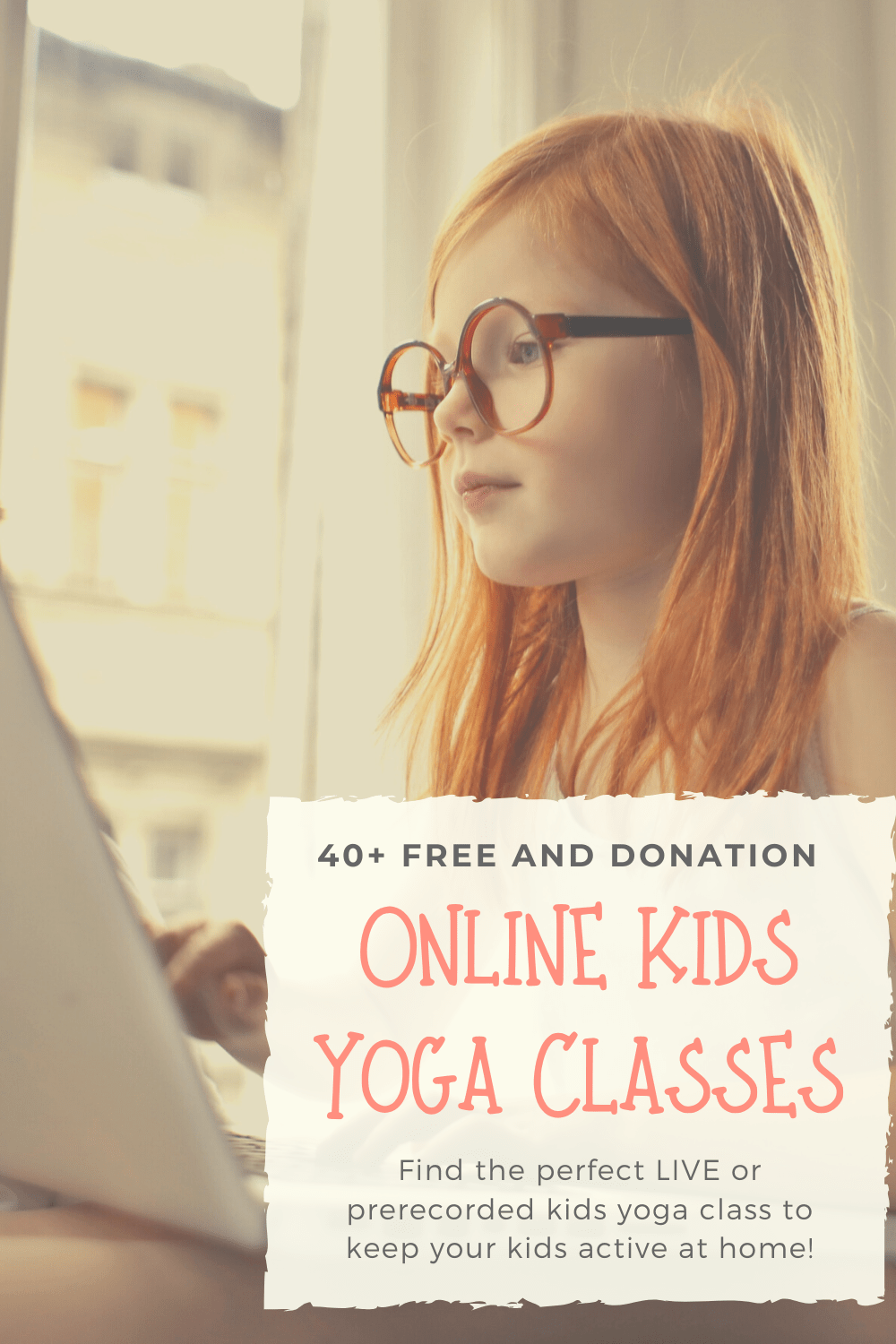 I am full-time kids yoga teacher and I have been creating kids yoga videos to post on my schools' websites, and also on my YouTube channel.
But there's no substitute for live classes.
I'll be honest, I miss my students desperately. I miss their craziness and their fun. And, I miss my adult yoga classes.
I started a YouTube channel with fun themed-based yoga classes for kids. Here's my favorite so far:
But doing the livestream classes, seeing and connecting with people that I know, even over a screen…that has helped immensely.
I've been doing my own adult livestream classes through my local studio, UP Yoga MN, and honestly it has completely saved me.
It's not perfect. But it sure is good when the alternative is sitting at home alone doing nothing. (no judgement if that's what you want to do though!)
Live Zoom, or livestream, yoga classes for kids are brand new this spring of 2020, thanks to the COVID-19 pandemic keeping so many of at home.
We want to stay safe, we want to prevent the spread of this disease, but we also want to stay sane and healthy.
Doing yoga, getting some exercise and movement, practicing mindfulness, and even building connections–all of those things can help us, and our kids, maintain a level of wellness that may even be sustainable.
So, I compiled a list of kids online yoga classes, most of them run via Zoom. Some of them are free, some are donation based, and some are pay as you go.
I'd love for you to support these amazing kids yoga teachers.
Most of them are small businesses: entrepreneurs, small studios, online businesses. All of them are amazing!!
Need a fun Kids Yoga mat to go with their practice and encourage them to do yoga? Try these adorable Little Sun Warrior yoga mats!
Here are some awesome kids yoga classes that your kids can participate in live from the comfort of your home:
I've included information on prices where I found it (if applicable)
Make sure to check the time zone for classes, as many of them take place all over the world! How fun and entertaining for kiddos to hear different accents and learn about different places on the globe as well 🙂
Fio Yoga: FREE classes in English, Spanish and French.
Downpup Yoga: Subscription of 12 classes for $25, FREE sample classes.
Buddha Belly: FREE virtual kids yoga classes, lots of variety for babies, toddlers, kids and teens. CDT.
Honest Soul Online: Donation based classes for kids (and adults).
Grow Happy Family: Membership based recordings and live classes available, paid.
Peaceful Little Yogis: Interactive virtual yoga classes, paid.
Peaceful Poses Kids Yoga: YouTube classes and online classes.
Sweet Feet Yoga: Live-stream weekly donation-based classes for babies to teens. Also, 3-5 FREE mini class videos posted each week on FB and YouTube.
Yoga Bliss: Kids yoga classes via zoom every Sunday 9.30 am and Saturday 4 pm ( Singapore time). Paid classes.
The Children's School of Yoga: Virtual yoga for many different groups, parties, kids with special needs, all paid but a good variety!
Wild Heart Kids Yoga: One month unlimited yoga classes online, paid.
Full of Joy Yoga: Donation based classes for toddlers, kids, and families.
Bliss Kid Yoga: Private and public live classes, most donation based.
Joyful Kids Yoga: FREE weekly online classes.
Harmony Kids Yoga: Series of kids yoga classes for multiple age groups, pro-rated if joining late.
Little Down Dogs Yoga: FREE FB live classes every Wednesday, plus 4 paid zoom classes per week.
Yoga Earth Kids: FREE online classes via FB group.
Movement Junkies: Live kids and family yoga classes, paid.
Kidz Yoga Den: Prerecorded FREE kids yoga classes.
Blossom and Bee: FREE Facebook live and YouTube classes for kids.
Amala Movement Kids: Paid family and kids yoga on Thursdays, UK.
Kidding Around Yoga with Kylie: Saved FREE online kids yoga classes and information about new classes.
Yoga Bright: Paid kids yoga classes, yoga for children and families, UK.
The Yoga Crow: Weekly live YouTube yoga classes for kids, based on age group, FREE.
Kids Love Yoga Online: FREE 1 week trial of kids online yoga classes, UK. Progressive course for kids, monthly £6.50 after trial.
Amazing Me Yoga: FREE yoga online every Sunday, UK.
Play to Grow: Daily FREE FB live classes, other schedule online classes.
How Many Yogis: Paid kids yoga classes and family yoga classes, UK.
Childlight Education Yoga: Paid live Zoom classes for kids from babies and up.
Karma Kids Yoga: FREE and paid classes for kids of all ages, babies, toddlers and up. Full schedule, EST.
Elly Lovin Movement Arts Education: Movement arts classes for kids, creative dance! Pay what you can series of classes, no one turned away.
Love Evolution Studio Classes: FREE live kids' classes every Monday and Wednesday at 5:00, as well as an archive of past classes on the page.
BEE You Yoga: Paid online yoga classes for kids of different age groups, including Mommy and Me.
Kids Need Yoga: Pay what you can online classes, CST. Variety of ages and times.
Challenge to Change: FREE YouTube classes.
Little OM Big OM: FREE classes for various ages!
Sprouting Yogis: FREE classes on YouTube! Also kids yoga and mindfulness boxes!
Yoga Action: Online Yoga for kids and tweens, Mondays and Fridays, paid.
Yogi Beans: All donation based! Yoga birthday parties and virtual playgroups.
Mooka: FREE yoga, mindfulness, and growth mindset practices for kids on Facebook and YouTube
Little Flower Yoga: FREE 10-15 min online yoga practices for kids.
Mindful Yoga with Liz: Daily classes for kids of all ages, paid
Zu Yoga: Pregnancy Yoga and Family yoga, UK
Mukti Yoga: Yoga for kids, Fridays and Sundays, donation based, Tanzania.
Kids Yoga Playground: FREE kids yoga classes on Facebook, her kids join in, it's so cute!
Kids Yoga with Aga: FREE live classes on Facebook!
I'll be adding more class options as I find them. In the meantime, happy yoga flowing with your kids wherever you are!
Let me know what else you have been doing to stay safe and healthy at home during this time!
Don't forget to try these fun kids yoga poses at home for when a class just doesn't work: