The first thing I ever got that inspired me to teach kids yoga was an adorable set of yoga cards for kids.
It started me on the path to becoming a full time kids yoga and teacher which I have been for the past 6 years.
Taking a kids yoga teacher training (where I got that first set of yoga cards for kids) was one of the best decisions I have made in my life and career.
The first kid's yoga training course I took was just a two-day certification, but it was with a local instructor.
We received an adorable set of yoga pose cards for kids. They are hand drawn, and very adorable, but SO hard to find elsewhere!
So when I started teaching yoga in a public charter school, I began to worry about them getting used too much and broken.
I also realized what an ESSENTIAL part of teaching yoga these visual pose cards are.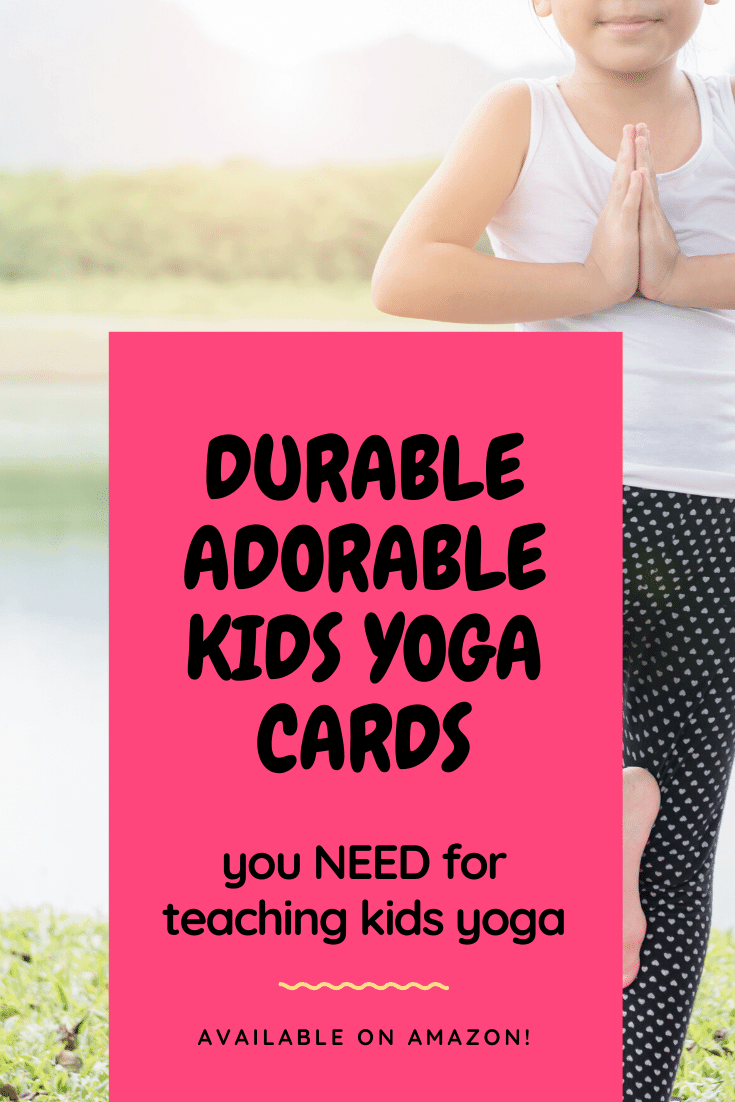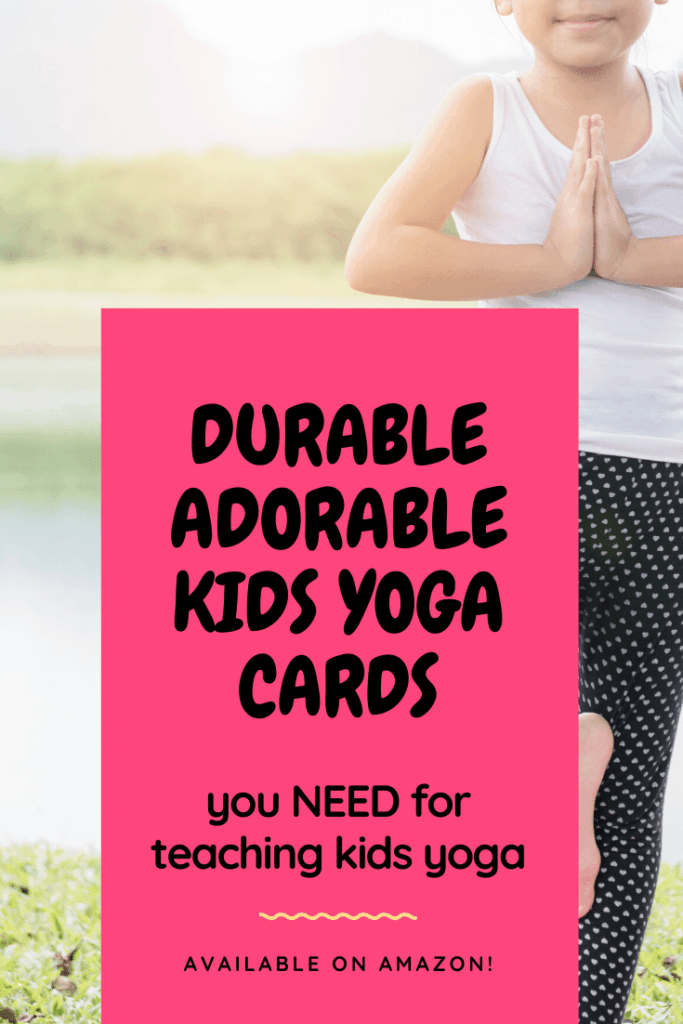 My favorite and most useful tool so far in teaching has been these physical yoga pose cards that I've purchased from Amazon.
Books with yoga poses are great too, but they work best for kids in a small group or one on one.
They are handy because they are sturdy, I can store them in plastic bags, use them for yoga centers, and reuse them for all of my classes!
If you are in need of some free resources for kids yoga online, check out my Free Resources Library:
Yoga cards for kids yoga poses are an essential tool for teaching kids yoga to a group of children.
They also work really well for letting kids teach themselves some yoga, too.
Yoga pose cards are fabulous tools for many reasons:
They are visual representations of poses that kids might be more interested in copying (rather than doing what an adult says).
Kids can use them by themselves in centers or at home, or as a whole class.
They can be passed around and looked at closely, or shared from afar.
You can play all kinds of games with yoga pose cards.
They can be scanned into a computer and used in a PowerPoint (time-consuming, but worth it… just don't redistribute images or break copyright laws!!)
Kids can make their own yoga sequences setting up the cards in order.
So once I had a (small) public school budget, I had to decide which cards to spend it on. After some trial and error, and over 4 years of consistent use by my students, I have come up with the top five BEST decks of kids yoga cards you can find on Amazon.
Here are the five best sets of Yoga cards for kids explained and rated!
Ratings are entirely my own opinion, out of 10, with 10 being the best.
# 5: Kid's Yoga Challenge Pose Cards
Variety: 7
Usability: 8
Durability: 5
Attractiveness: 6
Overall: 6.5
These cards are cute and simple in design, but slightly lower quality in durability. The mantras on each card are cute and useful sometimes, but there is no description of how to do each pose.
The poses in the set are pretty traditional (not too much extra variety). The partner poses are a great addition, for sure. That's probably the best part of the set in my opinion.
Though the kids on the cards have some differences in skin tone, I think they are not quite as multicultural and therefore slightly less appealing to my students. Also, the background is all the same on every card. However, it is a great option and addition to any classroom or home.
#4 Yogi: Yoga Cards for Joyful Learning
Variety: 7
Usability: 8
Durability: 8
Attractiveness: 8
Overall: 7.75
These cards are super cute, hand-drawn, and have good image backgrounds. Each pose is in the deck twice (once just the image, the other with a description). They all have the same blue design on the flip side, which means my kids can play "Yoga Memory," a great game! The set also comes with some cute cardboard dice that work well for individuals or small groups to use.
As a teacher, it's harder to monitor how well they are treating the cards, but luckily the manufacturer noticed the previous negative reviews on Amazon and updated them recently! They are MUCH more durable than they were two years ago, I'm impressed with the higher quality.
Since the cards get used in a competitive game, they are at a higher risk for destruction, but they are sturdier than they used to be which is great! I would also prefer them to all be either vertical OR horizontal, not both. STILL, I have 3 sets now, and I love using them with my classes!
Variety: 8
Usability: 8
Durability: 10
Attractiveness: 8
Overall: 8.5
This is another favorite set. I actually use this one most frequently with my older students (ages 8-12) because the poses and pose names are the most similar to adult poses.
Yoga Pretzels are a set created by famous yogi Baron Baptiste. These cards are super durable, they are slightly larger than most other sets, and the colors and images are really easy to look at. There are adjectives around the edges which help describe how you might feel doing each pose.
Half of the cards are horizontal, and half are vertical, which isn't how I'd design them, personally. But the best part about these is the awesome set of partner pose cards that came with it! My students LOVE partner poses and having these images was super helpful in teaching kiddos how to do new postures as a pair.
There are breathing cards, relaxation cards, and game cards too. We love these!
Variety: 10
Usability: 7
Durability: 8
Attractiveness: 10
Overall: 8.75
This was one of the first sets I got as a public school teacher, and it has continued to be a favorite for me and my students. I also got the poster and matching book, and there is something super appealing about the images for my kiddos. I think it's the cute designs that aren't too complicated, and set on mostly white backgrounds.
I love that they are all vertically oriented, it makes them easy to organize and align for sequences. There are little poems on the back side, and there are 52 different poses, which is a LOT! We use these all the time. The ABC pose cards are great for all ages, especially younger kids working on their alphabet.
My #1 Choice: Enchanted Wonders A-Z Yoga cards
Variety: 8
Usability: 8
Durability: 10
Attractiveness: 10
Overall: 9
These are my new favorite cards, hands down! The drawings and images are SO beautiful. The cards all have bright colors, the kids are multicultural, the backgrounds are adorable. I just LOVE them. They are super sturdy cards, and slightly larger as well (like the Yogi Pretzels). The poses are little different, too, so it was nice to get this one for the variety of cards. It was great for promoting more storytelling with new pose names for each letter!
There are a few additional game cards which are nice, too. The images are half vertical and half horizontal, but I mind less with these since the backgrounds are all so beautiful. Mostly, I love the poses and images, and the adjectives to describe each pose is an added bonus!
One thing that I never did find in the physical yoga card decks were cards with enough diversity.
So, I recently created my own set of kids yoga cards (digital only at this time) that have more diverse students, kids with different hairstyles, and clothing.
These cards are the results! I love them because they are so representative of my kids in my school, which helps them feel valued.
Check out the Kumarah Yoga Kids Yoga Cards for a Yoga Flow here!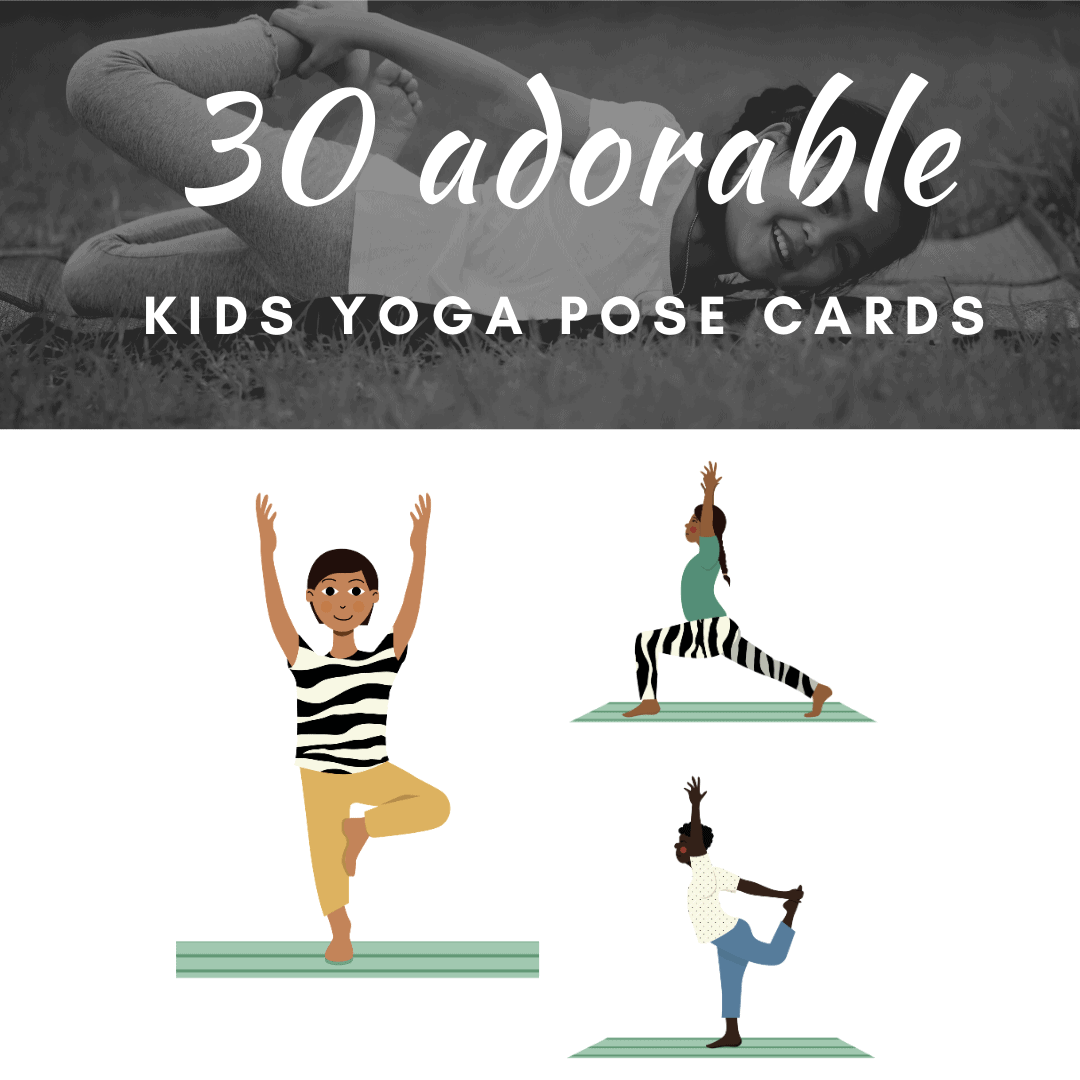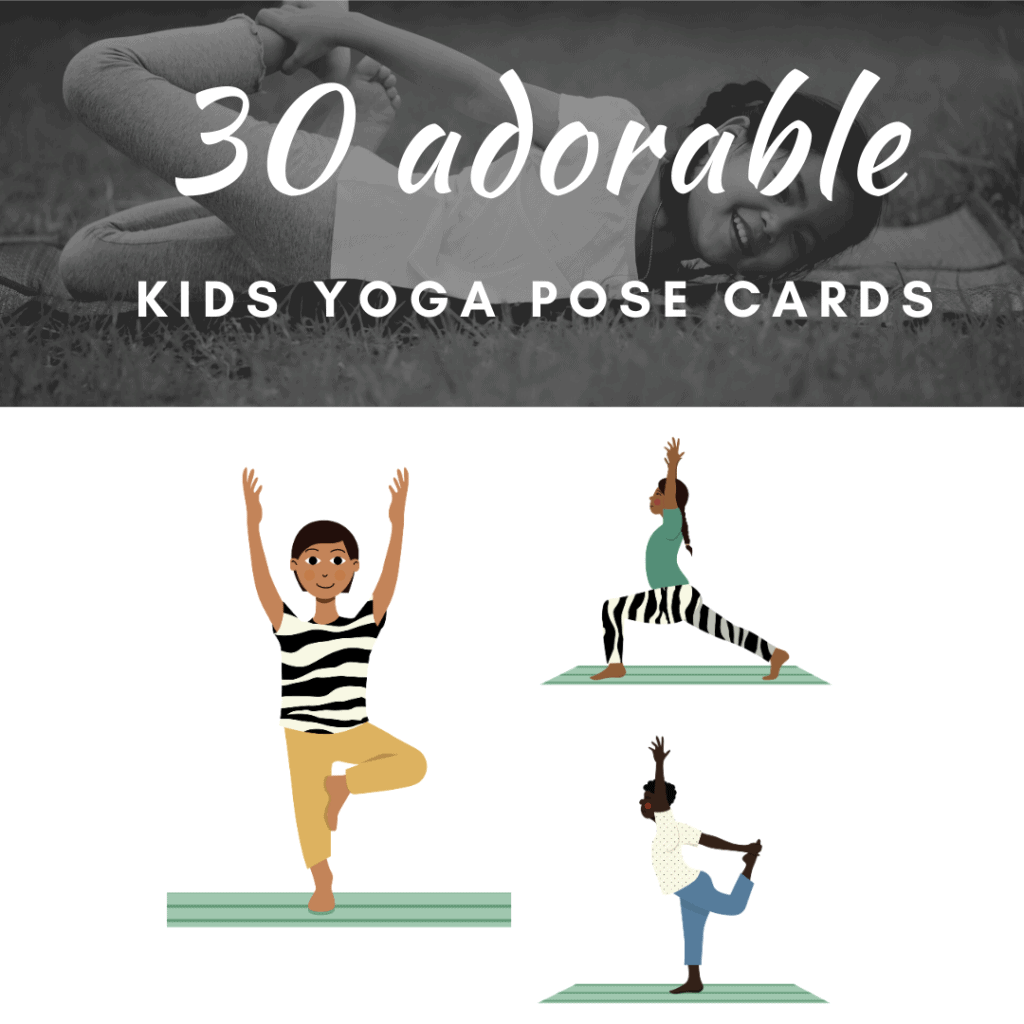 Once you have your own sets of yoga cards for kids, you have lots of options.
Use them yourself exclusively, or let the kids play with and use them on their own.
Play games, create a routine, tell stories, and more!
I have put all of the pose cards that I have into Ziplock bags in a box in my room. Students choose a bag for their centers time and then create a routine, practice all the poses, or play a different card-based game on their own for a short time.
Having yoga cards in centers helps them build self-esteem, self-advocacy, and also just gives them freedom of choice, which they really need in school.
I had been getting lots of requests for more games, and I have written several posts on games and activities. Check them out here:
And of course, make sure to read this post here:
How to Play Engagingly Creative Yoga Games with Your Kids or Students
You'll learn about the best games to play with your new yoga cards!
Again, my top choices of cards are these three here:
I'll post more games and activities soon too, which you will get directly to your inbox if you've signed up for the 7 Days of Kid's Yoga and Mindfulness Freebies!
Also,
Thank you for reading! Enjoy!
(Post updated February 2020)