Yoga books are a super fun way to help introduce yoga, mindfulness, and movement to kids.
The best new yoga books for kids to buy right now:
Scroll down to see the full, constantly updated list of best kids yoga books!
Having an adorable and succinct story to teach kids how to do poses is a great way to introduce or spark an interest in yoga in little ones.
There has been an explosion of beautiful and endearing yoga books on the market in the last five years.
In my first year of teaching yoga in a public school, I basically had to turn regular books into yoga stories by inventing a pose for each character or page.
Here's a list of the best "regular" books I used that worked well with adding in yoga poses.
Creating your own yoga stories from scratch is also fun and effective!
This worked pretty well but was harder to show all of the poses myself, and therefore harder to maintain engagement.
Now, there are plenty of amazing yoga books and yoga stories for sale online, in bookstores, and on Amazon.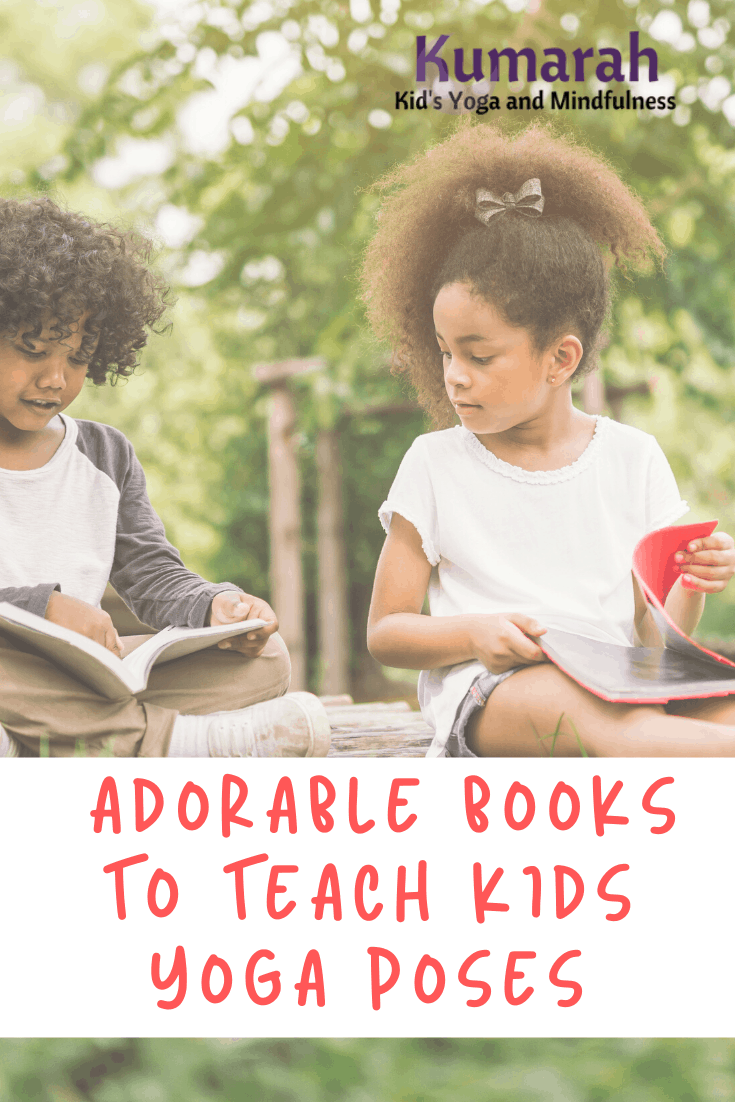 I have bought quite a few yoga books for use in my classroom. I have them sitting out for my students to use during their independent centers, and in the "Mindfulness Reflect Zone."
I love using them to guide a whole class through a yoga sequence too. It works really well if your class is in a circle, and most work with space right next to a desk, too! It might feel a little crowded but they'll still have fun and get all the benefits of doing yoga.
I've written a post on How to Teach Kids Yoga with Storytelling with a ton of ideas on how to make literacy and yoga work together at home or in a classroom!
Also, make sure you get access to the Free Resources Library. You'll get 11 downloadable PDF's of lesson plans, games, mindfulness breathing cards and more!
One thing that makes a good yoga story, in my opinion, is for each page to have a different animal or thing to create a pose from.
Next, it's best if there are not too many words on each page. That way, the kids can practice a pose and listen to the words in a relatively quick time before moving on to the next pose.
Another good quality yoga books need is a place to describe how to do each pose, either during the story or after. All of these books below fit my qualifications well!
So, without further ado, here are my favorite yoga stories for teaching kids how to do yoga, and letting them discover yoga on their own!
Our Family's Doing Yoga by SonJoria Sydnor
A book created by a mother and yogi who wanted more representation of Black folks in the world of yoga. A delightful book about a family who practices yoga together and uses the time for bonding, playing games, and staying healthy together. A must-have for any family or classroom library.
Happy Yogis: A fun kids yoga book with positive affirmations (English or bilingual Spanish edition) by Sandy Zanella
I love that this book is available in English and also a bilingual Spanish version! It also has a mantra and positive affirmations on each page, which most other books don't have. Go through the yoga poses with the mom and her two children – a boy and a girl – to learn new yoga poses, affirmations, and connect with your family. Great new book!
Smile with Yoga: Fun, Mindful, and Engaging Yoga for Kids (and their parents) by I. Rekem
This is another sweet animal-based kids yoga story, but you can never get enough, in my opinion! I like how the animals and kids do the yoga poses in the images; the descriptions make every pose playful. Very fun and endearing images on this yoga adventure of all the animal habitats.
D is for Downward Dog ABC: Yoga ABC Book for Kids by Calm and Mindful Press
Endearing images of a young girl and her dog, this ABC yoga book is a must-have for kids yoga class of all ages. The bonus sun salutation sequence is really cute too!
Yoga Animals: A Wild Introduction to Kid-Friendly Poses by Paige Towler
This is a great book with real-life images of the animals and kid-friendly yoga poses. Rhyming poetry to go along with each pose, it's a great book for trying some fun wild animal-themed yoga poses.
Let's Make Yoga Magic by Heather Leah and Sandie Sonke
A lovely illustrated board book with 13 yoga poses for kids of all ages. I love the representation in this beautiful book. Great for introducing kids to yoga or practicing poses that you already know!
Yoga at the Zoo: Little Mouse Adventures by Teresa Anne Power
A new book by Teresa Anne Power, this adorable story follows a mouse and cat and the little girl Tammy as they explore the zoo. Learning yoga poses along the way, they also learn basic life lessons on friendships, meeting others, and encountering stressful situations. Very sweet story!
A Little Calm SPOT: A Story About Yoga and Feeling Focused by Diane Albers
There are a bunch of these books with this little dot that learns life skills and practices emotional awareness. Here is a popular set on emotions. The yoga book is cute because it weaves a little yoga and mindfulness into the practice of learning how to focus. A great book for young kids and elementary age.
Dinosaur Yoga! By Mariam Gates
A perfect book about yoga to help entice kiddos that might not be interested in yoga but love dinosaurs! Try some dinosaur-themed yoga poses, learn dino facts, and enjoy this adorably illustrated yoga book for kids.
Calm Ninja: A Children's Book About Calming Your Anxiety Featuring the Calm Ninja Yoga Flow by Mary Nhin
This is an adorable new yoga book for kids (as of August 2020). I would love to use this in my classroom with kids because it's all about a Ninja that does yoga, and also uses some wonderful affirmations. It takes us through some scenarios where Ninja is frustrated or mad, and shows what poses he can do to help regulate his emotions. It's very cute!
Llamaste and Friends: A Yoga Story by Pat-a-cake
This is a newer yoga board book for kids, with an adorable Llama who teachers her friends how to be calm and brave with yoga poses! Adorable pictures and very practical advice for kids who are just learning about yoga and how to use it to help them manage big feelings! Love this one.
A Yoga Adventure Through Space by Robyn Snow
I love a good themed yoga book for kiddos and this outer space adventure definitely delivers! It's a cute yoga adventure that also teaches kids facts about the solar system, the moon and the sun, and fun things about the planets. The adorable colored space suits and alien who shares facts make this even more fun. Definitely a must-have book for any class or kid that loves space!
For more kids yoga class themes and poses check out this article.
Anna and Her Rainbow-Colored Yoga Mats By Giselle Shardlow
Look for more Giselle Shardlow's books, Kid's Yoga Stories. These are the first books I found that had yoga poses written into the book. I use a lot of her books in my classroom, mostly to let kids do the poses in the books by themselves. I like reading them aloud too, but I find in my classroom that kids will participate better if I do the poses, too, so usually, I let them read these stories to themselves or each other.
I like that the stories take place in different places around the world, and the characters are all different in many ways. My first book of hers, Anna and the Rainbow Colored Yoga Mats, was an excellent introduction to yoga for my students. It tells of a little girl who doesn't quite fit in, but she does yoga because she loves going on "adventures" around the world. She makes a friend, and together they get others interested in yoga too. It's a heartfelt book with a good message. Grab yours on Amazon, or buy any of Giselle's books on her online store here.
Zoo Zen: a Yoga Story for Kids by Kristen Fischer and Susi Schaefer
I found this book last year on a trip to Boston and I bought it immediately. I absolutely love the adorable images, the cute girl named Lyla with her curly hair, and the poses in the book are simple and easy to do. I had a kindergartener this year who would walk in and immediately go over to my bookshelf and take down this book and the do every page of poses. Each page shows a different yoga pose and animal that Lyla meets at the zoo. One of our favorites!
Good morning, Yoga and Good Night, Yoga by Mariam Gates
These two books are beautifully illustrated, pose-by-pose yoga stories with the sun salutation for good morning poses and wind-down calming poses for before bed. The rhyming words give a nice cadence to the stories, and the imagery of the text is really lovely. My kids love both books to do all by themselves! I find the words are easy enough to read to young kids, and great for elementary readers, too.
Yawning Yoga by Laurie Jordan
This book was a new discovery for me recently. I love the poetry, and each page has descriptions of how to do the poses. It has nice calming and relaxing poses especially good for winding down before bed. It's a little more appropriate for yoga in a studio or at home since it starts with an instruction to "OHM," but I love it nonetheless. Great pose descriptions and easy to follow. I really love the attention to mindfulness, too.
Yoga Friends: a Pose-by-Pose Partner Adventure for Kids by Mariam Gates
Another great book by Mariam Gates, this partner pose book is awesome! I got it this year and my kids LOVE using it with a friend to try the partner poses. It's a sweet message too, all about working together and helping each other. I absolutely love having a partner book for my kids to use together or as a team. This is an absolute must-have for a classroom setting, especially with older elementary and even preteens.
Yoga Bug: Simple Poses for Little Ones by Mariam Gates
I love this cute book for my youngest kiddos. My sister uses it with her two-year-old as well. Easy to read and follow, this is a perfect book for toddlers and early preschoolers to be introduced to several yoga poses. I love the body acceptance message and ideas for self-soothing. A must-have for young yogis!
She also now has Yoga Bear, Yoga Bunny, and Yoga Whale! ALL of my students love these adorable books, even the 4th graders!
Little Yoga: A Toddler's First Book of Yoga by Rebecca Whitford
This is another adorable book great for toddlers. It has nine poses to try with little ones, and the text is simple and easy to follow. This is a great book for introducing yoga to the youngest members of your family. Handy to have these perfect kids' yoga board books.
You are a Lion, and Other Fun Yoga Poses by Taeeun Yoo
This was one of the very first kids' yoga books I found. I use it every year at the beginning of the year to introduce a few basic poses to my kindergarten classes. I like it because it has a double page with simple how-to-do instructions, and then it says "You are a…" and you turn the page to find out! It's cute because it gives the kids a chance to guess what animal they are, or to feel empowered in knowing the poses after you have read the book several times.
Peaceful Piggy Yoga by Kerry Lee MacLean
I found the Peaceful Piggy books during my first year of teaching and immediately got several. This one is a great book for introducing what yoga is and who yoga is for (everyone!). I liked the silly pictures and descriptions of people (and pigs) that do yoga and how it is good for them. It's a little longer so I sometimes skip a few pages, but I love having it on hand for certain situations.
I am Yoga by Susan Verde
This is a beautiful yoga book with drawings and simple pose descriptions for kids. I like the affirmative "I am" statements and lovely colors. Each page has a different pose, and instead of naming it and telling how to do the pose it gives you a nice way to imagine your body, mind, and spirit. For example, for boat pose: I can sail on the sea, I go with the flow. Metaphors like these are great for older kids and trying in real life connections to how yoga helps them navigate life. Pose descriptions are in the back as well.
Yoga Bunny by Brian Russo
This sweet book is another new addition to my classroom. I long ago found the print out of the bunny yoga sequence, and to find the matching book made me ecstatic. Bunny meets all sorts of other animal friends on a lovely day and tries to encourage them to do yoga. With a little encouragement, bunny helps them realize that any day is a great day to do yoga poses! I love this book for introducing yoga to more hesitant 3rd and 4th-grade classes.
It basically only goes through the basic poses of a sun salutation but has many more on the inside front and back covers.
Meddy Teddy: a Mindful Yoga Journey by Apple Jordan
This is a super cute book that talks about a teddy bear who does yoga as he is emerging from hibernation. There is an ACTUAL TEDDY BEAR you can buy from this site to go along with the book! Meddy Teddy uses poses on every page of the book to help his friends solve problems. The pose descriptions are easy to use and the story is good for all age levels. I just purchased the actual moldable teddy bear for my classroom, and I think it will be adorable. I'll let you know how I like it in the classroom!
My kids also love the Meddy Teddy Board Book.
ABC for Me: ABC Yoga by Christiane Engel
I absolutely love the sturdiness of this adorable book. It arrived in my classroom last year and it has already gotten a ton of use. It's one pose per page and letter and has some creative poses to match with cute pictures. I love having this book to use in my ABC units as an expansion to the main lesson. Other ABC themed class ideas are here. This is a great pose book for students to use in independent exploration yoga centers.
The ABC's of Yoga for Kids by Teresa Power and Kathleen Rietz
This kids yoga book has the highest number of poses of any of the other books. I was super excited the day one of my co-workers found this book for me at a sale and brought it in to donate to my classroom. It matches the ABC yoga cards I use, and the poster that I had in my classroom. The awesome thing is that it has ALL the ABC poses (more than one pose for some letters) with the poem and image for each one. I let the kids read this book on their own and do the poses to give them some time in the Yoga Zone to be independent.
Thanks for reading my round-up of the best yoga books and yoga stories for kids that I have found so far! I hope you love them as much as I do!
Let me know if you have read or found any other amazing yoga books for kids by commenting below 🙂
*Post updated June 2021*