Ready to learn how to teach yoga to kids?
Teaching yoga to kids is not the same as teaching yoga to adults. There are several things you need to do to make sure you are prepared to teach yoga to kids.
Practice yoga and find inspirational teachers
Volunteer and offer classes in your community
Take a 200 hour yoga teacher training program (optional but recommended)
Follow the steps to legally start your own business
Market your classes, camps, and other offerings to your community!
*Scroll down to get your free copy of my "Get Started Teaching Yoga" checklist!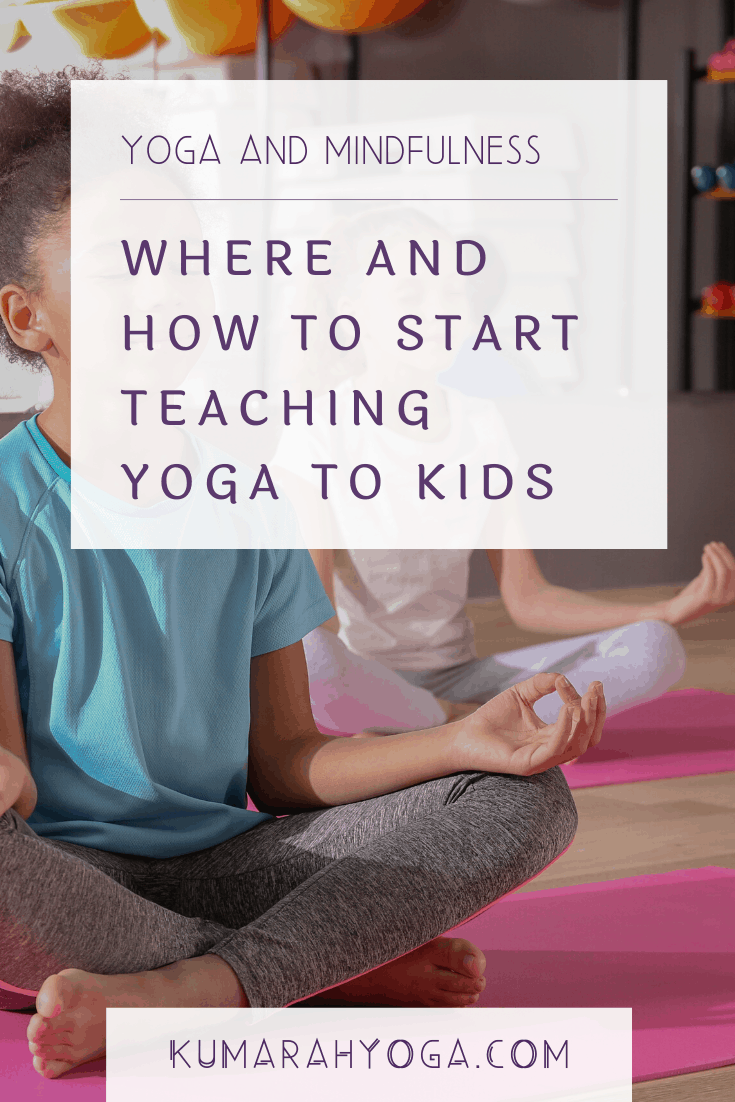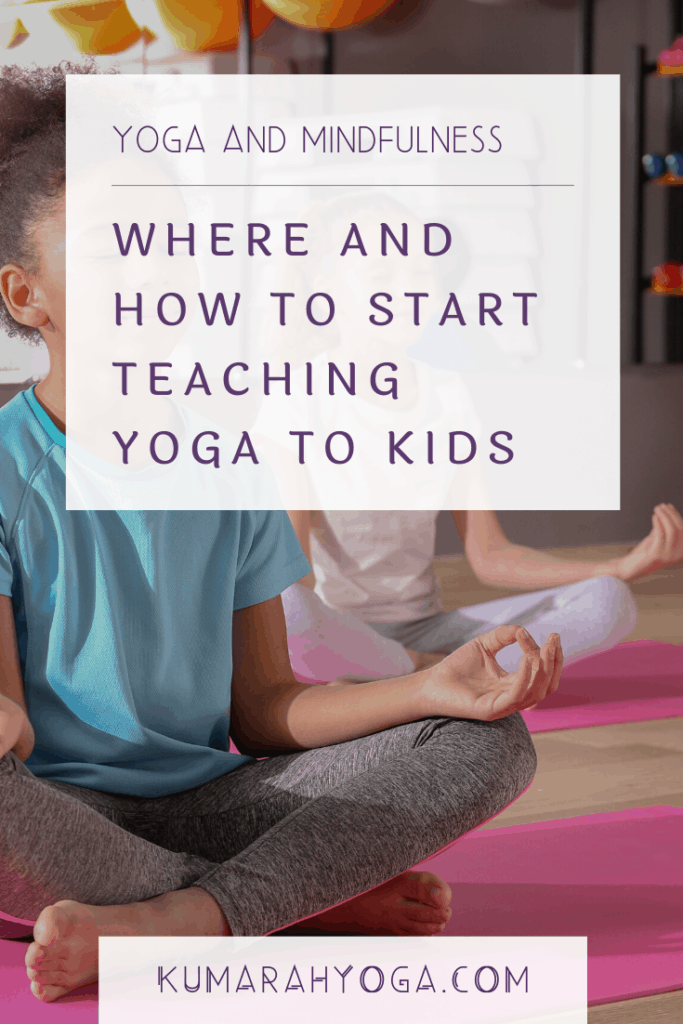 My journey to teaching kids yoga has been long but so fun and rewarding
Teaching yoga to kids has not always been a lifelong dream of mine.
It was something that I kind of fell into on accident.
I always knew I loved working with kids, but I also knew that I didn't want to be a teacher in a traditional sense.
Partly because so many people in my family are teachers and I kind of wanted to break away from the mold.
Also, I didn't get a teaching license in college, I just studied children's education with a fine arts focus and how non-traditional education is good for learning.
I just knew that I wanted to impart knowledge and experience to people, or kids, in some way down the road.
That path in college, combined with my own love of yoga, led me to pursue my 200-hour teacher training with RYT through a yoga studio near me, Green Lotus Yoga and Healing Center.
As I started teaching yoga to adults, I was also teaching full-time at a pre-kindergarten and preschool, where I was hired to teach Spanish (my other college major).
About a year after I got my yoga teaching license, and while I was still teaching pre-k and also doing some traveling, I saw an ad for a kid's yoga teacher training. It was one weekend, only about 20 hours, but I thought it would be fun to try to learn how to teach yoga to the kids at my preschool.
I took the kid's yoga teacher training and was immediately hooked.
It felt so much more fun and exciting than what I'd considered yoga for kids would be like.
I knew at once that I wanted to start teaching yoga to kids at the preschool I worked, and potentially in even more places.
I taught yoga at the preschool, mostly for fun for about a year. In the meantime, I took another kid's yoga course and tried some new ways of teaching yoga using games and mindfulness.
Finally, I volunteered to teach yoga in Kenya, where I had a friend running an NGO. She set me up with some local schools and programs, and I taught 1-2 classes a day for three weeks.
That was an excellent chance to immerse myself in the routine of teaching kids of different levels, ages, and abilities. It also forced me out of my comfort zone and into the world of being the sole teacher bringing a new topic to kids. It was amazing!
In Kenya, I taught young students in a daycare, teens at an all-girls school, a group of children with physical disabilities, and even a group of kids at a school for the deaf. It was a wonderful and fulfilling experience.
Obviously, not everyone who wants to teach yoga has the time or resources to go volunteer abroad. But it was so fun and worthwhile.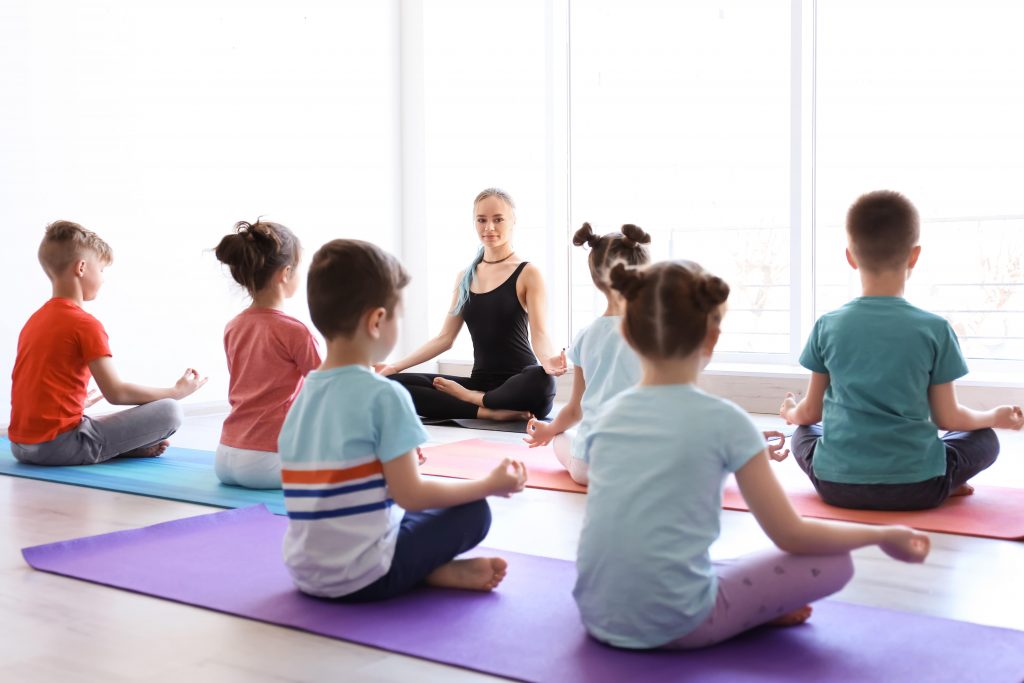 What will your path to teaching kids yoga be?
Here are the steps you should take in order to learn how to teach yoga to kids:
(Checklist with business start-up pointers below)
1. Practice yoga at various studios
This may seem obvious, but it's not always what people do first. It's important to have a basic knowledge of the yoga poses, postures, the flow of a yoga class, and the feeling that you can achieve when taking a class from a great teacher.
Go to several different classes, different styles, and various studios. Experience all that yoga in America has to offer! (Trust me, it's a lot, and it's not the same as what you find in India.)
2. Find an amazing instructor
Find a teacher who understands you, who helps you grow, and who facilitates a sense of calm and well-being.
If you want to be able to impart this feeling of inspiration to others (especially kids!) it's imperative that you understand what it feels like as a student.
If you want to be a teacher who inspires others, try to find someone who can demonstrate that inspiration to you on a daily or weekly basis.
3. Take kids-specific yoga teacher training and certification course
Taking kids-specific teacher training is the MOST important part of learning how to teach yoga to kids.
Kids yoga classes are SO different from adult classes. It's essential to take kids-specific training. There are a huge variety of places where you can take kids' yoga teacher training now (there were only a few ten years ago when I started!)
Taking one online might not seem ideal, but it's an amazing option if you don't have any kids' yoga schools near you.
Plus, in this post-Covid landscape, online training has become so much more versatile and a great way to connect with a variety of teachers around the world. You can share experiences and learn from others in a huge variety of settings!
Kumarah Yoga's Ultimate Teacher Training course online launched just a year ago and has gotten RAVE reviews 🙂
There are tons of videos, lesson plans, and it's a comprehensive course on how to TEACH kids yoga and mindfulness, not just what to teach them.
PLUS, we do weekly live calls, have feedback sessions, one-on-one coaching options, and you get lifetime access!
Take a look at the online course to see if it would be a good fit for you to learn how to teach yoga to kids at your own pace and schedule!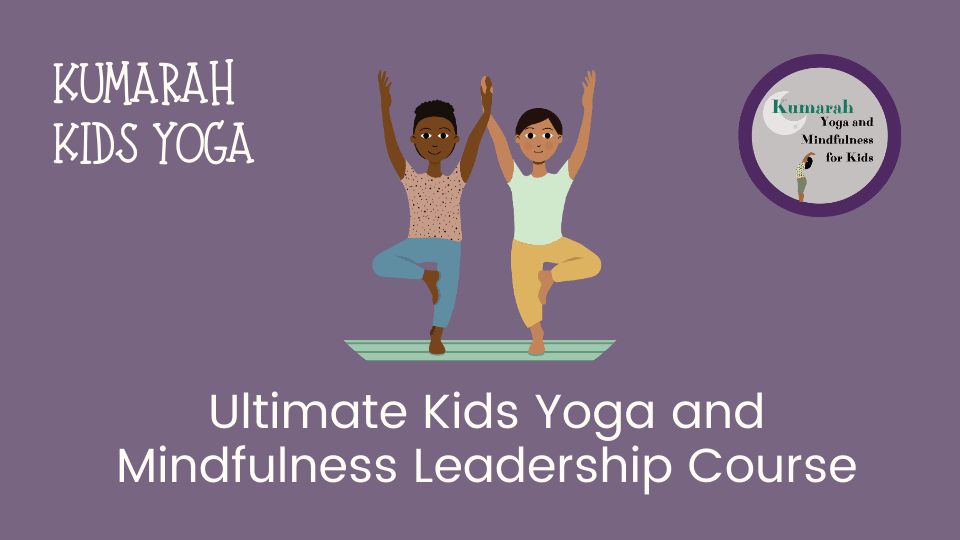 The Ultimate Kids Yoga and Mindfulness Course is amazing! It has really helped me expanded my knowledge of how to teach to different age groups. There are so many practical ideas of breathing exercises, games, mindfulness activities and so much more! Maia also included many lesson plans and printables such as yoga cards to her course. The best part is that I'll have access for life and I can go back to any lesson if I need to. This course is very comprehensive and Maia has a ton of experience teaching yoga to kids and shares her personal experience with an open heart. I am so glad I invested in the course!

– Marie @thezencornerca
The Kumarah Kids Yoga course was very informative with creative and thorough resources. As a school teacher, I feel very confident in my ability to use yoga and mindfulness ideas I learned from the course in my own classes and with my young son.

-Jennifer B.
This course has it all! The information that Maia has put together has activities that encompasses all students and environments. They are fun, engaging, easy to use and create a true community of learners. In addition to that Maia is responsive to emails and a true leader in her field. Thank you for being you and following your passion! I really learned so much from this course, it is the best thing I have ever done.

-Michelle B.
I enjoyed this course so much as I learned in detail how to teach kids not just in a classroom but in many settings. Great detail was outlined about behaviors a teacher may encounter when teaching kids. The way everything was presented was so clear and thoughtfully done. I so much enjoyed this course, as I came away with much more than the poses of yoga but also brought to light my confidence in teaching to kids.

-Ellen S.
4. Volunteer as a Kid's Yoga Teacher
Get some experience teaching kids yoga by volunteering first! It's important to have a good idea of what your classes will feel like, how much energy it takes, and if you really truly love teaching kids yoga.
If you let others know of a skill that you have and are willing to share it for free, you will get opportunities! And the practice is CRUCIAL in building confidence and teaching skills!
Don't volunteer forever, though. And use those opportunities to help market yourself to future businesses, families, and paid opportunities.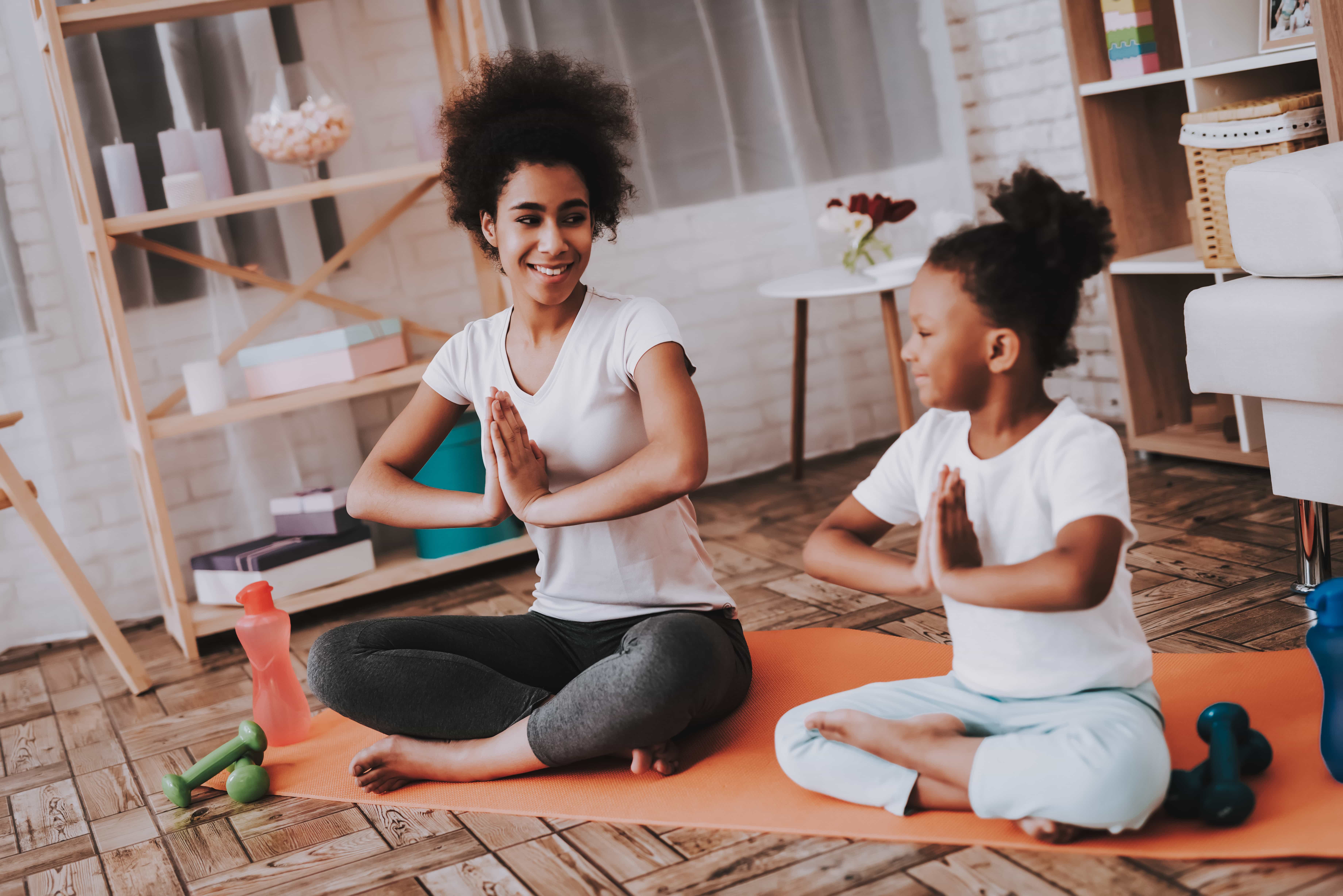 5. Take a standard yoga teacher training course
You don't necessarily have to do this to start teaching yoga to kids, but it's highly recommended and definitely required in some situations.
There are many options for yoga teacher training courses now. From in-person to online, immersive camps, year-long programs, and more!
Again, it's very different from teaching kids yoga, but knowing the basics of yoga, mindfulness, and how to practice it yourself are hugely important when teaching it to others, even to little kiddos.
Plus the experience itself is worth it. You will make lifelong friends and feel SO good with all the yoga you are doing on your own for your own wellbeing.
Yoga Alliance is a great online resource to find credible yoga teacher training and schools near you.
6. Look for local paid opportunities
Once you've volunteered and know the basics, you can start looking for paid work!
Look for options at local yoga or fitness studios, talk to principals in local school districts, social workers at day treatment centers, special needs schools, detention centers, and even at your 9-5 workplace.
Other ideas:
Are there families that have kids who they would bring in for an hour after work on Fridays? $20 a kid for a month!
Check with community centers, churches, camps
Ask at your kid's daycare if they'd like a monthly program
Put up flyers at your neighborhood coffee shop to host yoga parties at homes
Host a yoga party for a friend's kid and pass out cards.
Find a charter school (like mine!) that will hire a specialist teacher for yoga classes year round (or part-time!)
Get the word out that you are a kid's yoga teacher and the opportunities will come knocking!
Grab my free checklist for learning how to teach kids yoga professionally here. Start your kids yoga business!
More suggestions for how to start teaching yoga to kids professionally:
Do a little more research
I read a couple books that I found on Amazon in my first year of teaching full-time. These definitely helped me get new ideas, find new games, and get inspiration to keep working hard!
These are my favorite books on learning to teach kids yoga:
Follow inspirational kid's yoga teachers Instagram
I get SO many ideas for my classroom on Pinterest. It's a huge resource for kids yoga lesson plans!
But I love seeing what folks are up to on Instagram these days too. I love seeing the visuals, watching and hearing what others do, and keeping track of my favorite ideas.
Here's who you should follow:
Talk to the adults "in-the-know"
Once you've found a place to start teaching or volunteer teaching yoga to kids, get to know the place. Talk to the adults in charge.
Ask these questions!
Get to know the hours of the space and your timing
Learn when you should arrive and how early you can get there
Check out your space: is it open? are there desks?
Do you need to bring mats?
Is the space just for you or will you share it?
How many kids will you have at once?
Are there other adults that will be there too?
How are the students?
What are their strengths?
Do they like to talk? Are they shy?
What games do they know?
How many other teachers do they interact with?
What will they be wearing? (If it's a school do they have uniforms? Do the girls wear skirts?)
These are important questions! Find out as much as you can!
Start teaching yoga to kids!!
Gather ideas for themes, outlines, lesson plans, and books to make your first classes seamless!
Go into your teaching with as much knowledge as you can, and plan your lessons from there.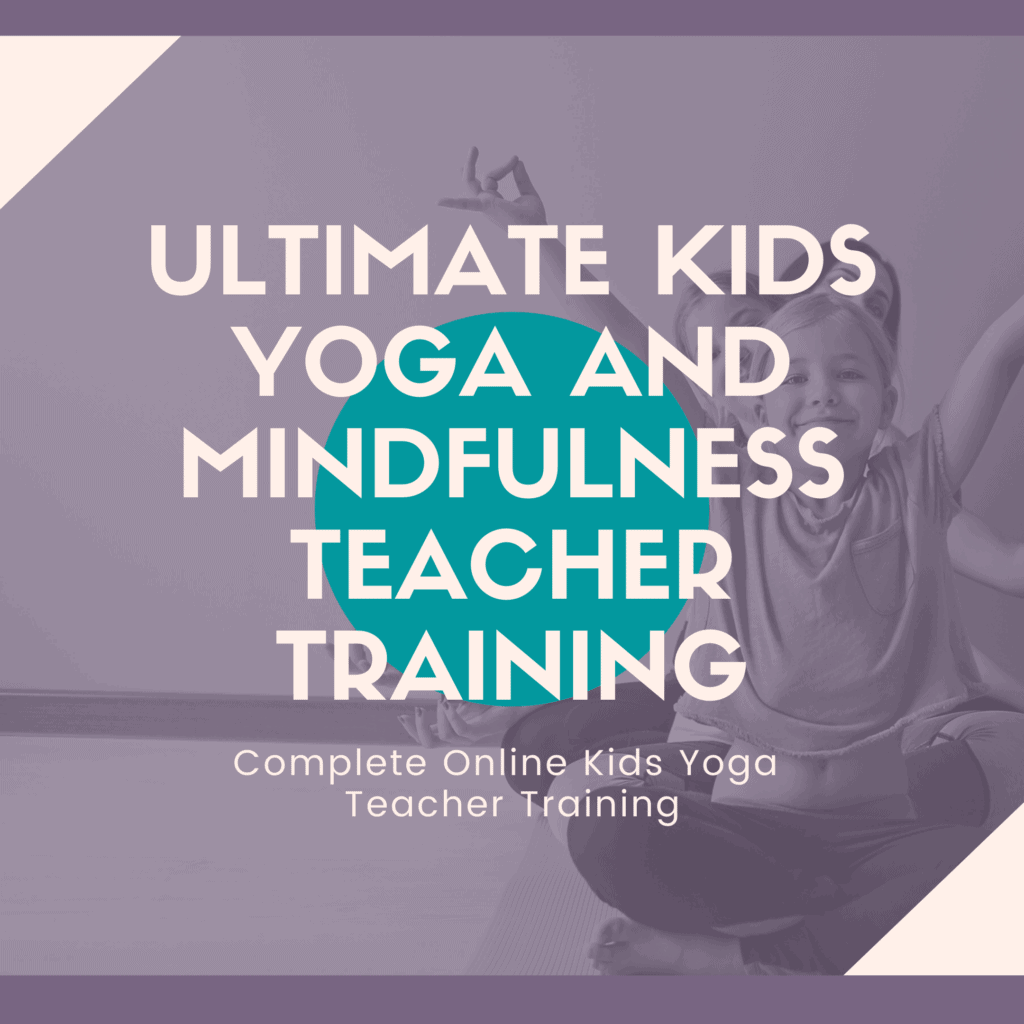 Be honest and real with the kids. Let them get to know you so they trust you. Share and ask questions.
Start with low-risk movement, fun games, and an easy-to-follow sequence.
Bring a book to inspire the kiddos and take the focus off of you.
The best thing to do, wherever you are at, is to learn a lot, be passionate, have courage, be patient and take risks!
You can do it. Get out there and start!