KID'S YOGA CARDS FOR THE PERFECT YOGA FLOW
Beautiful and unique yoga pose images, descriptions, and instructions on exactly how to teach a Yoga Flow, a specifically curated sequence of yoga poses that you can do with your kids or students every single day.
Yoga teacher with little public school teaching experience figures out the key to an effective and engaging Yoga Flow: the perfect way to teach kids yoga sequences and keep them focused, calm, and healthy during any part of the day.
Eight years ago, I took my first training to become a kids yoga teacher. I loved it so much that I took another training right after, then decided to jump right into to teaching kids yoga wherever I could. I was fortunate enough to find a full-time job teaching kids yoga at a nearby public charter school within six months.
I was so excited to share with these kids all the yoga and games I had learned through my training and initial experience. I was convinced it would help them learn and focus and that they would love it right away.
All of my training gave me great ideas and advice on how to teach yoga to kids, and what games to play, but I had a few big problems…
Nothing I had learned had prepared me to teach kids who weren't willing to learn yoga.
I didn't know how to manage classroom behaviors (which can range from mild unwillingness to dramatic and unsafe aggression).
I had no idea how to keep kids engaged and having fun when half the kids weren't listening.
I had no resources for students of color… there were almost NO images of kids doing yoga who weren't white. How could I convince them yoga was for them, too, when the kids didn't look like them?
Flash forward a couple of years, more kids yoga training, tons of resources purchased… a few things worked here and there.
But I still had trouble with consistency. And if you know anything about kids, you know that keeping a consistent schedule, similar routines, and recognizable elements of their day is important to their learning and success.
Reading a yoga book here and there worked, playing a yoga game sometimes kept their attention, but I needed something that held their attention and kept them learning quickly, especially from the beginning of class.
One day, almost in a haze of frustration in how NOT calm my class was, I stumbled upon a routine that worked. I don't know why I did it, I don't know how it came to me, but I just needed the right amount of noise and some rhythm.
I needed the class to FEEL like a yoga class, but have the energy of a dance class. I needed the connectedness and syncopation of a real yoga sequence.
I figured out a sequence and a method of teaching that I have since refined, modified, tried with many different ages of kids, and realized it completely works.
THIS IS WHAT I CALL THE YOGA FLOW.
---
Introducing: Yoga Sequencing and Flows Mini-Course with the Perfect Yoga Flow!
The Kids Yoga Cards for the Perfect Yoga Flow were created by me to use with kids or students to do a specific kids yoga sequence called a Yoga Flow. I found an amazing artist who created beautiful images for each of the poses in my standard Yoga Flow.
I wanted images with students of color, in various types of clothing and dress and hairstyle to better reflect the students that I work with every day.
These kids yoga cards include yoga pose images, descriptions, and teaching tips for the exact poses in a perfect Yoga Flow, a specifically curated sequence of yoga poses that you can do with your kids or students every single day.
A Yoga Flow can be used as a warm-up, the main lesson for a class, a morning routine, a brain break, a cool down, or a relaxing routine before bedtime.
The pose cards and images are completely unique to Kumarah Yoga, they are not seen anywhere else!
What do you get in the Yoga Sequencing and Flows course?
30 brand new pose images of diverse students
the pose names for the Yoga Flow
a pose description for how to do each pose in kid-friendly language
7 Steps to Start Teaching and Learning the Poses
Tips for Encouraging Your Kids' Yoga Practice
Three hours of video on how start teaching a Yoga Flow and going through sample lesson plans
---
You will get the images in a digital PDF format that you can print out full size, or print smaller to have them ready to use like a deck of cards.
You'll also receive the same images in a slideshow format to use with a projector in case you don't have a printer handy or want to use them in a classroom!
The slideshow is horizontal and has just the images and puts them in the exact order of the Yoga Flow sequence for easy learning.
Doing the perfect yoga flow takes more than just knowing the sequence of yoga poses to keep kids energized, focused and loving yoga. It also requires knowledge of how to teach kids in a way that gets them excited to learn.
Included in your PDF of pose images you will get the "7 Steps to Start Teaching and Learning the Yoga Poses".
This is essential knowledge for any parent who wants to instill a love of yoga in their child, and for any kid's yoga teacher to effectively build a strong classroom culture where learning happens regularly.
PLUS you'll get several videos with teaching tips for how best to implement a Yoga Flow, mindfulness language, and how to teach the poses to kids.
You'll even get a practice Yoga Flow video that will walk you through the poses in more detail!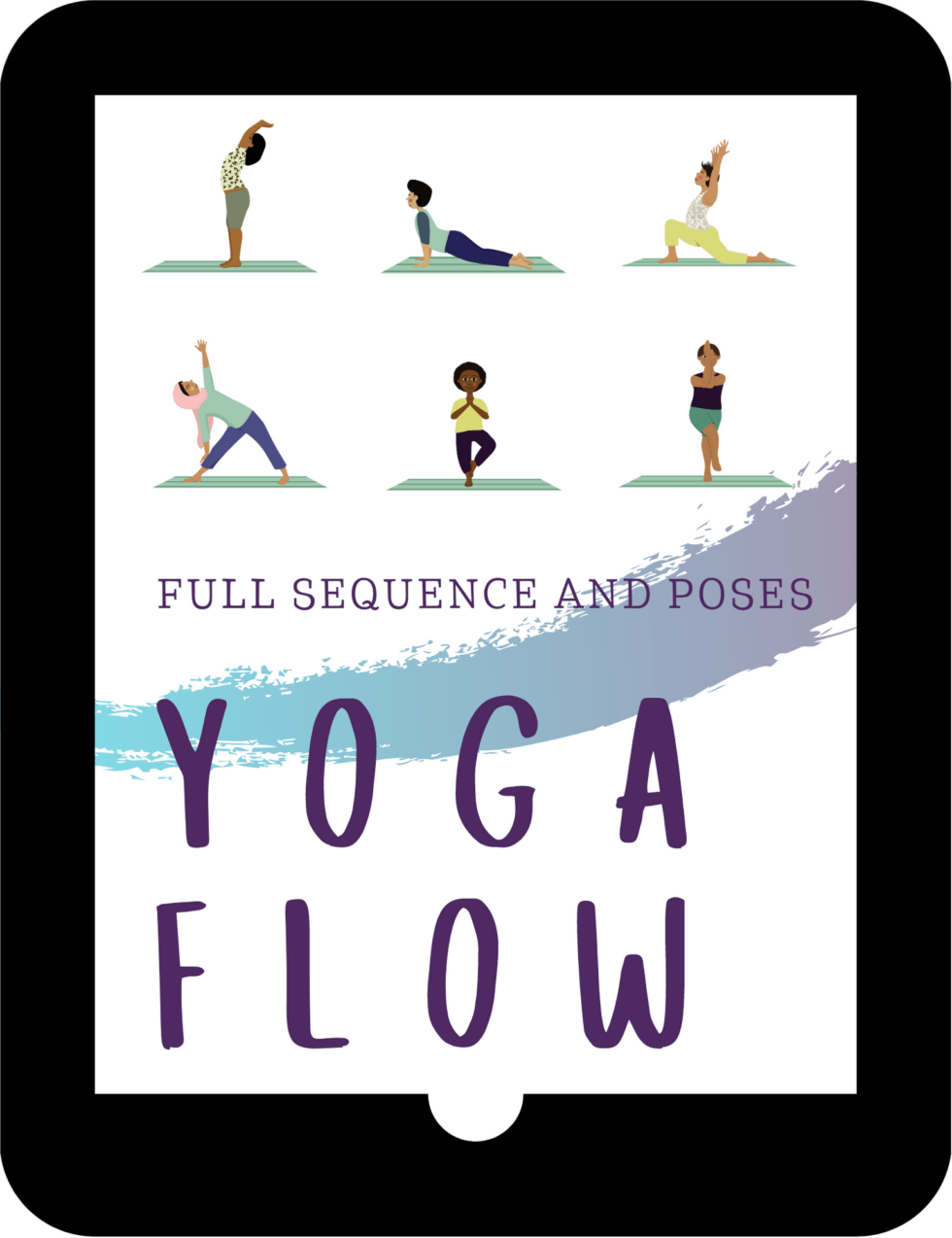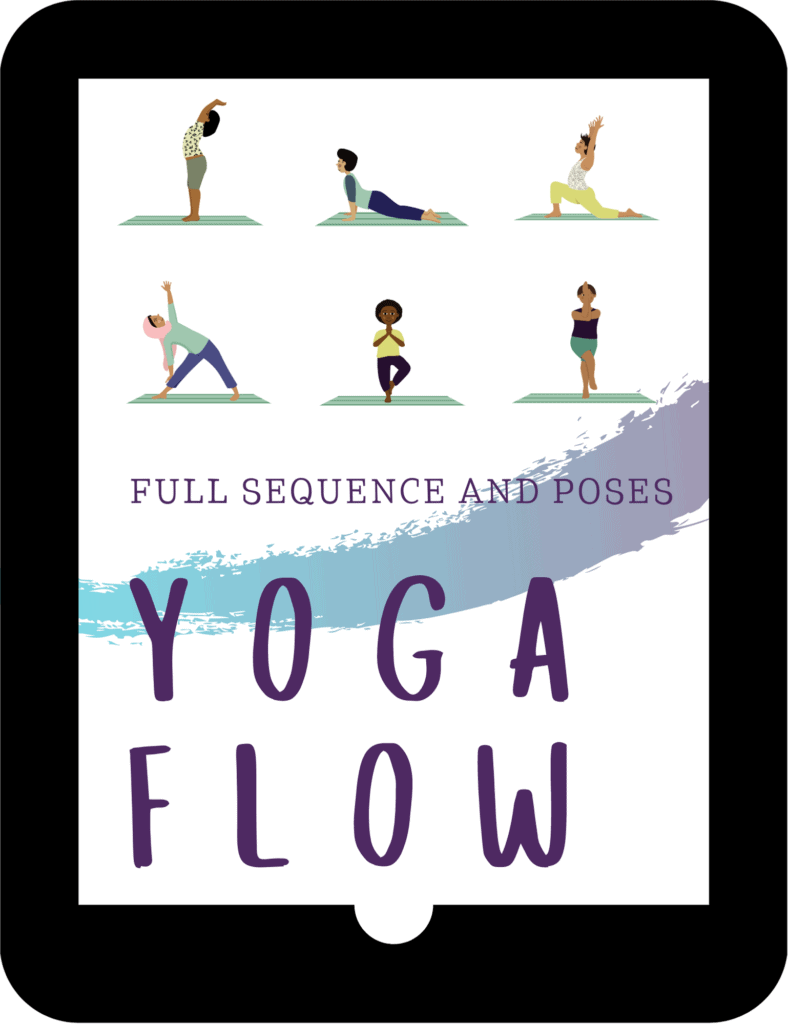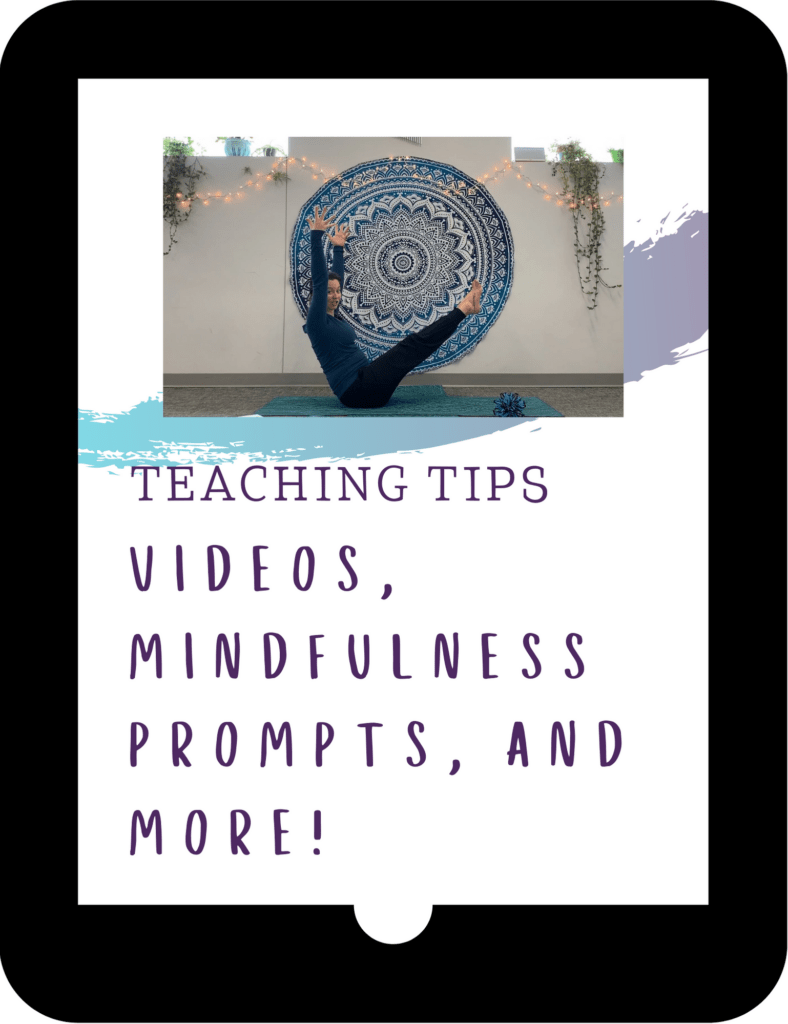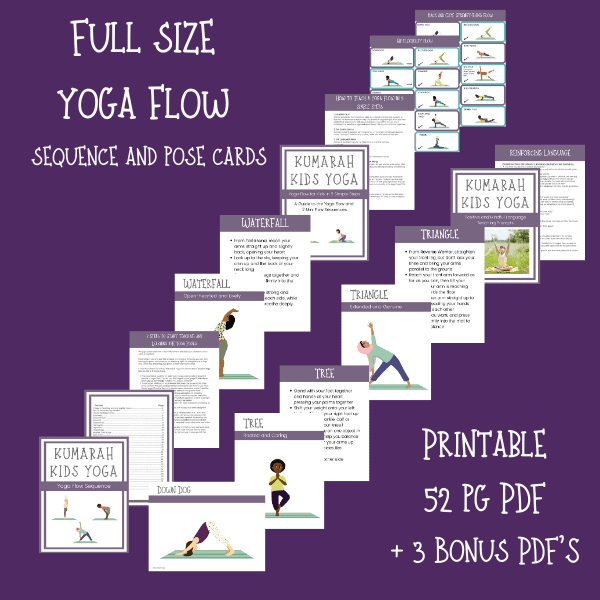 BUT THAT'S NOT ALL!
YOU ALSO GET THESE BONUSES, ABSOLUTELY FREE!
---
Bonus #1: Yoga Flow for Kids in 5 Simple Steps
Aside from knowing the right poses and the best order to do them in, understanding the method of teaching the actual Yoga Flow is important in many settings.
If you teach a full class of students in a school or studio, or if you work with groups of students at after school programs or camps, you need the 5 Simple Steps to teaching a Yoga Flow.
This Bonus PDF provides you with all of this essential knowledge:
What a Yoga Flow Is and How to Teach It
Why You Should use a Yoga Flow in Your Teaching
5 Steps to Teaching a Yoga Flow
Extra Tips to Make Your Yoga Flow Awesome
2 Mini Bonus Yoga Flows to Add to your Practice, with the pose images in order in a one-pager!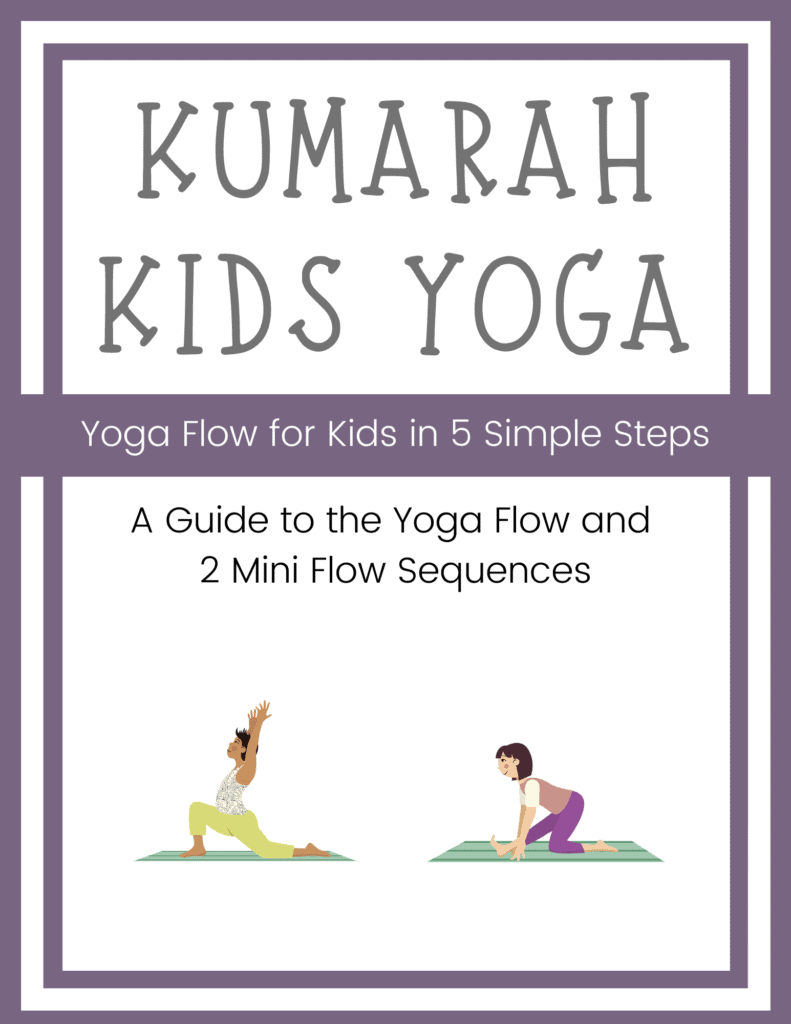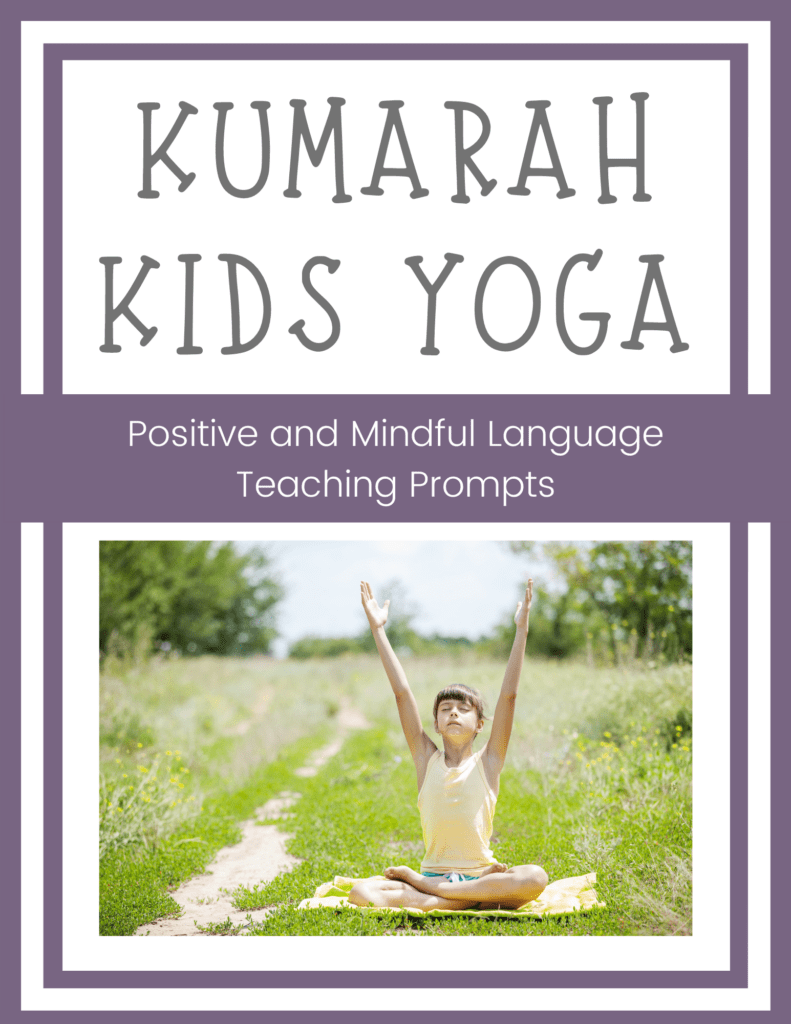 Bonus #2: Positive and Mindful Language Teaching Prompts
One of the biggest learning curves for many people as new teachers is figuring out how to talk to kids.
You might know how to communicate with them one on one, but it's very different giving directions to a whole group of them.
What do you say to get them to listen?
How do you teach yoga in a way that gets them to think and be mindful and help them feel good about themselves?
In this Bonus, Positive and Mindful Teaching Prompts, you will learn teaching and language strategies that are beneficial for classes, larger groups, and even when talking to kids one on one.
You'll get specific examples of reinforcing, reminding and redirecting language that works to build positive classroom culture and helps manage unwanted behaviors.
Help your children and students develop the confidence and self-esteem that yoga provides when you build them up with your teaching language.
Bonus #3: Planning Template
Another huge obstacle to overcome is coming up with a class outline and learning how to plan well-organized classes.
Get a full class outline planning template that you can use to help structure your classes, set them up with mindfulness, expectations, a Yoga Flow, and then keep them moving throughout class!
Use this planning template over and over again to help set up your classes for success.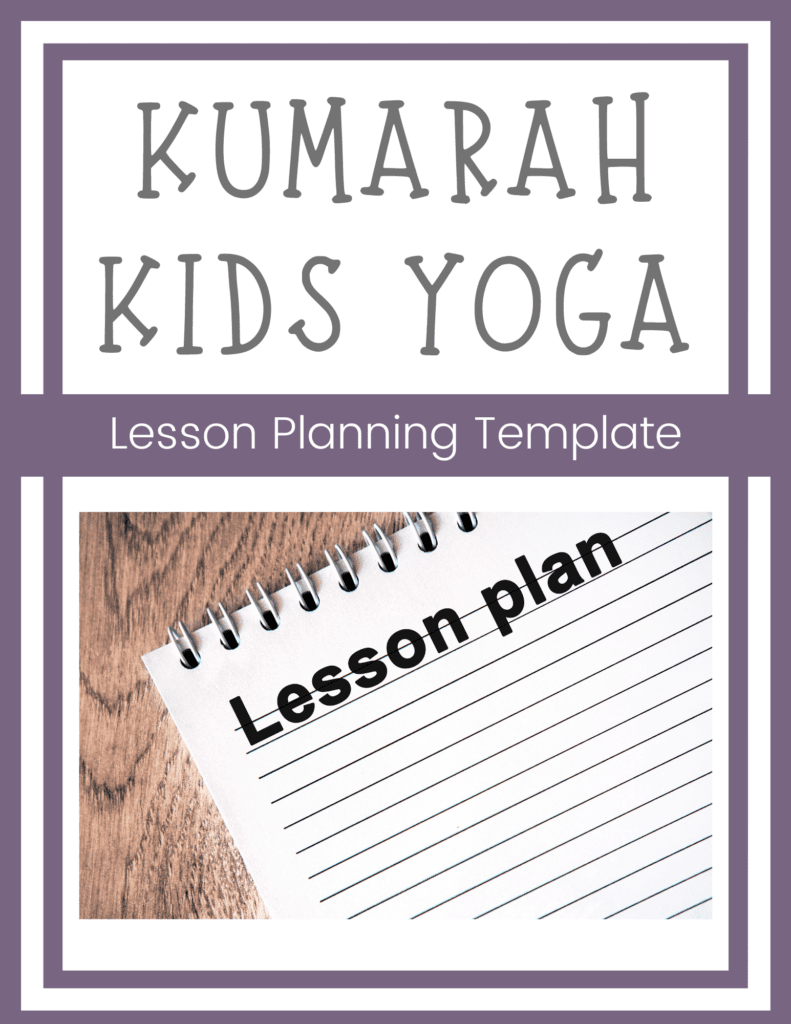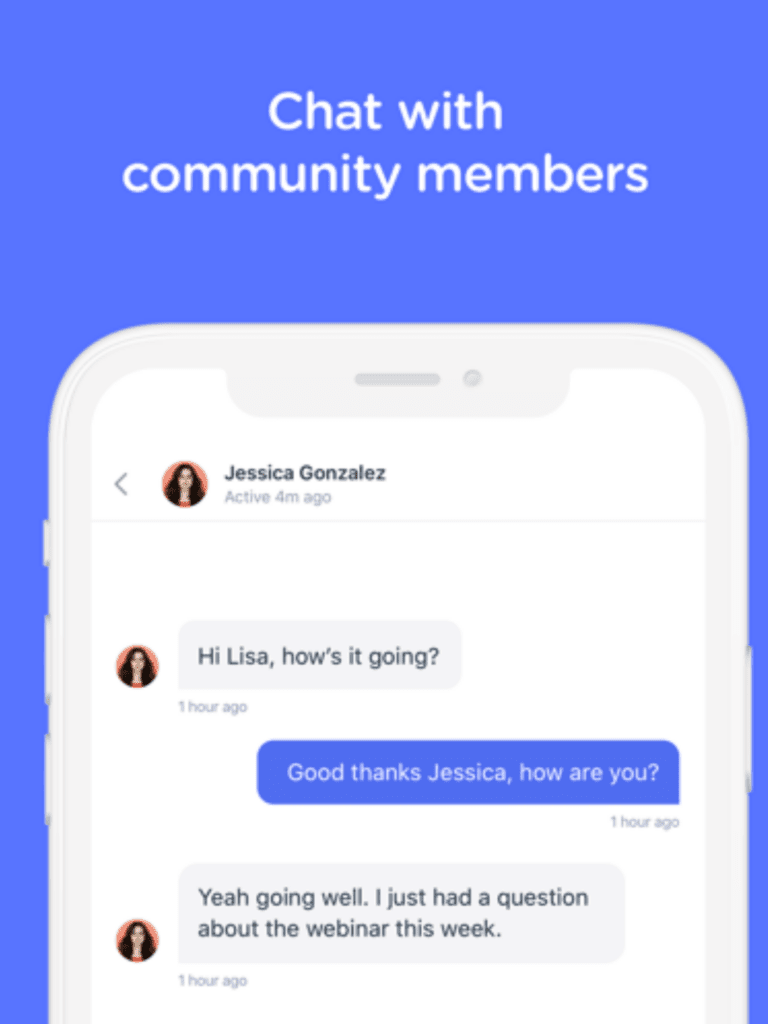 Bonus #4 Access the Circle Community for Support and Teaching Ideas
Join the Kumarah Yoga Circle Community for more support, free resources, lesson ideas, and more!
Our ad-free community is a great resources for anyone looking for new ideas for lesson plans, themes, games, or even just general teaching tips.
Join in, introduce yourself, and start a conversation to get some great feedback and support from Maia directly, and hundreds in the community already!
This bonus is PRICELESS!
You can see the work, love and experience Maia put into these cards. A great resource for parents, teachers, and anyone wanting to share yoga, in a fun positive way, with the children in their lives.

Kristi F.
I am so glad I found Kumarah Yoga online. I love the yoga flow cards – the drawings are great. They are cute and fun and perfect for kids of all ages. I especially like the diversity represented. I also appreciate the literature-based yoga lessons. I am a former elementary school teacher, and I love using children's picture books in my classes. I've found Kumarah Yoga to be one of the most valuable resources I have for teaching dynamic kids yoga classes!

Kelly G.
This is one of several things I have purchased from Kumarah. I am never disappointed! I love to teach yoga to kids, and sometimes I don't have time to come up with new ideas and lessons. These cards are so helpful!

Mary O
The Yoga Sequencing and Flows course is a special offer with the best tools and teaching resources for giving your classes and sessions that extra special something.
Take a look at everything you get:
Kids Yoga Poses for the Perfect Yoga Flow ($23 value)
Includes over 60 pages in digital PDFs with:
7 Steps to Start Teaching and Learning the Poses
Tips for Your Kids Yoga Practice
How to Use These Cards
30 Unique Yoga Pose Images and Descriptions
3+ Hours of videos with teaching tips, prompts, and lesson examples
PowerPoint SLIDESHOW of the 30 Poses in the Yoga Flow in sequence order! ($10 value)
BONUS: Yoga Flow for Kids in 5 Simple Steps ($5 value)
BONUS: Positive and Mindful Language Teaching Prompts ($7 value)
BONUS: Free access to the Circle Community for unlimited support! ($15/month value)
YOU WILL GET ALL OF THESE TOGETHER FOR JUST $69 $47!
If you ONLY want the yoga pose cards for the Kids Yoga Flow, you can check that out by clicking the button below to go to my shop
You'll still get:
30 Unique Yoga pose Images and Descriptions
7 Steps to Start Teaching and Learning the Poses
Tips for Your Kids Yoga Practice
How to Use These Cards
Who Created the Yoga Flow?
Hi! My name is Maia, and I'm the creator of Kumarah Yoga and the Yoga Flow. I started teaching yoga 9 years ago, after I completed my 220-hour Yoga Teacher Training from Green Lotus Yoga and Healing Center in Minnesota, and the Yoga Center of Minneapolis.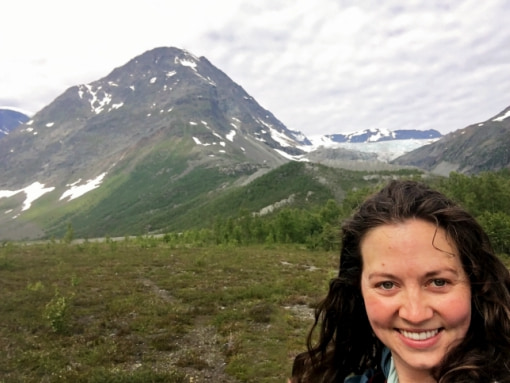 I attended two additional kids yoga teacher trainings through both studios in the next year, plus I took three modules of the Yoga Calm teacher training and completed the online Mindful Schools training in mindfulness for kids. I've also completed the Kidding Around Yoga teacher training course with an additional 15 contact hours of training, and Yoga Ed's 95-hour Teacher Training. I'm a certified Baptiste Power Yoga Instructor, and have taken the Kids yoga teacher training from the Baptiste Institute as well.
All together I have over 500 hours of yoga training experience, with over 200 of those being specific to teaching kids.
My first year of teaching kids yoga I taught at a private preschool and kindergarten center. I taught kids as young as 18 months up to grade school students in a storytelling style of kids yoga.
I started teaching yoga to kids full time at a public charter elementary school in Minneapolis 9 years ago. I have my own classroom that is fully dedicated to movement, yoga, and mindfulness.
I teach seven 45-minute classes a day to grades PreK-8, and in all I have over 550 students throughout the year.
I absolutely love my job and I have been so lucky to teach and do what I love every day.
The Kumarah Yoga website was started by me over five years ago when I realized how much time I used to spend searching and searching for advice and ideas for how to teach yoga to kids. I had received the formal training, but still not quite enough resources for what I really needed.
I decided that after my first four years creating my own lessons and coming up with new ways that worked for teaching the populations that I teach, I was ready to start sharing my knowledge with the world.
Kumarah Yoga and the Yoga Flow Kids Yoga Cards are the results!
What is a Yoga Flow?
Yoga Flow is a sequence of 22 different Yoga poses that you can do with your kids or students. The Yoga Flow sequence is fast-paced and rhythmic.
It can be done at home, in a classroom, in a studio, at a camp setting, wherever!
Doing a Yoga Flow takes more than just knowing the poses, which is why I have written and included many additional pages of content on how to teach it effectively, what language to use, and how to encourage kids of all ages.
Can you teach Yoga Flow to Kids of any age?
Yes! The Yoga Flow works best with kids between the ages of 6 and 12, but it can be adapted to work very successfully with kids as young as 4 and as old as 15. The most important part of doing a Yoga Flow is the amount of enthusiasm you put into it, and the language you use with your kids to teach it.
How will I receive the Kids Yoga Cards for the Perfect Yoga Flow?
You will receive a digital download of the files to your email inbox as soon as your purchase is completed.
The files are PDF files created with Adobe and PowerPoint, so make sure you are able to view and use these documents on your device. They are in .pdf and .ppt format. You can print them in color and laminate them for longer lasting durability!
How do I use the digital Yoga Flow Kids Yoga Cards?
You can use the cards on your computer, tablet, or phone to view the images.
You will be allowed to view and print the documents (even at different sizes!), but not allowed to edit or alter the content in any way.
The Slideshow document of the pose images will be openable with PowerPoint and you can view them as a slideshow with a projector if you have that available to you.
Is my payment information safe?
Yes, I value your privacy and confidentiality, which is why I have set up payments to be possible with PayPal or Stripe (any major credit card). All customer payment information is kept confidential.
Can I return the product if I'm not satisfied?
Yes, if you have tried the Yoga Flow with your kids or students and are unsatisfied with the methods or results, please email me with your complaint within 10 days and I will refund you the full price of the product.
Since this is a digital download with images that were specifically created for Kumarah Yoga, I will consider refunds on an individual basis.
Level Up Your Kids Yoga with the Perfect Yoga Flow and all the bonuses now!