Mindfulness is an amazing tool.
These kids mindfulness videos help teach this tool. It's good for kids, and adults, and it's quickly become a new catchphrase and a popular teaching strategy to incorporate into all classrooms and settings.
Mindfulness is gaining some good research, too, on how it can be important for kids' cognition and stress reduction.
Check out this 2018 article from the Harvard Gazette on the science of mindfulness.
I teach mindfulness to my students as often as I can during the day.
Mindfulness can be taught to kids in many ways. It works well in a whole class setting, with partners, small break-out groups, and even with kids and students one on one.
I've especially noticed the benefits of how to help calm a child who is upset or anxious.
Here's how I start teaching mindfulness to my students, ages Kindergarten through 6th grade! Breathing techniques are explained as well: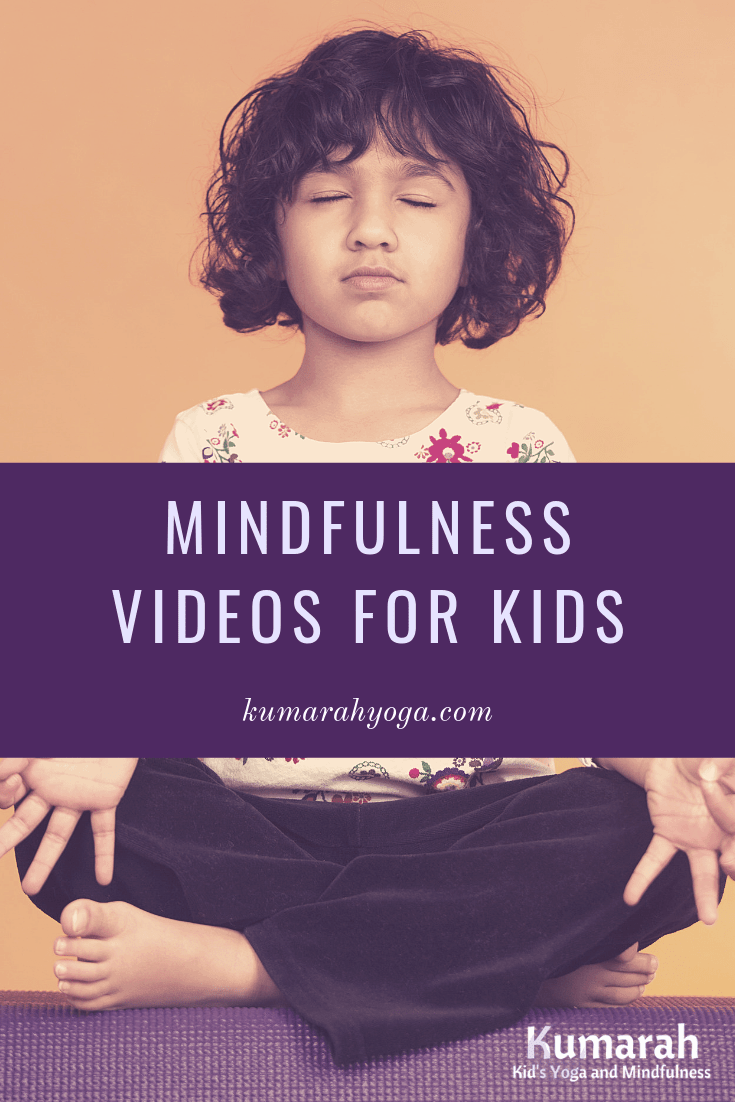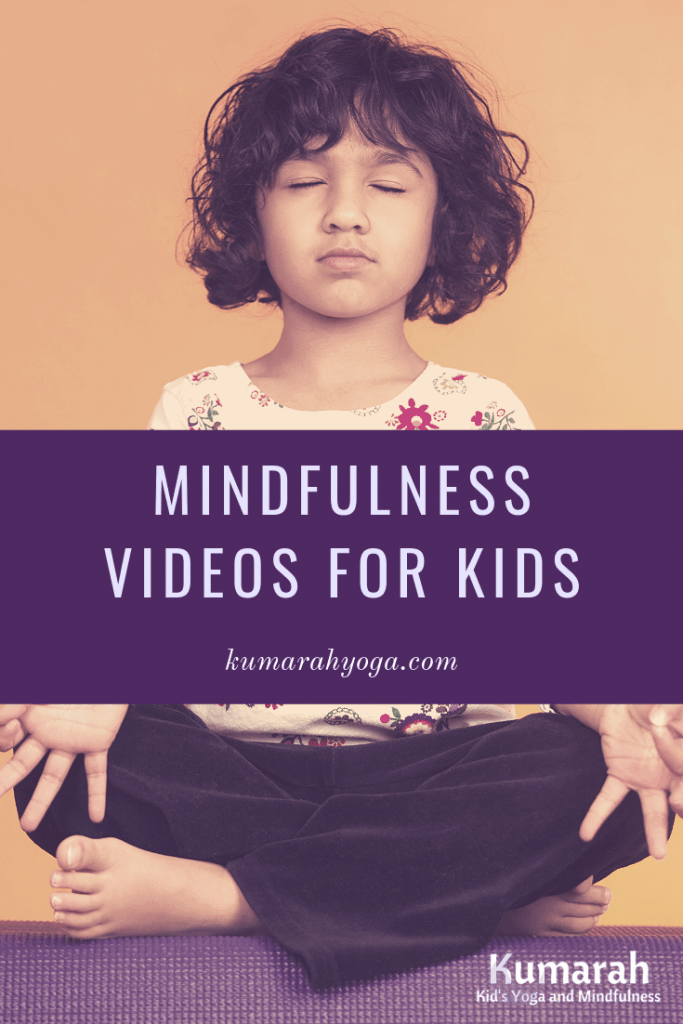 The important thing to do before (or after) playing one of these kids mindfulness videos or doing any mindfulness activities, is to teach your kiddos WHY it's important.
You need a little bit of investment in the WHY in order to really get kids interested.
In kid-friendly language:
Mindfulness helps us learn to recognize how we are feeling, and not react to it.
This means it can help us calm down more quickly, or stay calm during tricky times.
It also gives our mind a little "break" when it is full of stuff and can help us relax.
This mind break then gives our brain a little more "space" so that we can fill it up with things that are important.
Mindfulness is NOT emptying your mind of all thoughts, it's more like letting go of the ones that we don't need.
(Check out this amazing tool for teaching the difference between craziness and stillness)
Mindfulness is like a little mini vacation for your brain.
It's a little break to give your thoughts a chance to rest, so you can let new ones in for more learning later. Mindfulness also gives you some more space in your brain so you can help figure out your emotions and feel calm.
If you choose to show any kids mindfulness videos to your class, set them up for success by letting them choose a comfortable way to sit. Maybe lead them through a couple of gentle stretches, use a Hoberman Sphere to help them breathe deeply, and then help them find stillness.
Take deep breaths and try to let your body be still.
I also prep them for a mindfulness session by saying something like this,
"Reach up to the sky, interlace your fingers, then flip your palms up to the ceiling. Stretch to one side, now the other side… then reach your arms out to the side and sparkle glitter down to the floor… now hands on your hips and twist one way, then the other… hands on your ears, rub your ears… hands on your head, hands in front of you, fold your hands one way. Now, switch your fingers and put your opposite thumb on top… switch back…. press each finger in the back of your other hand one at a time… and now gently place your hands in your lap or on your knees. Back straight and tall, eyes up."
That whole dialogue technically leads them through a mini mindfulness session, because it forces them to focus on your specific directions and think only about their hand positioning (ideally). So, it's a good warm up to the video, or could be done on its own.
Get more tips and advice on how to start teaching kids mindfulness with this video:
I've seen and looked through lots of videos on YouTube to teach mindfulness and attention-focusing techniques to kiddos. There are some amazing ones and a few that aren't that great.
Here are my favorite kids mindfulness videos that work well for kids ages 5-10 (and older, too!).
The videos below are listed, in my opinion, in order of age appropriateness, starting with the younger ones. Read the descriptions to figure out which one would be best for your setting and situation!
A breath-focused video by a cute British owl. Best for younger kids.
This a good introduction to the reasons for mindful breathing and why mindfulness is a good tool in many situations.
About 1 minute of actual mindful breathing, but still a nice way to focus in.
This is a good video in the Cosmic Kid's Zen Den video series. Jamie leads you through about 6 minutes of a mindful practice, including the preparation and actual mindful listening.
She does talk to the audience in a way that makes kids want to respond out loud so keep that in mind if you choose this one.
I find it's better for kids ages 4-7, though it is on the long side for holding attention in a group.
A beautiful 2-minute affirmation song for listening to and breathing along with.
I tell my kids to breathe in as the colors appear, and breathe out as they start to disappear. It works pretty well with the rhythm of the song.
Go Zen Online has some other good videos for kids ages 7 and up, some of them would work well for middle school kids, too.
A good 4-minute breathing video that leads kids through physically tracing the rainbow with their arms in a slow and visually appealing video.
Go Noodle's flow videos are all good for calming down, and many of them use mindful practices like this one. It's a little slower and harder to maintain slow movement for some younger kids. Kids can sit or stand for this one.
This a longer mindfulness meditation for kids, this one works well for kids ages 7+ or once they've done a little bit of practice with mindfulness already.
Meet me and see how I teach!
Great for dealing with anxiety, we talk through listening mindfulness, noticing our breath, and noticing how our body feels.
This a great introduction to the importance of using breath to help calm our big feelings. It doesn't walk them through any exercises but is a calming video in itself.
Told by kids themselves, it's very powerful and shares a little about why mindfulness is important, how it helps them, and what it feels like. This a beautiful video by Mindful Schools.
A true guided meditation, this 5-minute video is a nice way to help kids focus mindfully on the space around them, their bodies, and their emotions.
Prep the kids to sit comfortably and listen the whole time (answer any questions IN your head not out loud). They can close their eyes or keep them open to watch the pictures on the screen.
Another song video, this video is a repetition of "Mmmm's and oooooo's" telling you to breathe in and out with the music and visuals. It's 4-minutes long, and I bet you could use it to fall asleep if you wanted.
The breathing instructions and music are very soothing and get the job of mindful breathing done! Make sure to prep the kids, so they know to sit comfortably and are ready to breathe in and out through their noses (otherwise it gets loud really quickly).
A short video just for breathing, though this one has no music.
Again, prep your kiddos so they know to breathe in and out through their nose: in as the shapes expand, and out as they collapse.
I personally love the image of the shapes growing and shrinking, and I think this works better for older kids who have had some experience with mindful breathing already.
Well, those are my favorite mindful videos that I have found out there so far!
Of these, the channels that have even more to offer are Cosmic Kids Yoga, GoZenOnline!, and Go Noodle.
Cosmic Kids and Go Noodle have other active movement and yoga videos too (I use them ALL THE TIME for quick breaks with kids when I am out of energy myself). Check those out and let me know what you think!
Also, subscribe to my YouTube Channel for more mindfulness meditation videos for kids, plus yoga stories for kids too!
Don't forget to take a look at how I start teaching these techniques to kids in this video here:
What else do you use to help teach mindfulness to kids?
Thanks for being here, let me know what else you need!
(post updated January 2020)