Mindfulness books for kids are a great tool for teachers and parents who want to bring a little more peace to their kiddos lives.
Kids have a hard time understanding their emotions, partly because they are still learning about what emotions feel like.
And where they come from.
Self-soothing and regulation of emotions is a skill that we have to teach kids.
Mindfulness, or awareness of feelings and meditation on thoughts, is one excellent way to start teaching these imperative life skills to the children of today.
But if you don't have the words to explain it well, or you need some fresh ideas, you need some mindfulness books to help get you started teaching these concepts to kids.
Here are the 5 best, newest mindfulness books for kids:
Keep reading for the fully updated list of mindfulness books for toddlers, kids, and even teens!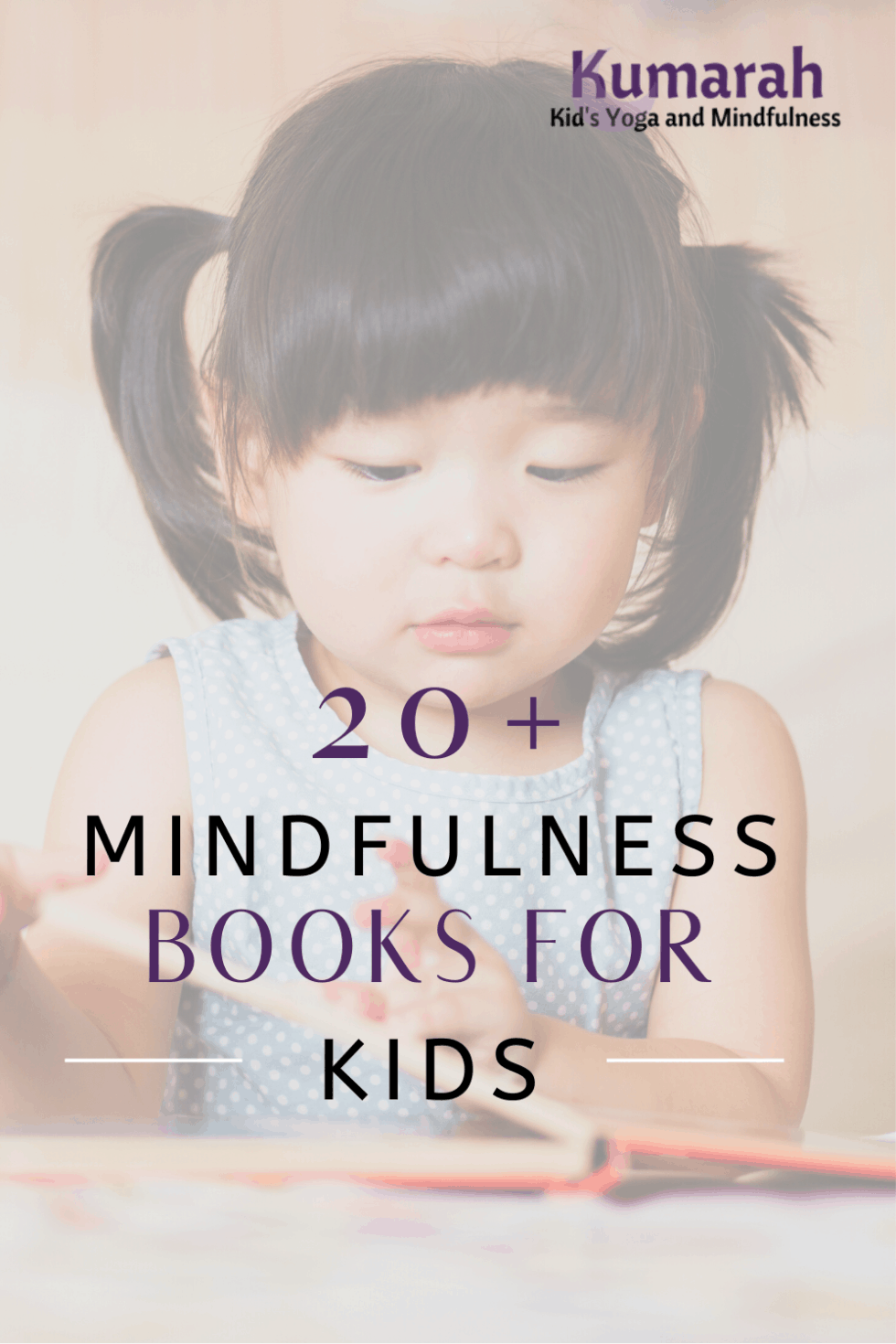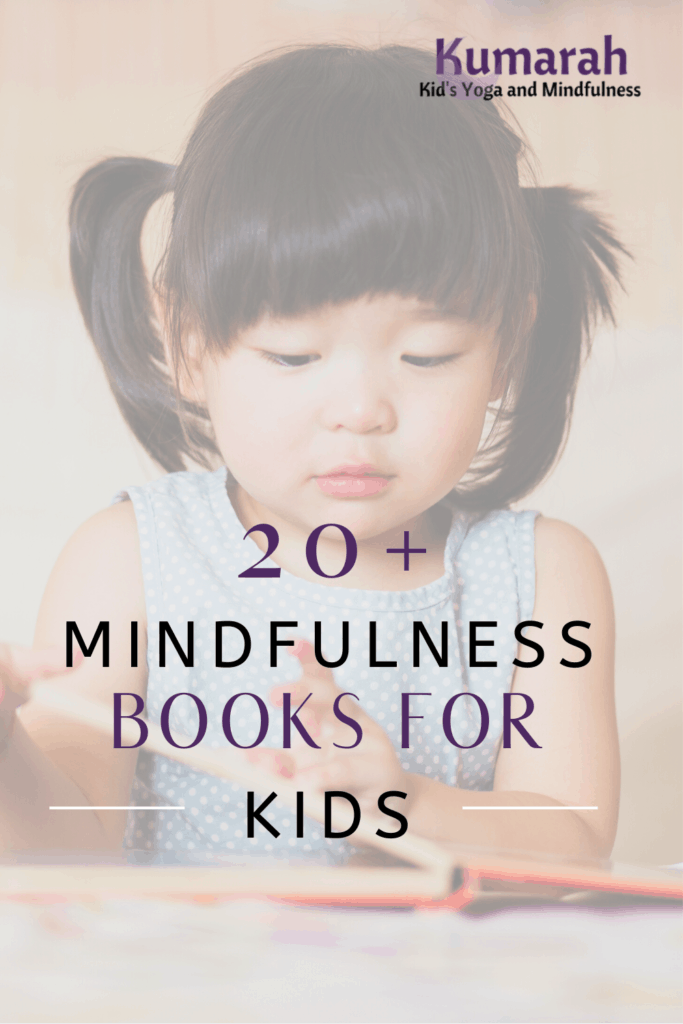 (Post updated July 2021)
We read mindfulness books several times a year in my class and every time they learn something new and take away a new idea.
I like using several of these books to teach how to use your brain during savasana, or resting pose. Some of them are good for introducing a new skill like listening, compassion, and awareness of emotions.
A few of these mindful books are great for reading just to help kiddos calm down after doing lots of yoga.
Here's a video of me reading a favorite mindfulness book to my students over Zoom:
If you need ideas for other ways to practice mindfulness with your kids or students, check out these posts here:
Plus, grab free mindfulness and kids yoga resources from my Free Resources Library here!
Check out the best books for teaching mindfulness and coping skills to kids!
This beautiful book is a perfect starter book or addition to your set of mindfulness books for kids. I love the large images, the variety and representation in the children, and the simple language.
It has a good variety of mindfulness and coping skills for kids of all ages. Highly recommend!
This is a book I found at my local co-op and I was immediately drawn to the beautiful images. It has wonderful descriptors of using mindfulness in our listening, feeling, tasting, loving-kindness, and more. Lots of beautiful images and everyday applications of mindfulness.
Highly recommend this book for kids of all ages as a great way to describe how mindfulness and living in the present moment can lead to a more satisfying and happy life.
Gabi Garcia writes wonderful mindfulness and coping skills books for kids, and the fact that they are in Spanish is well is a bonus! This book, Find Your Calm, gives kids and parents simple grounding activities and coping tools to help with anxiety in particular.
An excellent rhyming book that gives kids breathing exercises to feel strong, powerful, and connected to their bodies. There is a different scenario on each page that describes common feelings in kiddos, and a breathing technique is included to help them overcome the difficult situation. Also, great to have diverse representations in the images.
This is a really fun and useful activity mindfulness book for kids! Most pages are for drawing on or cutting out, so it's not ideal for a classroom, but I was REALLY impressed with the variety of mindfulness activities that are included.
A must-have book for kiddos at home to learn and practice mindfulness with their families.
This is a new book for me, given to me by my principal at the start of the year. I love it! Each page has bright, fun images and there is a breathing technique or strategy for every letter of the alphabet. They are so creative and fun to try out. We generally do 2-3 per letters per day, letting a different child choose a letter each time. The book goes especially well with our ABC yoga lessons!
This is a sweet mindfulness book with beautiful illustrations. It has cute short and sweet poems, with gentle directions for calming and relaxing your body and brain.
I read one or two of these to my kids when they rest for savasana. I like how they help us get ready for being calm and create a nice image in the mind. The short poems would make a good discussion question too. Calming and good for all ages!
Silence by Lemniscates
A beautiful book that has simple phrases on each page. It encourages Mindful Listening, one of the first things I work on when teaching kids to be mindful.
I read this book to kids during savasana (or resting pose) because it is very calming. It would make a good bedtime story, too. Good for young kids.
I have even used this book as a yoga book, guiding kids to breathe slowly in a pose that matched what the book is describing on each page.
I love this book's illustrations and simple explanations of how to live in the moment. It gives several different explanations of how to live and think in the present moment, and why it matters.
Best for kids ages 8 and up. The companion book, What Does it Mean to Be Global is also a good read.
Similar to the above book, this one also has lovely images and clear examples of how mindfulness can help in real life examples. It helps kids think about the results of their actions, and possible consequences. It also gives ways to help cope with feelings of being overwhelmed.
I am Peace by Susan Verde and Peter H. Reynolds
A cute book with gorgeous illustrations by Peter H. Reynolds, I got this book at the same time as another book by the same author, I am Yoga. Both books are good for elementary age kids and have a simple message of finding calm from within.
I am Human is a newer book by Verde, which teaches about Empathy. So crucial! I like that there is just one sentence per page and very cute drawings. Many of my students choose to read this on their own!
This book is a great way to start talking about those big feelings that come into our lives. I love the way it describes how emotions can come into our lives for a while, and then they will go.
It's a great book for explaining that feelings are important, and it's okay to have all different kinds of emotions for different reasons. Good for all ages. I also use this book as a Yoga Story and come up with poses to match the feeling/descriptions on each page.
A cute book, and a great companion to Peaceful Piggy Meditation. In the book, the cow learns from Grandpa how to examine emotions.
A mindfulness glitter jar is a tool used, and kids can make their own after reading! Best for kids grade 1-4. The silly drawings definitely keep kids' attention.
Anh's Anger by Gail Silver and Christianne Kromer
This long-time popular book is another one I use for talking about feelings and how to manage big emotions. The anger is personified to help kids notice that our feelings sometimes are not representative of who we actually are. Their second book, Steps and Stones is a great book on meditation, as well.
Puppy Mind by Andrew Jordan Nance
This is a very cute book that compares our minds to the distractibility of a puppy. After reading this book to kids, I am able to remind them that their puppy mind may be taking over and that they should use some strategies to help guide it in the right direction. Be as kind to your brain as you would be kind to a puppy! It's very effective!
This book (and the others by the same author) is fabulous for giving specific situations and feelings that kids experience, and then directly name four easy options for dealing with the problem. Super relatable for kids ages 3 and up. Easy to read and refer back to at a later time. They have a bunch in the series now, too: I Matter (Mindful Mantras), I Will Try, and more!
I LOVE this book as a Yoga and Mindfulness teacher. The adorable images and calls to imagine are perfect for kids of any age to bring a little fun to their mindful practices.
It has 30 awesome practices for breathing and mindfulness exercises. I also use the book to inspire unit plans since it is divided into 5 sections ("Be Calm," "Focus," "Imagine," "Make Some Energy," and "Relax"). This is a favorite!
Kira Willy has some cute newer board books that are perfect for toddlers as well: Listen Like an Elephant, Bunny Breaths, and Breathe Like a Bear (board book). Now she has Peaceful Panda as well!
This calming and relaxing book helps kids notice and get into their bodies for calming down before bedtime. I use this book occasionally to help kids relax before savasana. It teaches them mindfulness in their movement!
The drawings are super cute and there is one pose per page. My students also like the morning time version, called Good Morning Yoga.
Don't forget to check out my huge list of kids yoga books on this page as well
Many teachers in my school read this book to help explain the idea behind a "break spot" in their classroom. I also read it to my kids, but mostly to help give them ideas of how to use imagery in their minds while they are resting during savasana.
I let them think about where they would feel calm: in their room, in the woods, at the beach, etc. Then I can reference it during guided relaxations to help kids feel a sense of ownership over their relaxation. It is quite long but good for grades 1-5.
This is another wonderful book about finding quiet and stillness within. It has lovely pictures and a good story that kids can relate to. I've switched to using this version instead of the above option, simply because the little girl in this story is black and she lives in the city. Much more relatable for my students.
It's better for younger kids, and has good references to how big, noisy places can sometimes affect us. There are great action steps for resolving the frustration, too!
I love this awesome mindfulness book that teaches kids about their emotions and feelings. They learn to notice what their body is telling them, and then of course, what they can do based on that knowledge.
It brings about great conversations on how to become self-aware, and then less reactionary. My students have been able to stop and think, name their feelings, and then take a more thoughtful approach to a solution. Great illustrations, too!
This book is an excellent tool for educators, parents, grandparents, and kids! Written by a yoga and mindfulness educator, it is a great way to introduce or build on mindfulness practices for kids. The pictures are cute and full-sized.
The words are simple yet descriptive, and the rhyming makes it flow nicely. Young readers can read it to themselves; older readers and students will also benefit greatly from the mindful breathing practices.
Crab & Whale By Mark Pallis and Christiane Kerr
This is a great book for younger kids, especially 4 or 5-year-olds. The premise is that a whale is stuck on the beach when the tide is low and crab nearby helps her calm down. They practice breathing, listening to the water, counting colors in the sunset, and whale gets back into the water at the end.
Crab and Whale practice mindfulness together to get through a stressful situation. It's cute, silly, and just the right length for little learners. Highly recommend!
This story is SO cute. Little Mrs K is a cat that walks into the life of the narrator and has a knack for finding trouble. Every day she gets into one issue or another, but she always starts the next day fresh.
She practices a different breathing technique after each incident which is a great opportunity for practicing with the kids. The adorable drawings are so endearing, and you feel bad for Mrs K but also cheer for her the whole story.
I love this adorable book and its companion books (A Little Spot of Anxiety, A Little Spot of Confidence, A Little Peaceful Spot). Each book talks about the emotion, where it might come from, and how to recognize it without pushing it away. Then, it gives you a strategy to help you manage the emotion in your body so you can work out the problem.
They essentially describe different mudras, or hand exercises, for bringing your focus back to your body. Perfect for kids!
You can get the full set of the Little Spot books here!
A cute book that goes along with Teach Your Dragon Yoga! Simple sentences that hone in on the importance of being in the present moment, not letting little things ruin your whole day, and how to deal with things like anger! Noticing language is very present in this book which is great 🙂
I love this beautifully illustrated book for introducing breathing and why it's important. It has a simple way of imagining how our breath can bring new life to emotions. Great for younger kids especially! Short and sweet, concise works on each page with some good interaction. A wonderful book on mindfulness for kids with breathing.
Another adorably illustrated book for talking about breathing. It has simple guided breathing activities and repetitive phrases to help cue children to breathe during difficult or big emotions. Great for preschool and early elementary. I especially love the there are kiddos of all different colors represented.
A wonderful book to help teach kids emotional regulation skills. I love how this book highlights a positive relationship between brother and sister. As the boy is feeling a range of emotions throughout his day, his sister steps in and shows him some wonderful practical tools to help keep him feeling a little more stable.
Mindfulness practices are weaved into this kid's book as well! I highly recommend this book written by a professional licensed counselor, Lauren Mosback.
The Mindful Monkey Meditation Deck by Carolyn Kanjuro
This is an adorable set of meditation cards for kids with beautiful illustrations on the front and little mindfulness exercise on the back. I like using them in my kids yoga classes by creating a theme around the card (monkey is jungle theme, starfish is ocean them, rainbow is chakra themed, etc). It works really well and helps inspire new mindfulness meditations as well.
Those are some of my favorite mindfulness books for using in my classroom with kids from preschool to middle school!
We love using books to teach new calming strategies, work on emotional awareness, and promote literacy (even in my yoga classroom!)
What books or tools have you used to promote mindfulness and meditation at school or at home?
Thanks for reading!
Don't forget to join the Free Kid's Yoga Resources Library for free printables of kid's yoga and mindfulness resources!
(Post updated January 2021)