Teaching kids yoga can be hard. It is fun and rewarding too, but it is VERY different from adult yoga! If you haven't yet, check out the 5 Myths of Teaching Yoga to Kids.
If you're ready to find the best and most essential tools I use to teach student-focused yoga classes to my public school kids, you are in the right spot.
I use all of these tools and highly recommend them. I hope you enjoy them as well!
Kids Yoga Cards for Teaching Kids Yoga Poses
Kid's Yoga Cards for the Perfect Yoga Flow (digital cards)
My own most-used cards are these digital cards that I created with the help of an amazing artist, Zeindee.
These cards are perfectly set up for a kids Yoga Flow, a specifically designed sequence that helps kids get energized, feel centered, and learn yoga quickly. Grab your digital set of the newest and most unique set of kids yoga pose cards!
These pose cards were created specifically for Kumarah Yoga since the populations of kids at my school are more diverse, I wanted cards with images that reflect who my students are. You'll find more students of color, kids with headdresses, hijab, different hairstyles, and clothing. Check them out here.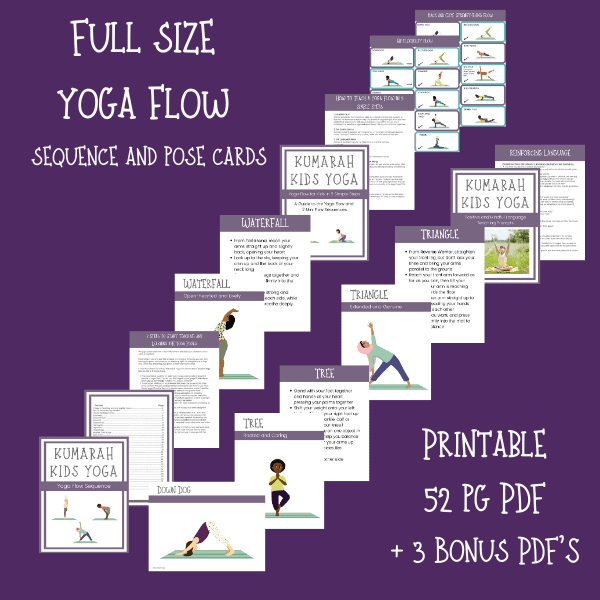 ABC Kid's Yoga Pose cards are the perfect introductory set of yoga poses with an animal theme. These adorable cards have a yoga pose and matching animal for each letter of the alphabet. Printable and usable on digital devices!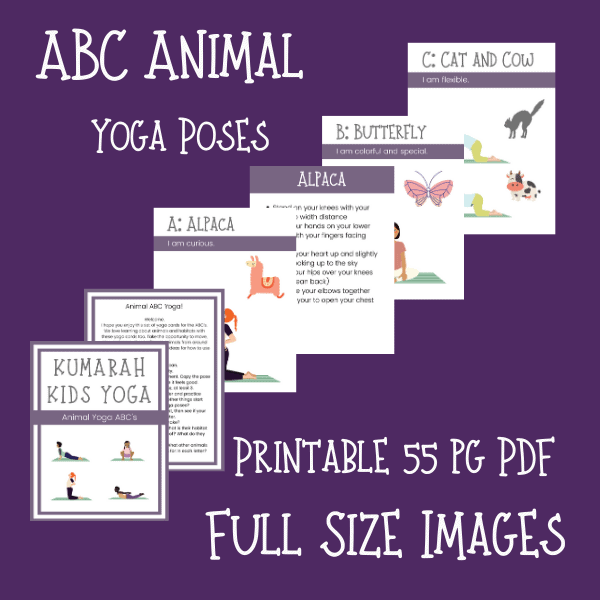 Full Digital Set of Kids Yoga Cards
Get the WHOLE Kumarah Kids Yoga Pose Set with over 110 poses here! Diverse kid images, fun pose name, kid-friendly pose directions and easy to use. Digital format for printing out or using in a slideshow, on a tablet, and more!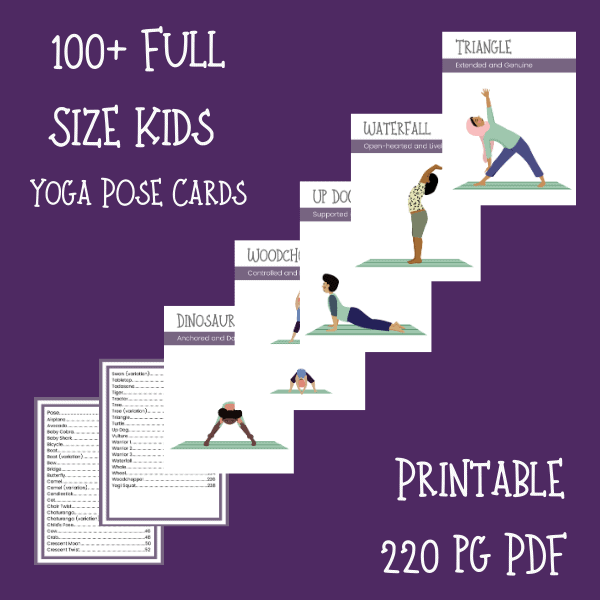 (More Kids Yoga Cards, Found on Amazon!)
Enchanted Wonders A-Z Yoga cards
These are my new favorite cards, hands down! The drawings and images are SO beautiful. The colors are bright, the kids are multicultural, the backgrounds are adorable. I just LOVE them. They are super sturdy cards, and slightly larger as well (like the Yogi Pretzels). The poses are little different, too, so it was nice to get this one for the variety of cards. It was great for promoting more storytelling with new pose names for each letter!
This was one of the first sets I got as a public school teacher, and it has continued to be a favorite for me and my students.
I also got the poster and matching book, and there is something super appealing about the images for my kiddos. I think it's the cute designs that aren't too complicated, and set on mostly white backgrounds. Plus they are all vertical, which gives them a nice unified look when you are setting them out to make sequences. That's a small detail that brings me joy!
This is another favorite set. I actually use this one most frequently with my older students (ages 8-12) because the poses and pose names are the most similar to adult poses.
They are a set created by famous yogi Baron Baptiste, so that makes sense. These cards are super durable, they are slightly larger than most other sets, and the colors and images are really easy to look at. There are adjectives around the edges which help describe how you might feel doing each pose.
Yogi Fun: Yoga Cards for Joyful Learning
These cards are super cute, hand-drawn and have good image backgrounds. Each pose is in the deck twice (once just the image, the other with a description). They all have the same blue design on the back, which means my kids can play "Yoga Memory," a great game! Newer versions of the deck are more durable, which is great!
They also have some cute cardboard dice that work well for individuals or small groups to use, and a new game set here.
This is a lovely set with yoga poses, mindfulness practices, and relaxation. Diverse kiddos and created by a diverse author, I highly recommend these as a great addition to your kids yoga tools and resources basket. Nice bright colors and great images!
Awesome Audio Tracks for Guided Mindfulness Meditations for Kids
Mindful Moments for Kids by Kira Willey
Meditation for Kids: Guided Imagery Adventures
Guided Mindfulness Meditations for Kids 3-8
Guided Mindfulness Meditations for Kids ages 9-14
Our Favorite Books for Teaching Kids Yoga and Mindfulness:
My Sister's Super Secret Skills: Introducing Kid-Friendly Social and Emotional Skills
A wonderful book to help teach kids emotional regulation skills. I love how this book highlights a positive relationship between brother and sister. As the boy is feeling a range of emotions throughout his day, his sister steps in and shows him some wonderful practical tools to help keep him feeling a little more stable. Highly recommend this book written by a professional licensed counselor, Lauren Mosback.
Happy Yogis: A fun kid's yoga book with positive affirmations
This adorable book has a yoga pose on each page and wonderful positive affirmation followed by a mantra. The images are lovely with a mom and her two children showing the poses in many different locations around the world. A great book for starting to do yoga with kids, or adding in positive affirmations and mantras!
Check out my full list of recommended kid's yoga books here.
Also, this fabulous list of mindfulness books for kids.
Must-have Tools for Kids Yoga and Mindfulness
Meddy Teddy Yoga Bear for Engaging Kids Yoga Classes
If you don't yet have this adorable plush posable bear, you are missing out! Meddy Teddy is an amazing tool to help teach kids yoga poses and build engagement with kids. He is bendable, soft, cuddly, and even stands on his own!!
Just having him around will encourage kids to try new yoga poses and learn to be mindful of their movements and thoughts. Here are some more tips on how to use Meddy Teddy for engagement in teaching kids yoga.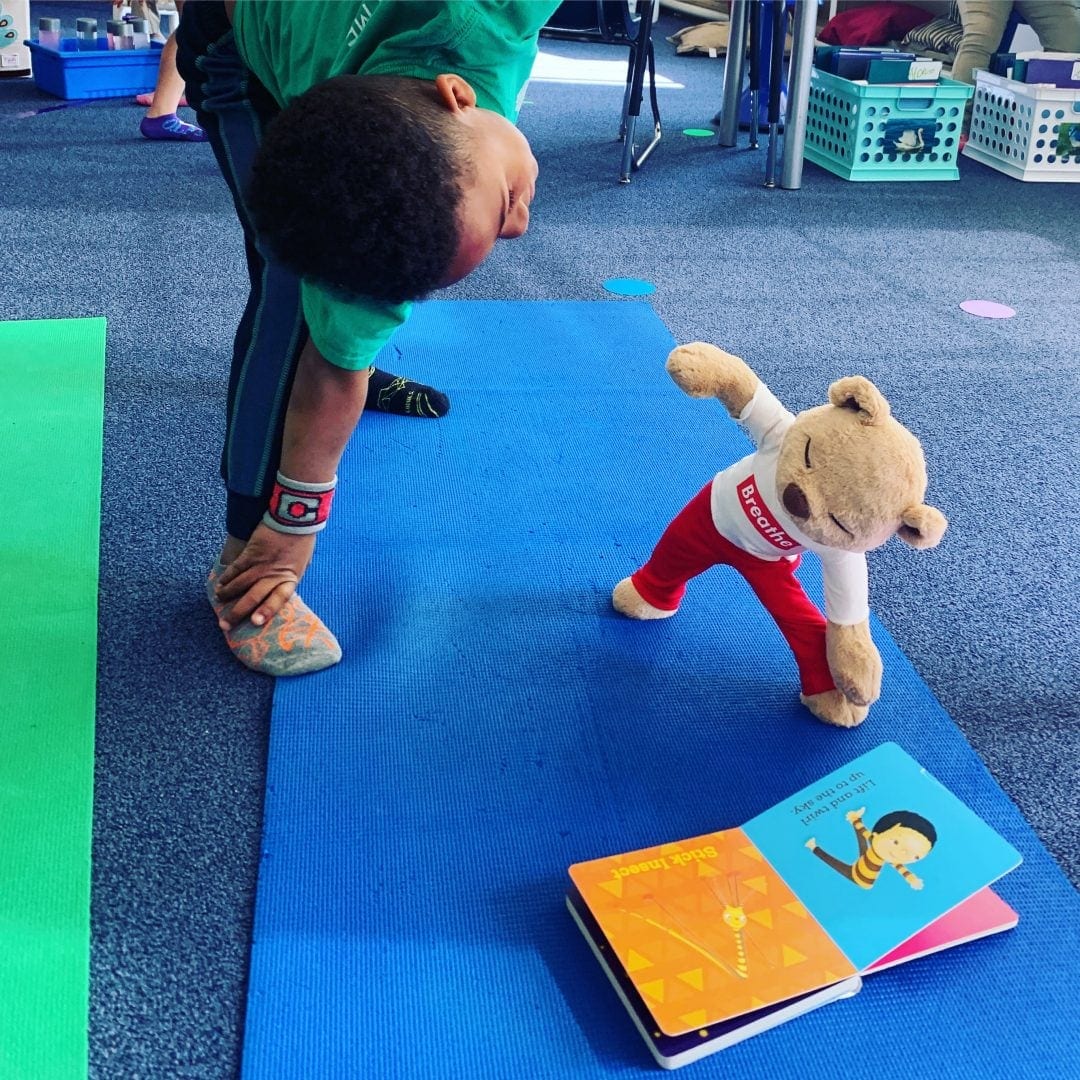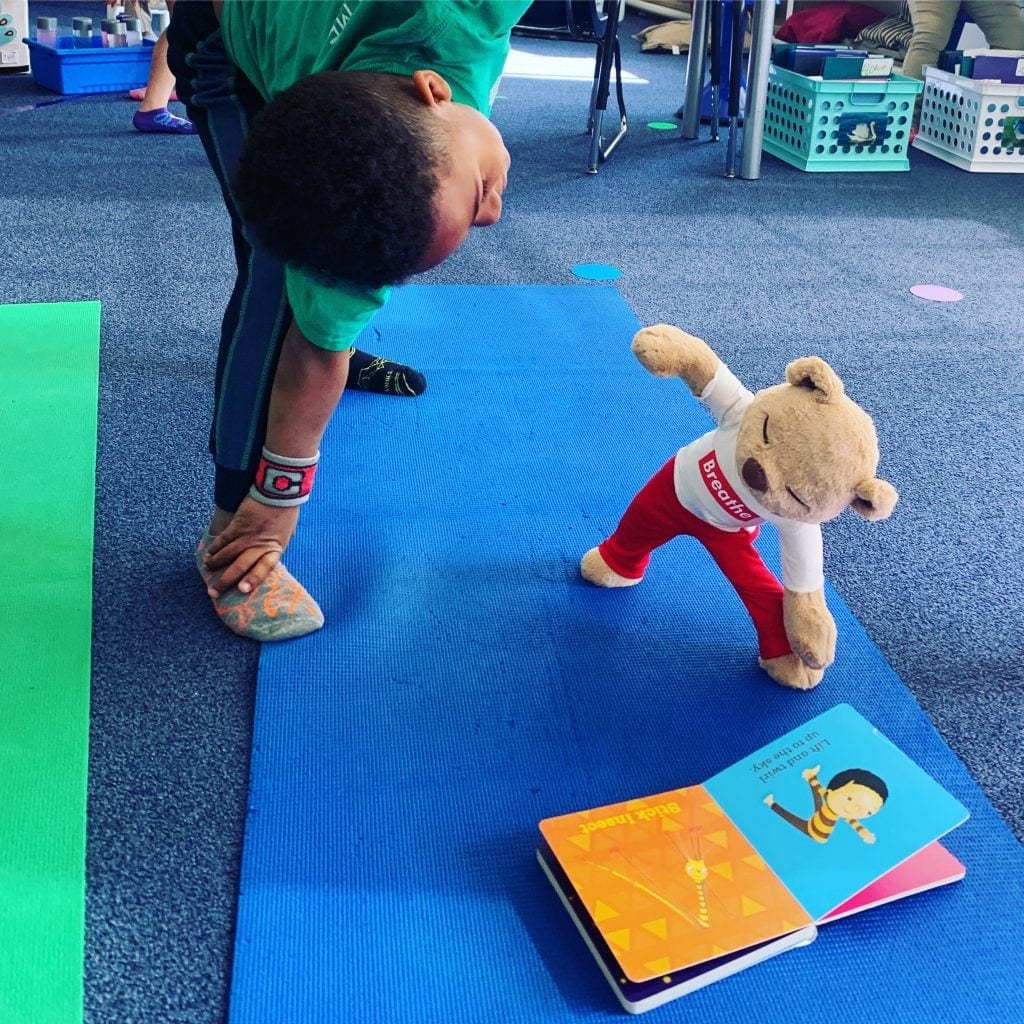 Breathing Ball (Hoberman Sphere)
I have been using this smaller Hoberman Sphere as a breathing ball ever since I started teaching. It is an excellent visual way to teach deep belly breathing for kids.
They love using it themselves and leading the class with deep breaths. I have purchased several over the years to keep them focused and help them calm down too. There are several varieties and colors, and it has LONG been a goal of mine to own the larger sized ball, too, it's really neat!
A nice sounding bell, like these beautiful Tibetan singing bowls, is a must for anyone who wants to work on mindfulness with their kids or students. I like these best because they have a lovely pitch, not too high, and when you strike them they sound for a long time.
I ring the bell to start class and the kids are instructed to listen until they can no longer hear the sound. It's a wonderful way to tune them in and prime their brains and ears for careful listening.
I have a lower sounding bowl that correlates with the 4th Chakra, or the heart, (top image) and a medium-high pitched bowl (I think it's related to the Solar plexus or 3rd chakra) as well. There are lots of bowls to choose from, but these two are my favorite!
Finally, my ULTIMATE wish list of mindfulness singing bowls would be to get the complete set of seven hand-hammered singing bowls, one to correlate with each of the seven chakras of the body. I believe very strongly in the power of sound and the relation of pitches and vibrations to healing.
It's an expensive set, but I have one of the bells by the company already and I know they are high quality. If you have the money for it, I say buy it! I have dreams of doing a yoga lesson on each chakra to match with each bowl… then adding in colors, smells, poses, and guided visual imagery to match. I'll let you know if I ever get that accomplished 🙂 🙂
Recommended Yoga Mats for Kids
These adorable kids yoga mats were specifically designed for physical therapists working with kids and teaching them yoga poses. The fun designs help kiddos learn yoga poses with proper alignment, hand and foot placements, and cute animal images around the edges.
Plus if you get the starter kit, you get a set of kids yoga instruction cards, videos of how to use the tools, some foam hands, and feet placement markers too.
Use the code: HAPPYKUMARAH for 10% off your order!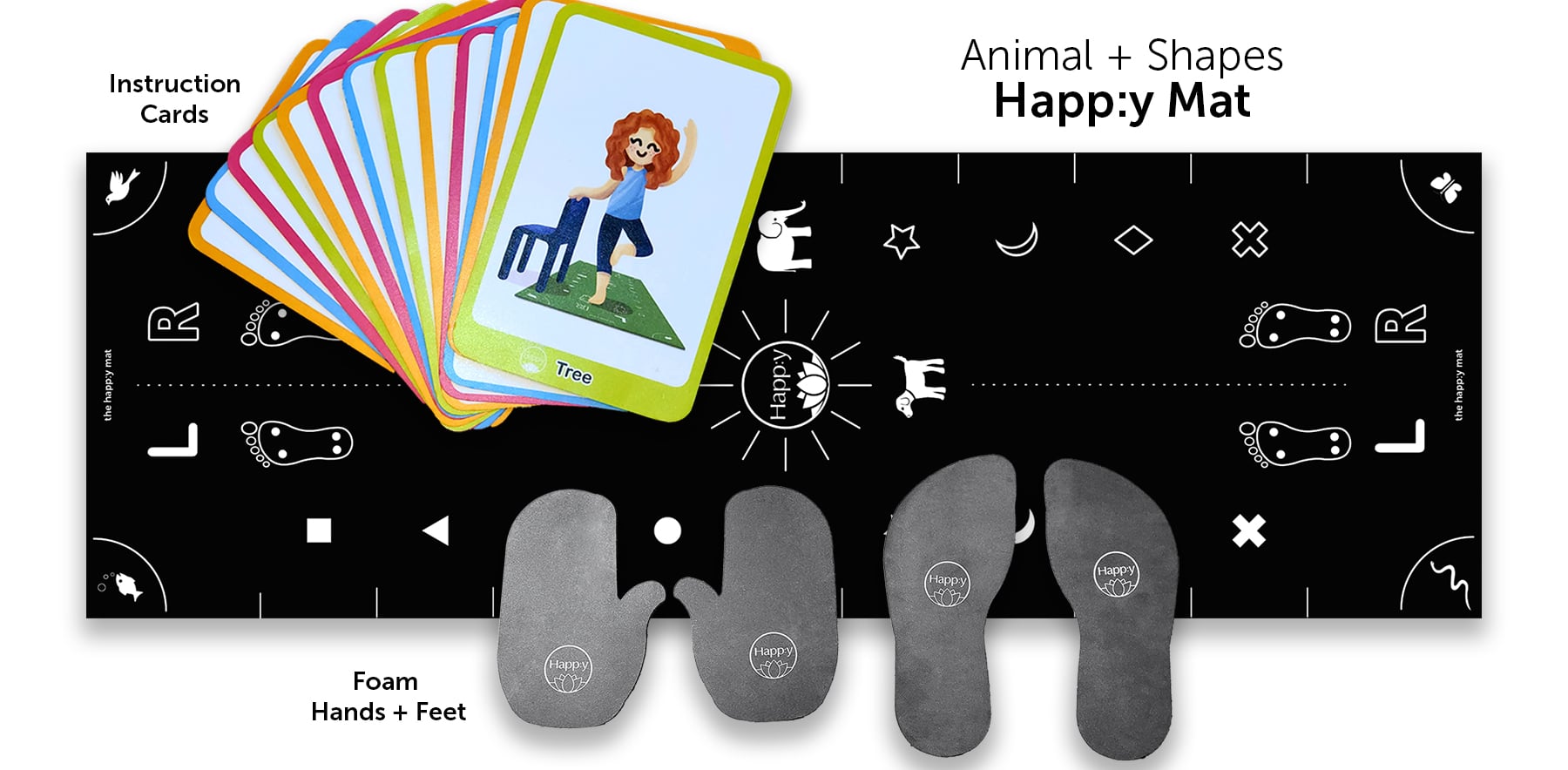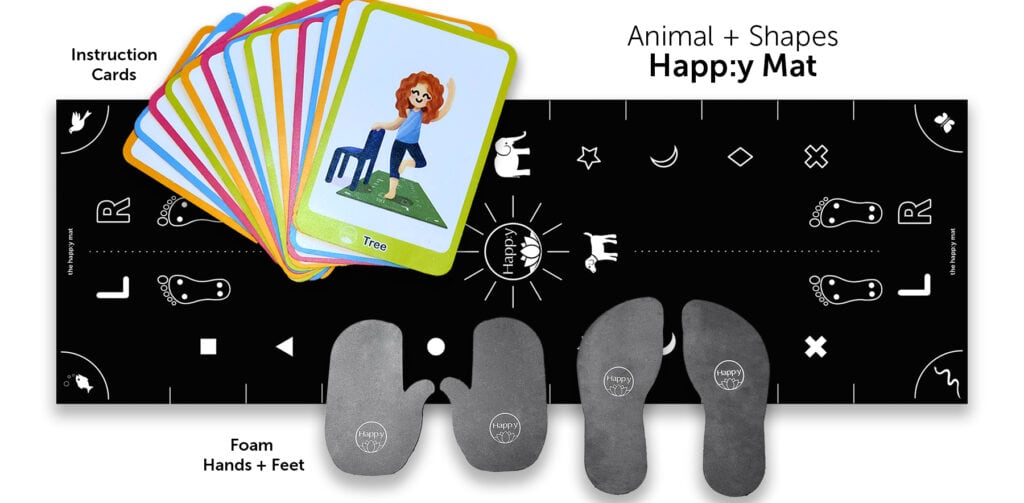 If you are a teacher of kid's yoga and you need to supply the yoga mats, this is the set you need! You can get 10 per pack and they are the cheapest I have found anywhere! They are good quality, they don't smell, and they are decently squishy.
They don't get dirty or broken too quickly, given that my students use them every day and are pretty tough on them. These are definitely the yoga mats to get for your students for a great deal. You can get them in a pack of one color too, if you want to avoid the fighting over favorite colors, haha.
My favorite mats that have a design are here. Also great quality and easy to clean!
If you are in a classroom, library, or another space that does not have quite enough room for a bunch of yoga mats, check out these velcro Sit Spots. I stick them on my carpet in a circle and it gives every kid a visual of where they need to keep their body.
Even if it's one foot on your circle during warrior 1, they are so helpful! I personally like the circles best, but they have a few different shapes and colors. They are super sticky, too, which is great.
Laminator for Digital Yoga Cards
If you have found any kids yoga cards online (Like the Kids Yoga Cards for the Perfect Yoga Flow), you may want to print them off at some point. If and when you do, definitely get this laminator so that you can keep those cards nice and usable for a long time!
Resources for Yoga and Self Care!
Silk and Sonder Mindfulness and Self Care Journals
I absolutely love my Silk and Sonder journals. I use the monthly subscription so I can track habits, keep up with my business and personal goals, and practice a little daily mindfulness. Highly recommend!!!
Their Kids Mindfulness Journals are Also Amazing!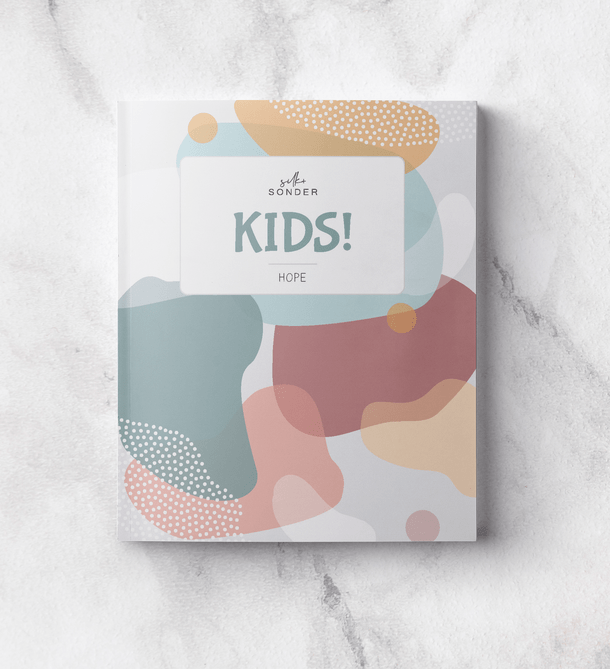 This is the easiest, safest, and most effective way to get yourself into an inversion, fast!
You can use it immediately for amazing results. If you've been working on an inversion for a little while and still feel nervous about injuries or falling, this is the perfect tool for you. Check out my full post here, and buy your own inversion stand today!
I bought this yoga swing as another way to get myself into inversions regularly. It absolutely works for that but also helps me workout in so many more ways!
I use it for flexibility, lunges, push-ups "pull ups" and so much more. It was absolutely worth the money, especially since going to just two or three aerial classes is already more expensive. I love hanging upside safely and releasing ALL the tension from my neck, back, and hips. Get yours NOW!