When you can make a fun craft activity into a mindfulness craft with positive affirmations and teach kindness at the same time … that sounds like winning!
AND when that mindfulness craft costs you less than $10 a kid you have a windfall.
Painting mindfulness stones, or kindness rocks, can be an easy mindfulness craft to add to a kids yoga camp, a classroom activity, or to do with your kids at home.
The purpose can be the activity itself, or you can emphasize that the purpose will be to have a beautiful affirming stone for practicing mindfulness, calming oneself during times of stress, or as a mantra stone for meditation.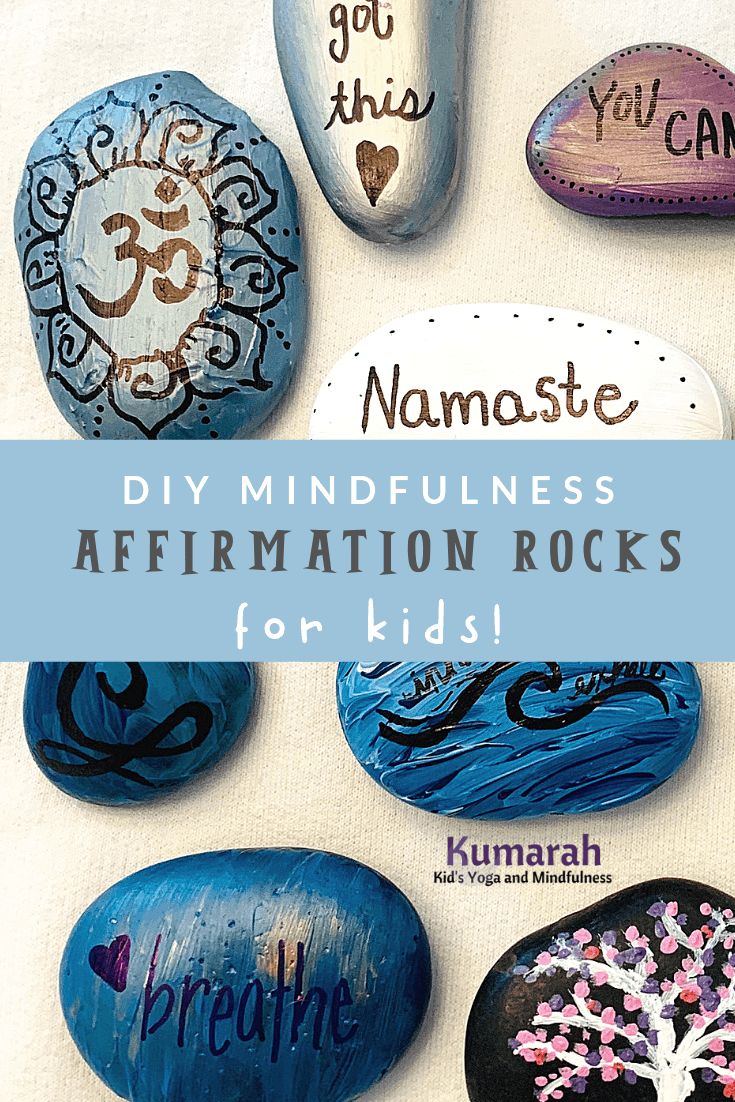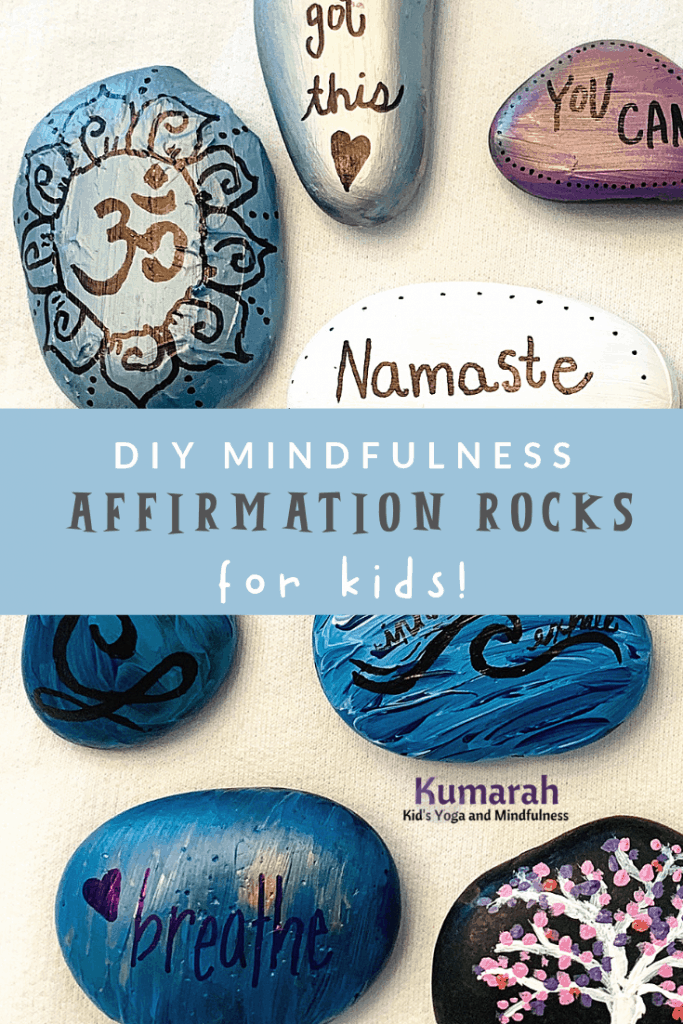 Why should you add in mindfulness to a craft or activity with kids?
Well mindfulness has been a huge topic in the last few years, with more and more evidence that it is an imperative skill to be teaching the littlest humans.
And mindfulness crafting can helps them be calm, focused, and learn new skills.
Other mindfulness activities, like these games, breathing techniques, and using a glitter jar are also really great choices for teaching kids mindfulness.
Here's how you start your mindfulness craft of kindness rocks
Go outside on an adventure hike or a mindfulness walk.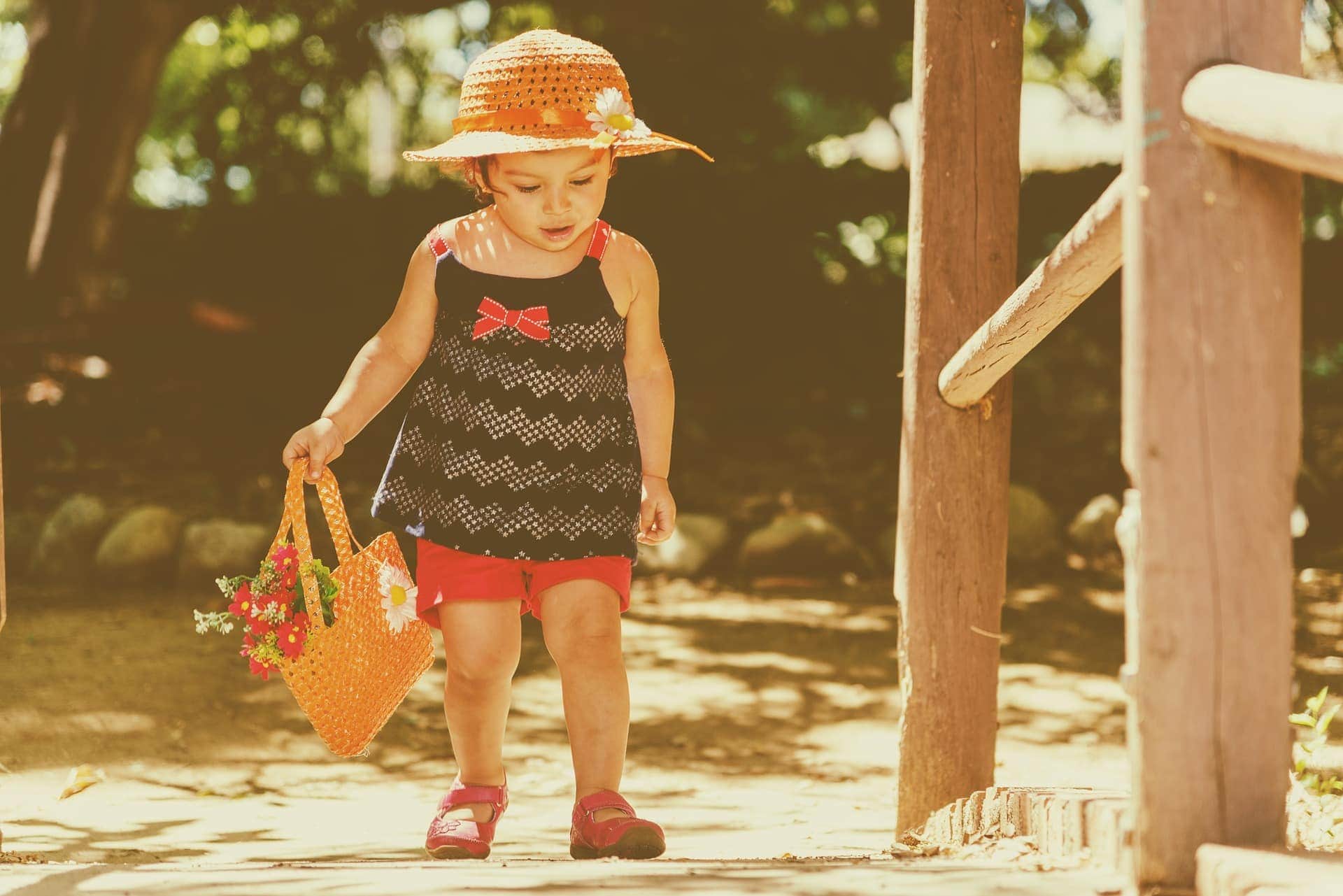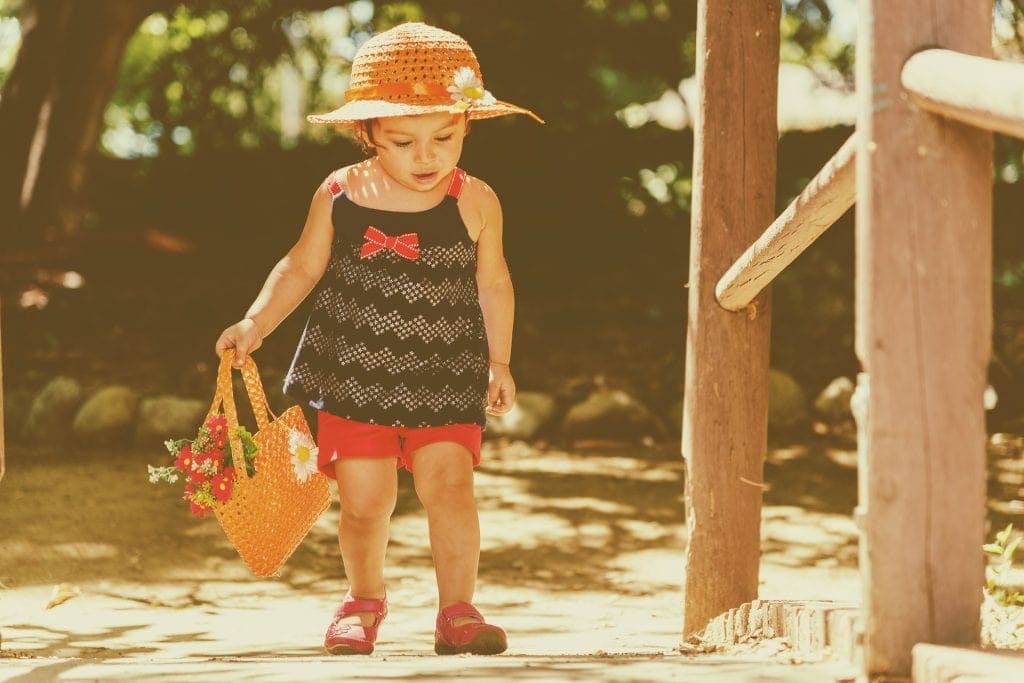 Either way, make the purpose what you will. If the kids need to burn energy, make it a grueling hike. If they are tired, go slow and place the motive on mindfulness.
Observe nature, comment on what you see and hear, and take your time looking for the PERFECT stones. Make mindfulness part of the hike itself!
Look for rocks.
Smooth, flat rocks or stones are the best. Dark colors are nice, but lighter colors work well too. Try to find some really large ones. You might need to dig a bit in the sand or dirt, but that's all part of the experience.
If you're not into rock hunting, check out these hand-picked stones on Amazon.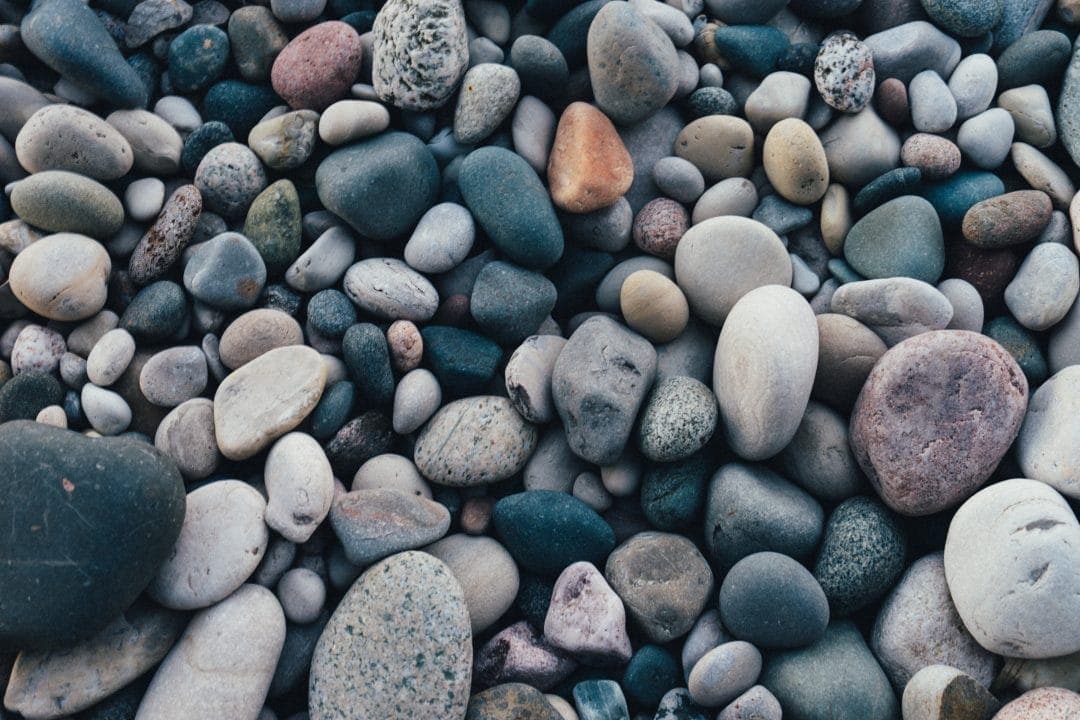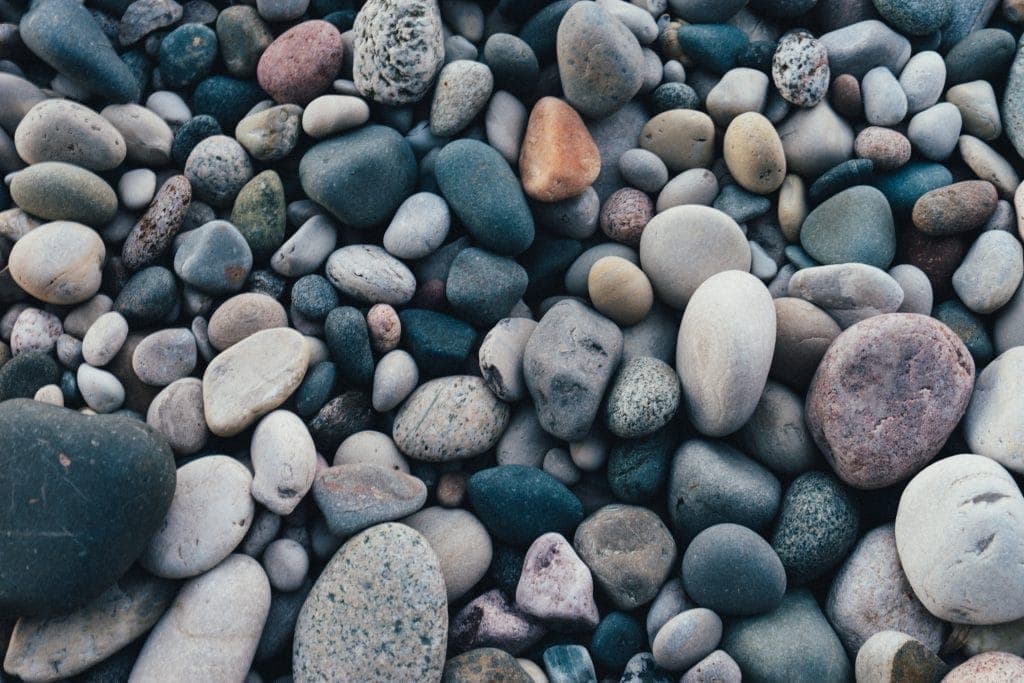 Get ahold of some paint.
Tempera or acrylic paint is the best, the non-washable kind, simply because you don't want it to rub off the rocks within a few uses. If you want less fuss, get the set with more colors so you don't waste it by mixing it the wrong way or with too much.
I like this set from Amazon (or your local craft store).
Find some permanent marker pens.
OR get really good at using fine paintbrushes for writing words. Your choice, really. But with kids, I recommend the permanent marker pens. These are my favorite!
Get some clear varnish, like Mod Podge, if you want your rocks to last for a longer time.
Just know that this will add more time to the project to let them dry before you coat them.
They have Mod Podge glossy and matte, I like the glossy but you can choose either!
Wash and prep the rocks, along with your art space.
Use newspaper on the table or ground and wear old shirts, especially if you are using acrylic paint (less easily washable).
Paint the rocks with a base color (or two or three) for the background.
Try to make the paint texture nice and smooth and evenly spread.
Let them dry.
Preferably overnight so they are really truly dry.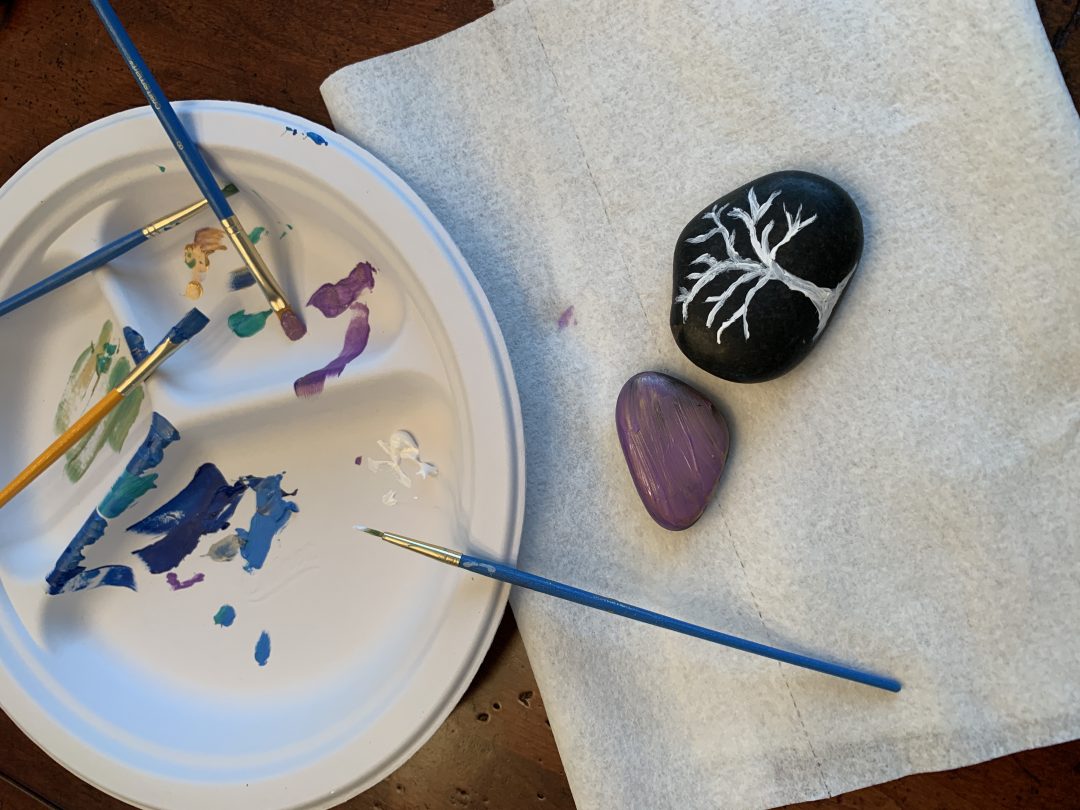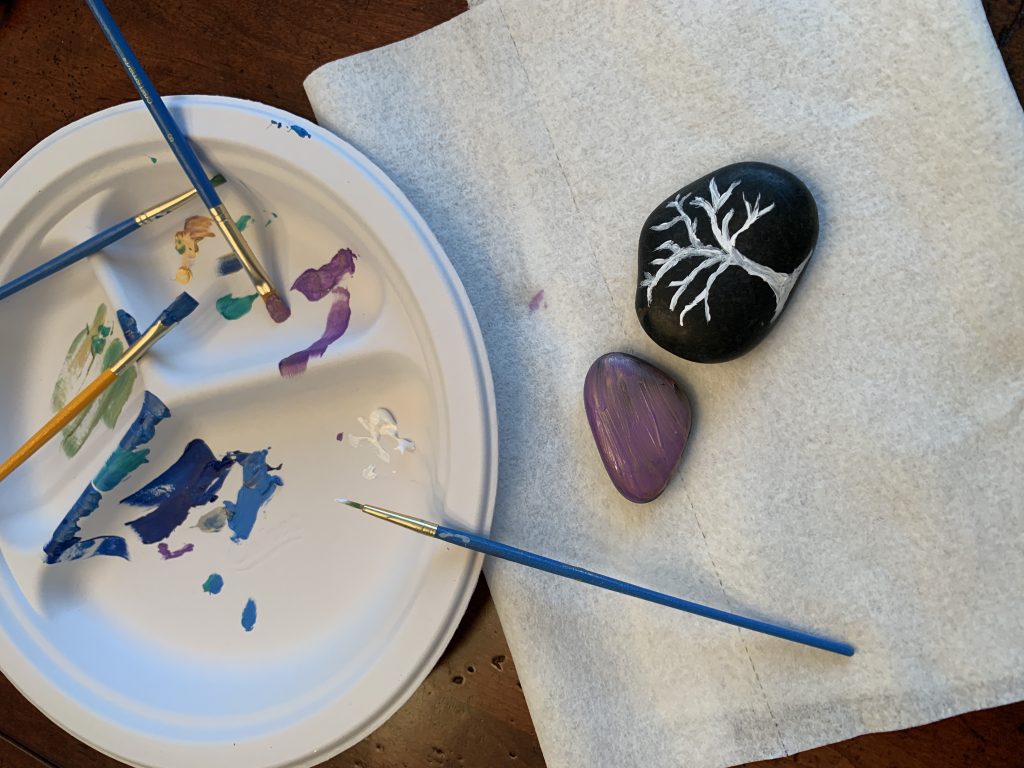 Choose some positive affirmations or yoga-themed words to write on your kindness rocks.
Here's a link to a post with a huge list of positive praise and affirmations.
I also like these yoga-themed words for our kindness rocks
Namaste
Breathe
Life
Peace
Ground in
Create
Space
Alive
Be Free
Be Yourself
Integrity
Om Namah Shivaya
Calm
Unstoppable
Grow
Fire
Earth
Love
You can also paint or draw some nice images, like trees, a wave, an OM, hearts, circles, mandalas, clouds, sunshine, etc.
Really anything that has to do with nature, peace, love, or happiness will do.
Add some decorations around the edges of your kindness rocks if you want as well. We did lots of little dots and leaves and some arrows.
Once the rocks are dried, again, send them home with lots of love.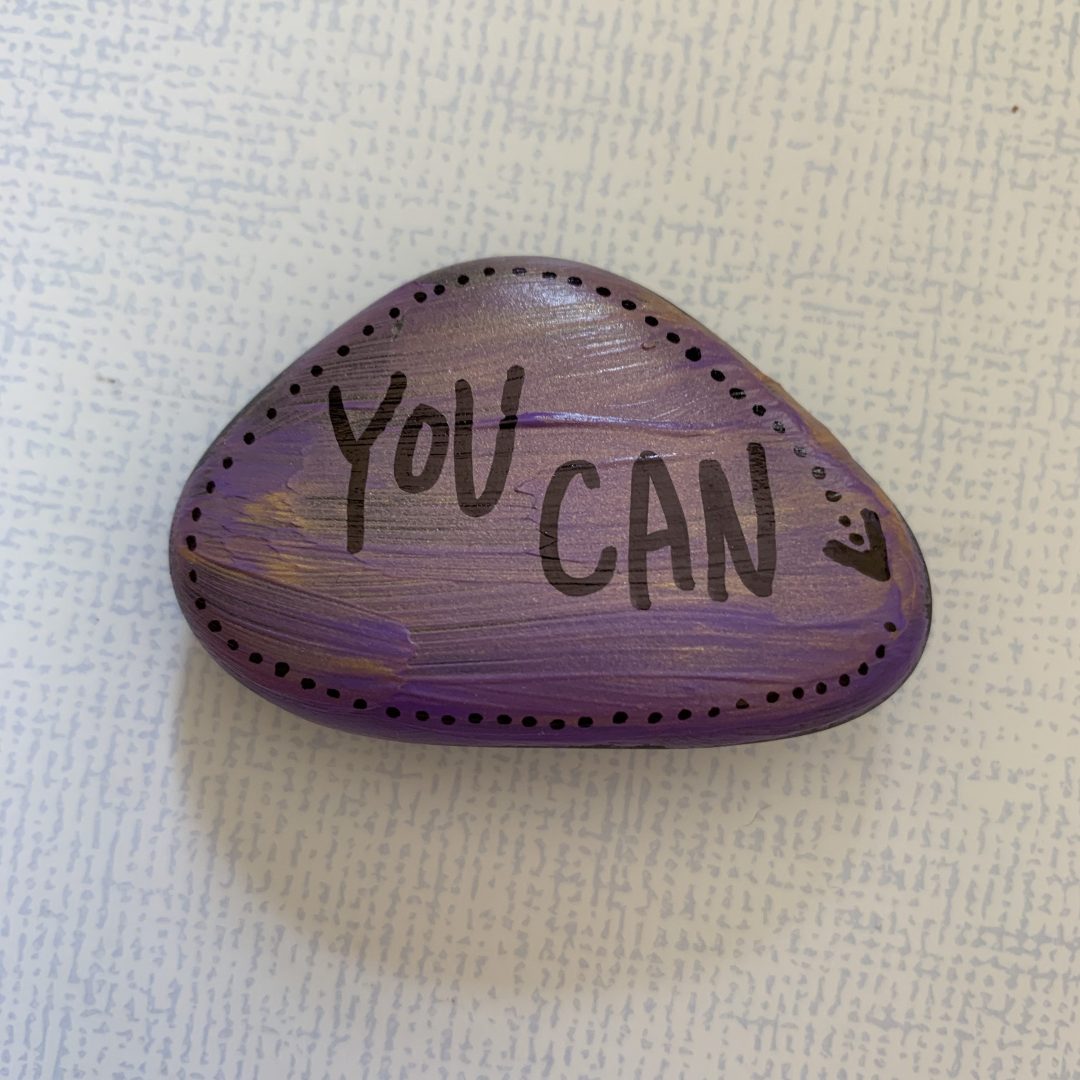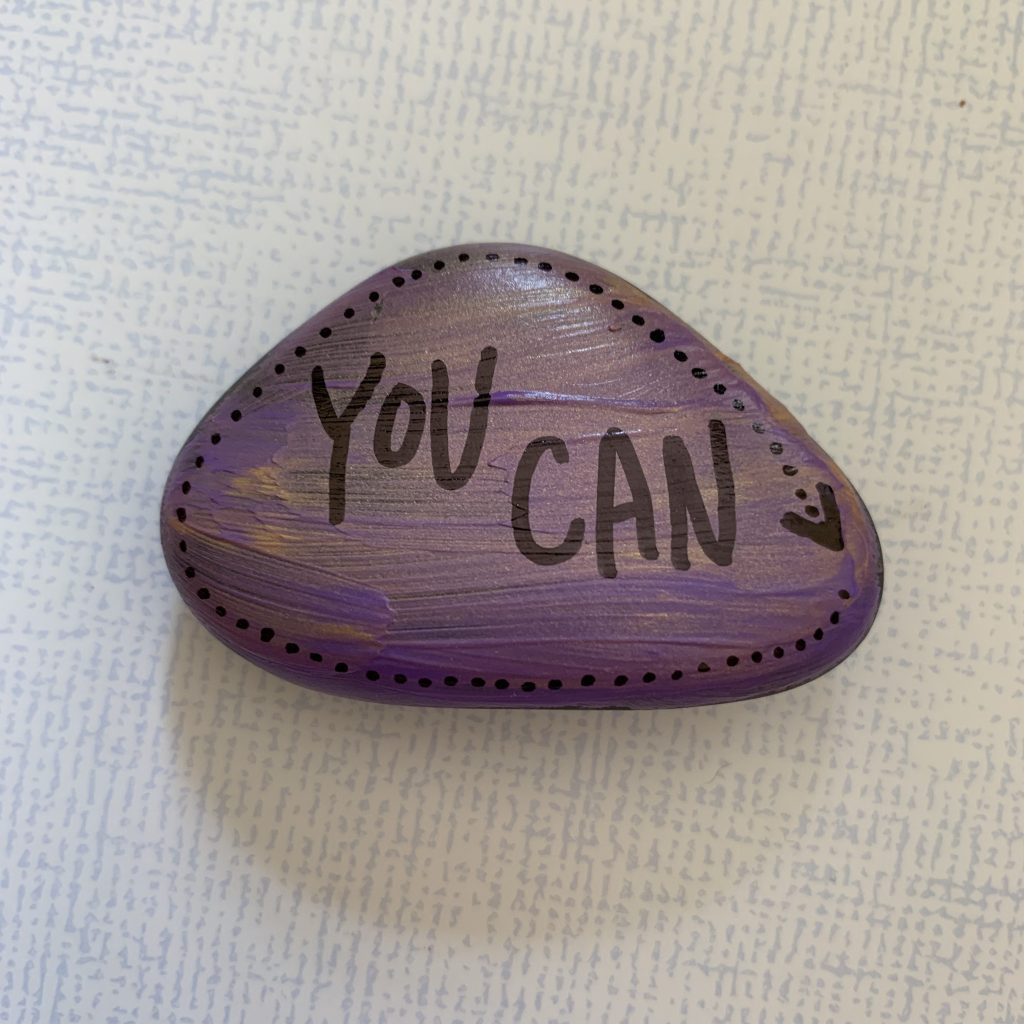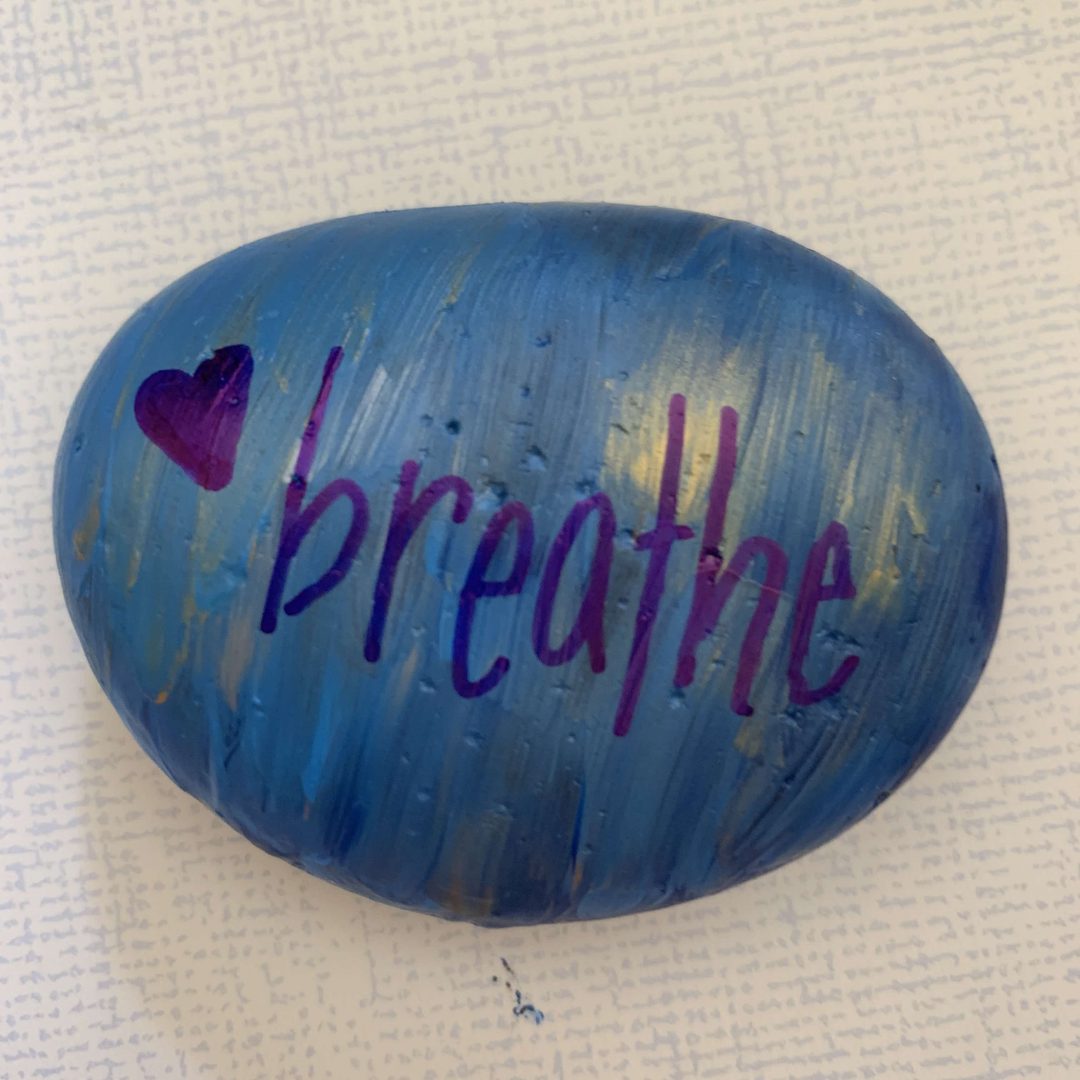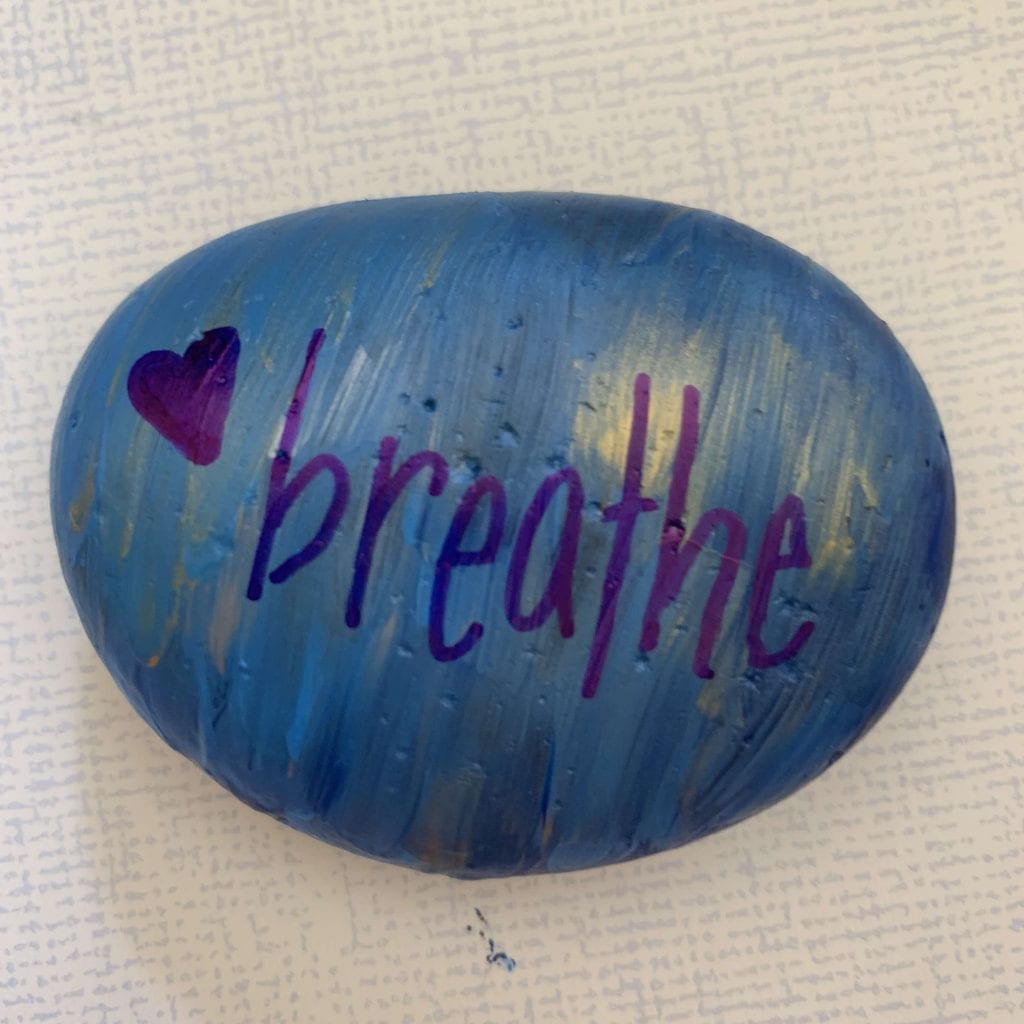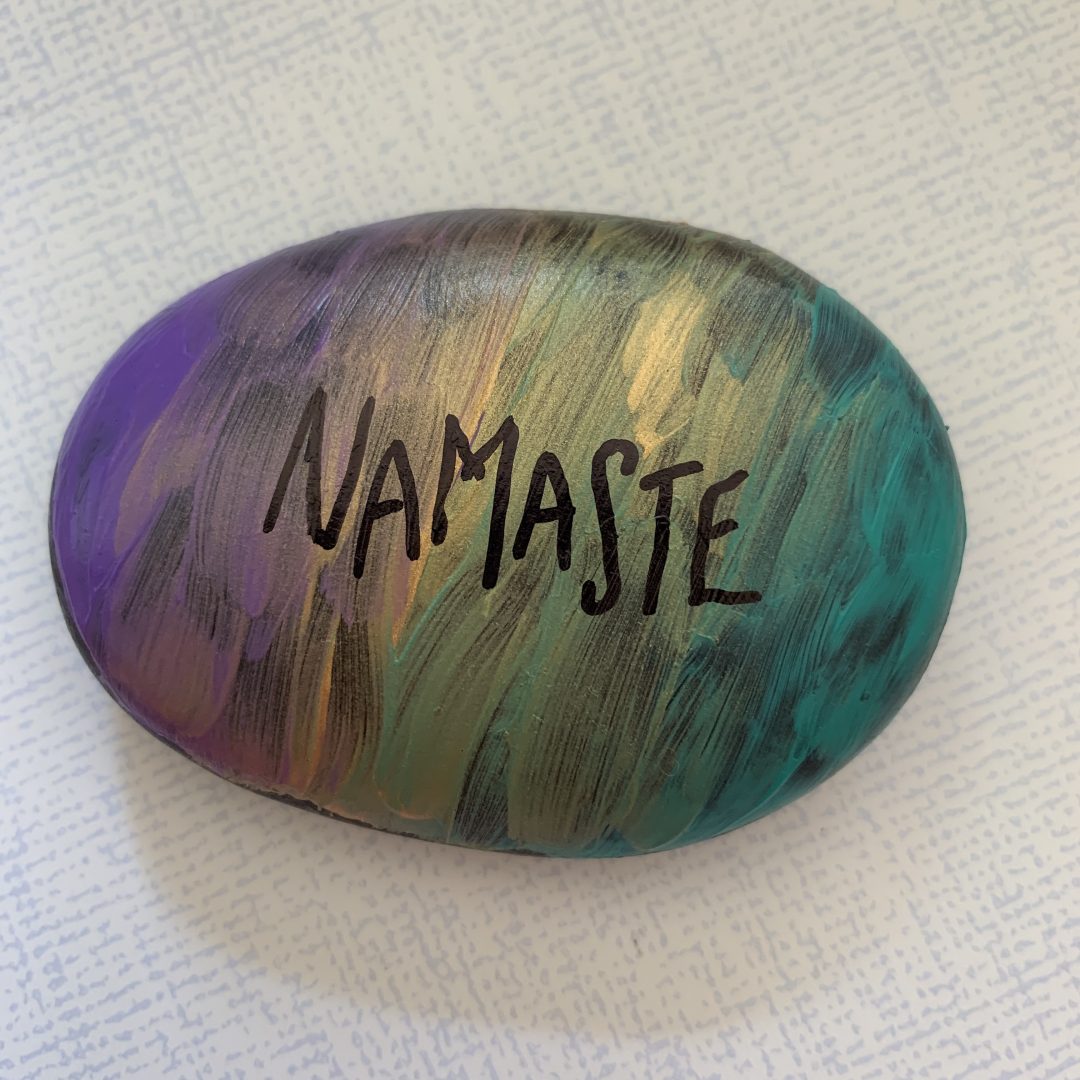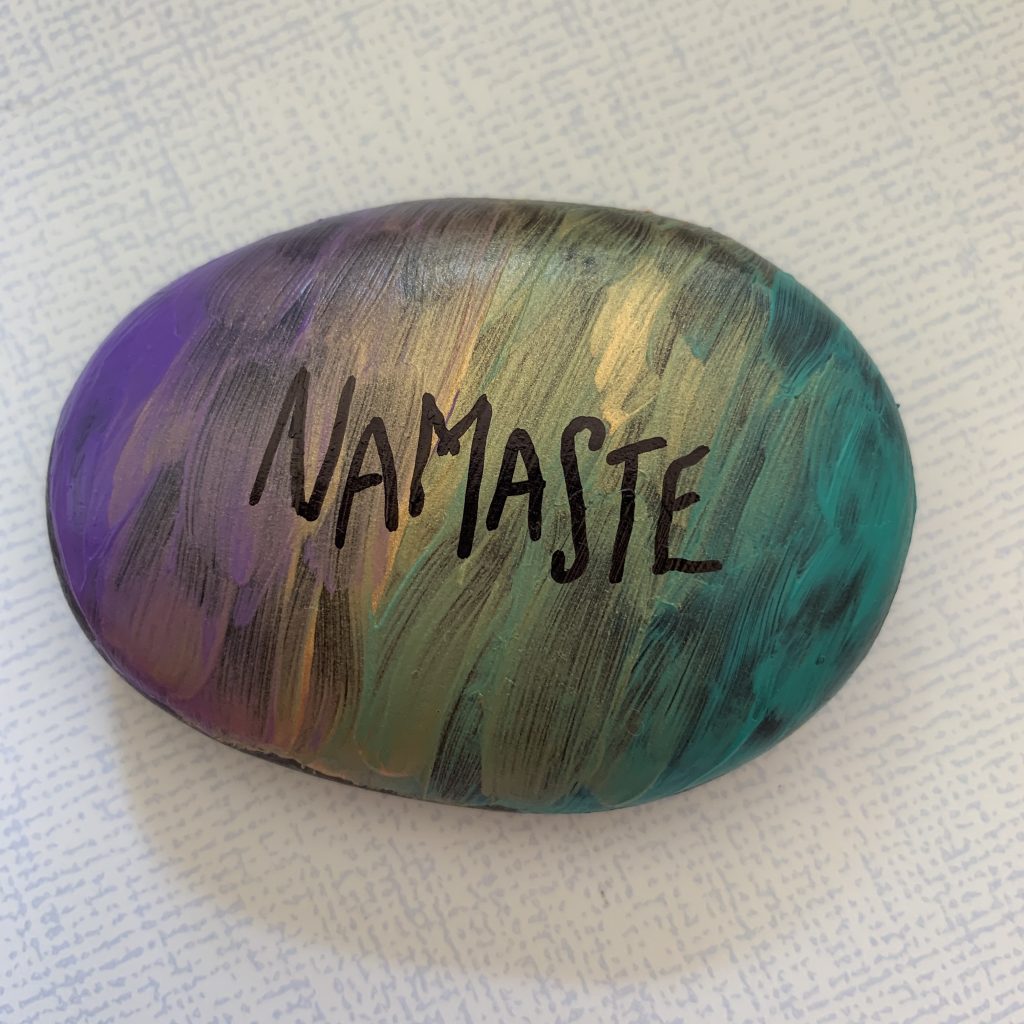 I like to hold a rock "ceremony" at the studios where I teach (not as easy to manage in the public school but use your judgment).
To do this, we light a candle, sit in a circle, hold our rocks, and think about the energy we want our rocks to hold. While holding our rock to our heart, we think about positive things.
We go around the circle and share one word that we want our rock to embody.
Then, we place the rock in the middle of the circle on a mandala mat to soak up the collective positive energy.
You can add in other things from your nature hike that you found, too (feathers, smaller stones, leaves, flower petals). This makes the whole mandala mat look extra beautiful. Finally, we OM together three times to send the energy into the rocks.
Ceremony or not, send your affirmation kindness rocks home with the kiddos with these instructions:
Place your rock somewhere special, like next to your bed, in your locker, in your desk, by your front door, etc.
Every time you see it, hold it in your hand and think of the positive word and energy you sent into it.
Close your eyes and take 5 deep breaths with your positive thoughts.
Open your eyes, thank your rock and yourself, and bring that positive energy with you wherever you go next.
Have fun making your kindness rocks and filling them with love and positive light!
What other mindfulness craft ideas do you have for a kids yoga class or a rainy day? Comment below!
Check out these other mindfulness activities and crafts below:
Grab the recipe for my Mindfulness Glitter Jar here too: