[et_pb_section admin_label="section"] [et_pb_row admin_label="row"] [et_pb_column type="4_4″][et_pb_text admin_label="Text"]
A mindful Zen garden for kids is a simple and fun craft that you can do with your kids at home or in a kids' yoga class.
A Zen garden is an ancient meditation technique developed by Japanese monks to aid in mindfulness. They created large sand and rock gardens to rake for a calming and meditative practice.
Now, many people all over the world use smaller desktop Zen gardens to bring them a little peace and calm in their day. The little Zen garden is a reminder to take mindful breaks, rest the eyes, and take a few deep breaths.

Combined with my Mindful Glitter Calm Down Jar at my desk, I feel more centered and mindful with my own mini Zen garden to help me focus throughout the day.
You can easily make a mindfulness Zen garden of your own to have at home, or for your kids to have in their workspace (especially with distance learning being all too common these days!).
I did this craft with my two little boys, ages 8 and 11. The younger is very artistic and was right on board with it, ready to god. His fairy rock garden on the beach is really quaint and adorable.
His older brother, usually reluctant to do anything other than be on his screens, was surprising really into it as well! He was ready to try it out immediately.
He listened to the directions, learned about how it helps with mindfulness, got started on his desert scene, and after about 20 minutes of constructing careful said, "This actually is really calming."
YAY, mindfulness crafts for the win!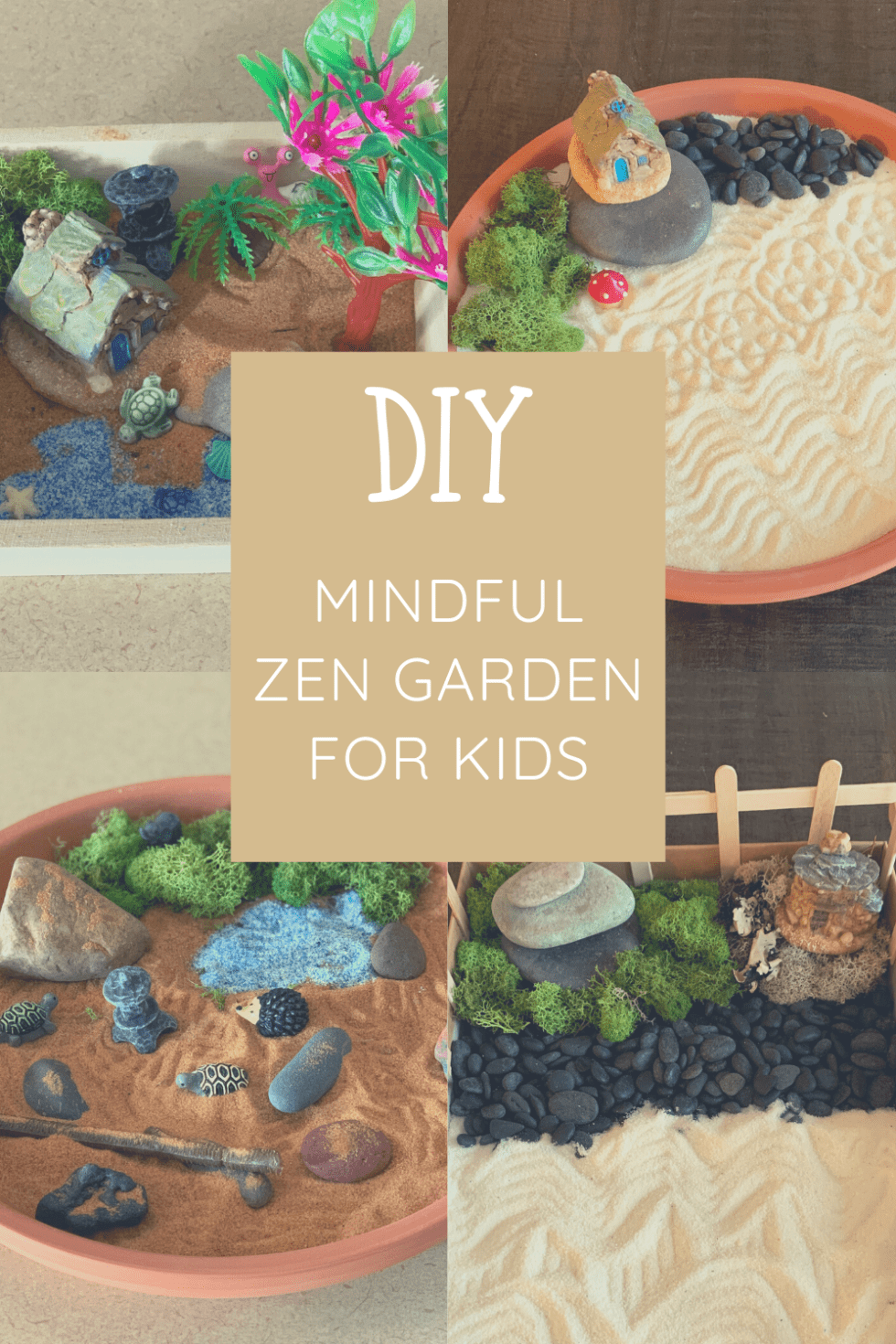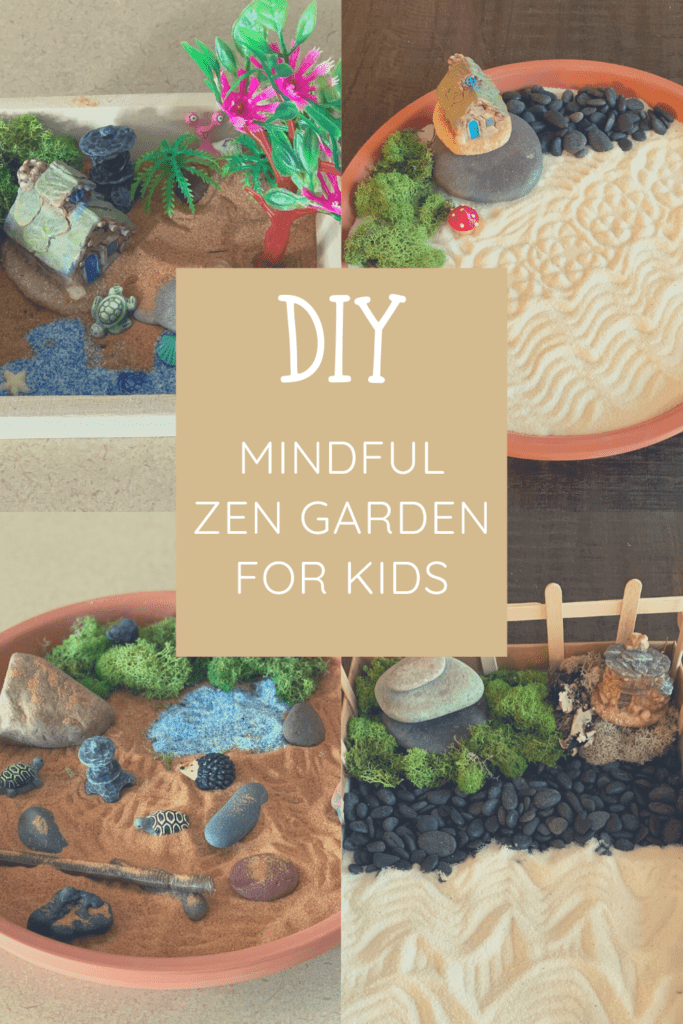 First of all, What is Mindfulness for Kids?
First, it's important that your child or students know a little bit about mindfulness and why it is important.
Mindfulness is the art and practice of paying close attention to one thing at a time. If you are eating, you should be focused on your food: the smell, the taste, the texture.
When you are walking, be mindful of your feet, your surroundings, the sounds you hear, and the sights you see.
During the day, we often get caught up in too many things, our tasks, our to-do lists, the meals we will eat later, and things that happened earlier that caused great emotion.
Our minds become like a monkey, jumping from thought to thought, with no real presence in the current moment.
In order to still our minds and quiet our racing thoughts, it's important to practice mindfulness. We take a deep breath, calm our bodies and find stillness, and focus our thoughts on one thing. Being mindful of the present moment helps us feel happier, be more productive, and feel calmer.
Here are some breathing techniques that can help you teach your kids about mindfulness.
And here are some fun mindfulness games you can play with kids at home, and even with your toddler!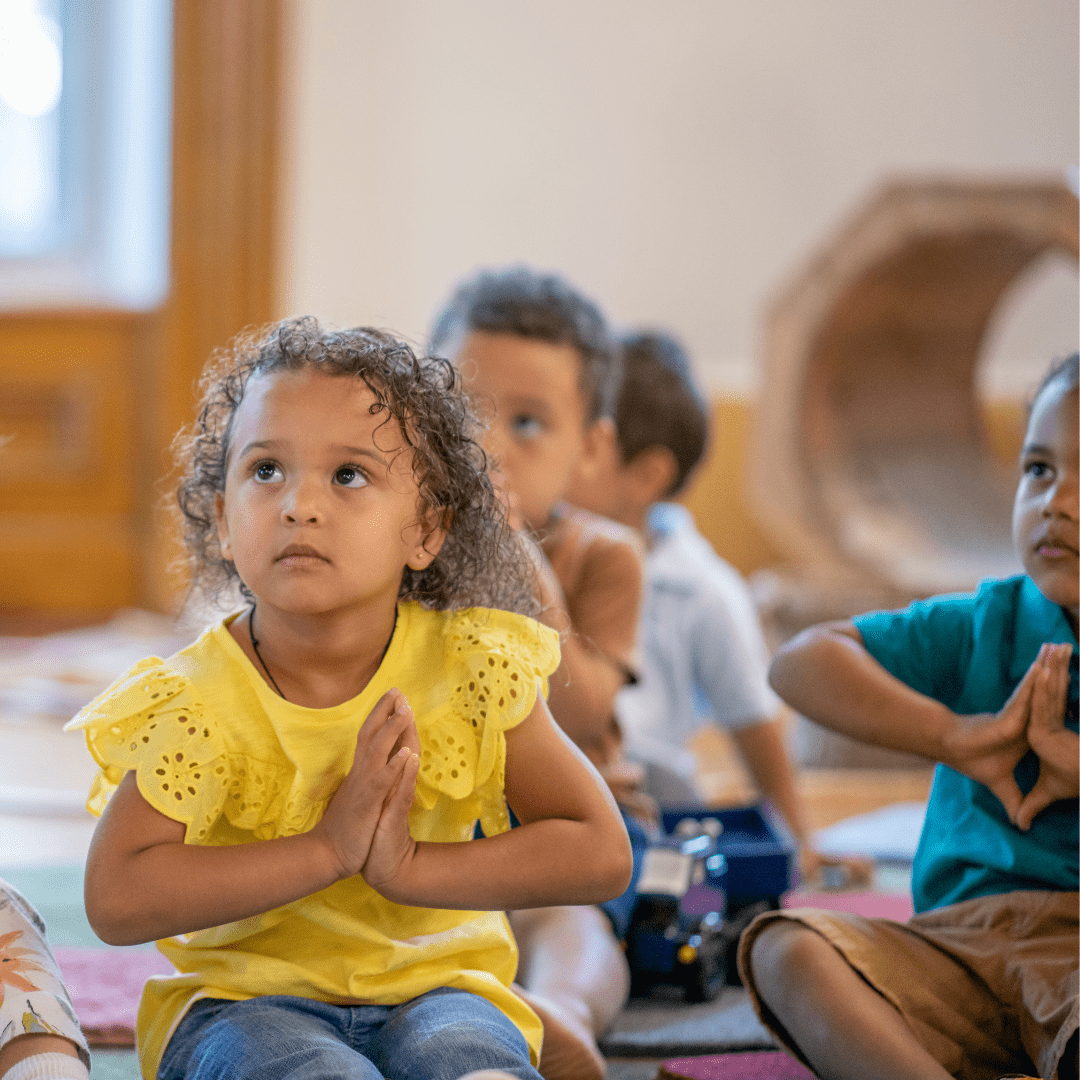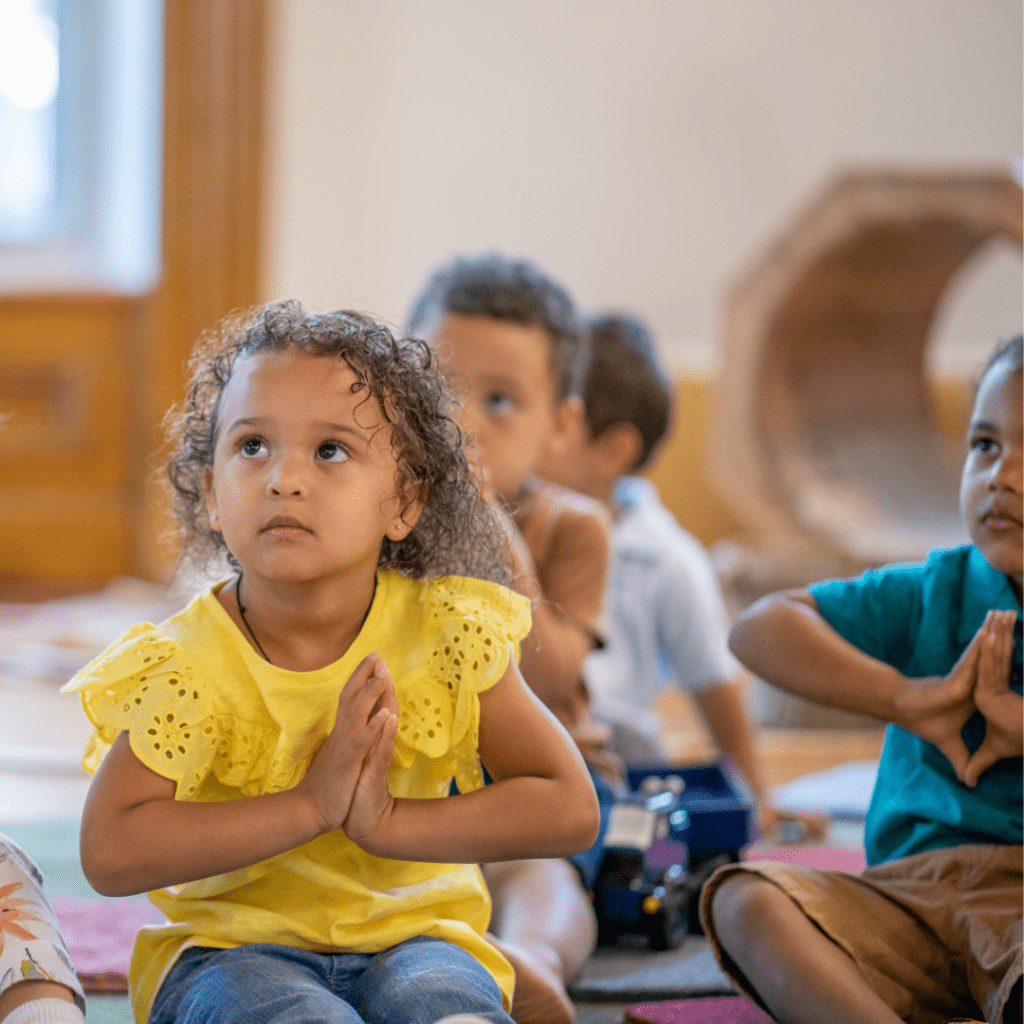 What Tools Do You Need to Make Your Mindfulness Zen Garden?
There are lots of options for creating your own Zen garden from items you have at home. There are also quite a few pre-made kits that you can purchase.
Here is a nice simple pre-made Zen garden kit for kids.
Or you can get the materials to assemble one on your with kids. I think that is fun because you can include a mindful nature walk to gather the materials as well. Many of these are also available at your local craft store.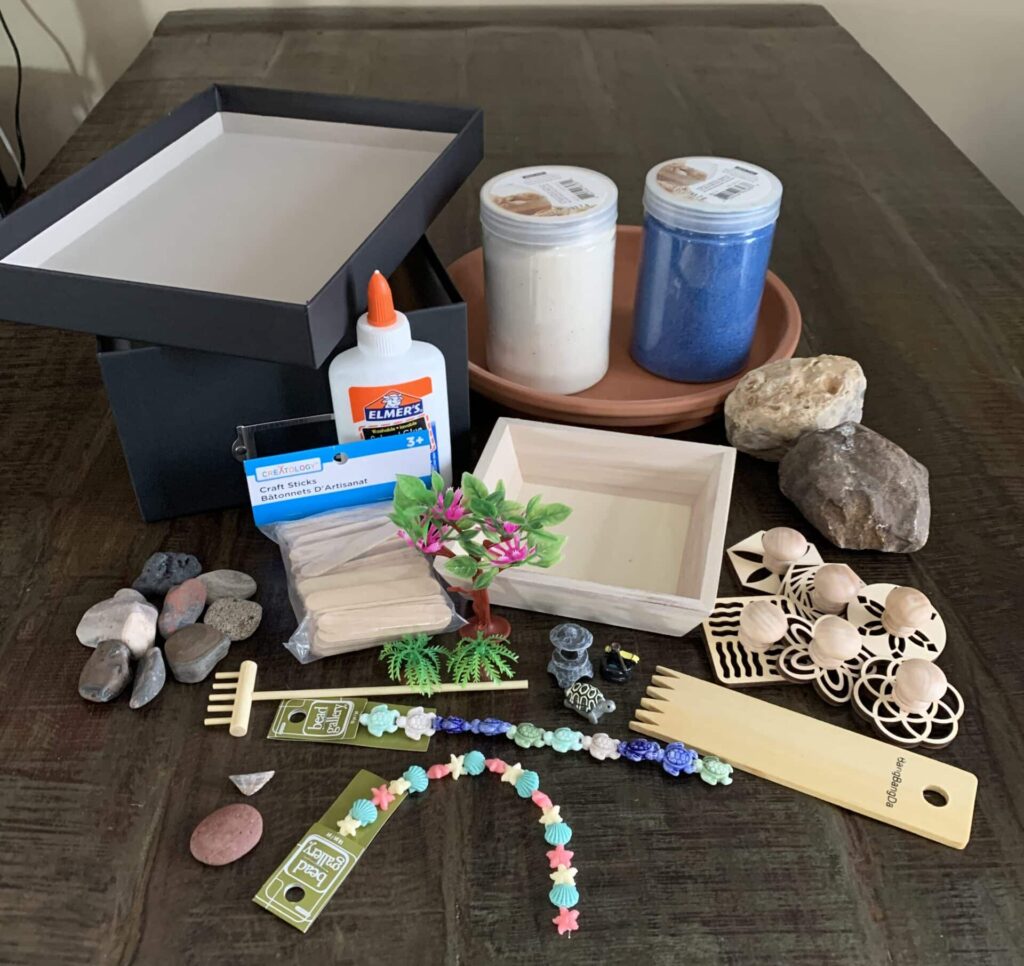 Here is what you need for your DIY Zen Garden
A flat, low edged container for the sand:

Shoebox lid
Photo box lid (slightly sturdier)
Tray or small box
Planter tray (heavier but works great)

Fine sand. You can use play sand, like for a sandbox, but it tends to be too coarse. I recommend this decorative sand in white instead. I also got it in blue and tan!
A small rake, fork, or even a pine branch to make raking designs
Rocks. Choose a good variety of sizes, colors, and shapes.
Optional additions to your Zen Garden
A cover for it while you are not using it. (Especially if it will be by a computer and you have pets or small children!). A microwave cover would work well, or a slightly larger box.
Once you have all the tools, it's time to get the basics assembled.
How to Set Up a DIY Zen Garden to Practice Mindfulness for Kids
Once you have your Zen garden supplies and you have it all assembled, make sure you explain the process and tactics for mindfully using this tool.
The purpose of the Zen garden is to meditate or focus on just one thing. You can choose an affirmation, or a mantra to whisper to yourself while you create your garden, or you can simply focus on your breath, or the movement of the sand while you rake.
Choose a mantra or an affirmation. Here is a list that I provide for my students. Or you can choose a nice set of cards like these.
Start with the sand clear and flat. Gently shake it so it is level.
Chose your rocks or items that you would like to place in the garden.
Mindfully and slowly take a deep breath as you carefully choose where to place each item. This is an important part to model with kids or students, to help them practice the focus and concentration aspect of the meditation.
Once all of your items are placed, choose a rake. Rake the sand in nice slow, steady designs, breathing slowly to keep your hand steady.
As you approach the rocks and other items, notice what it feels like to go around, or make a different pattern. This is part of the mindfulness process as well. How does it feel to encounter obstacles?
While raking, you can also quietly say your mantra to yourself, lifting your mind with a positive affirmation.
Once you've finished raking and making designs, it's up to you to decide to save it, or replace the rocks and obstacles and smooth out the sand. How does it feel to have your design be impermanent?
If you have younger kids or if you are planning to keep your Zen garden in a classroom, I recommend using a larger tray to set the garden in, just in case of spills. You can keep a small dustpan nearby to give them to option to clean up after as well.
Here are a few more examples of different Zen rock and fairy gardens you can set up with your kids or students! I hope you like them.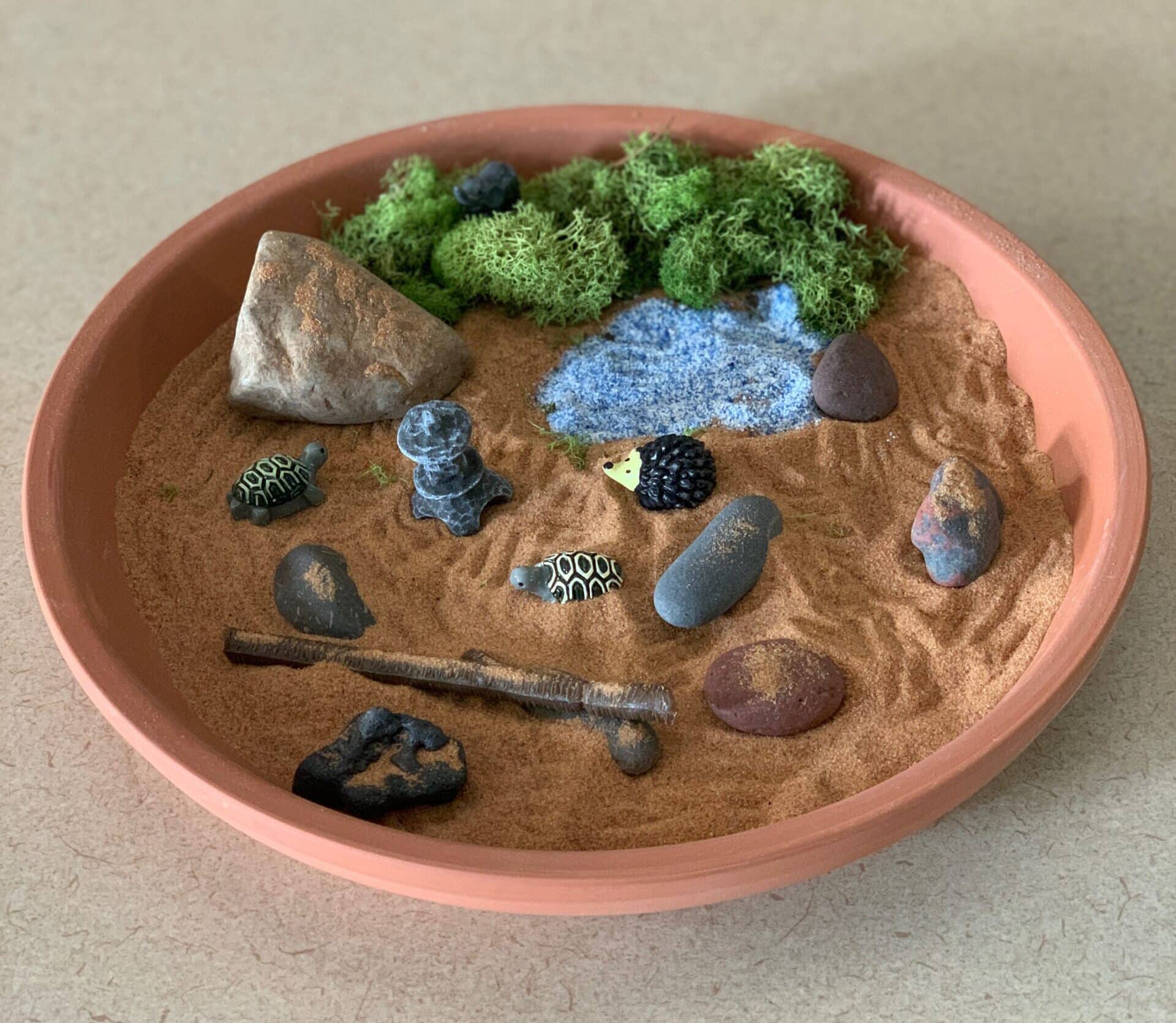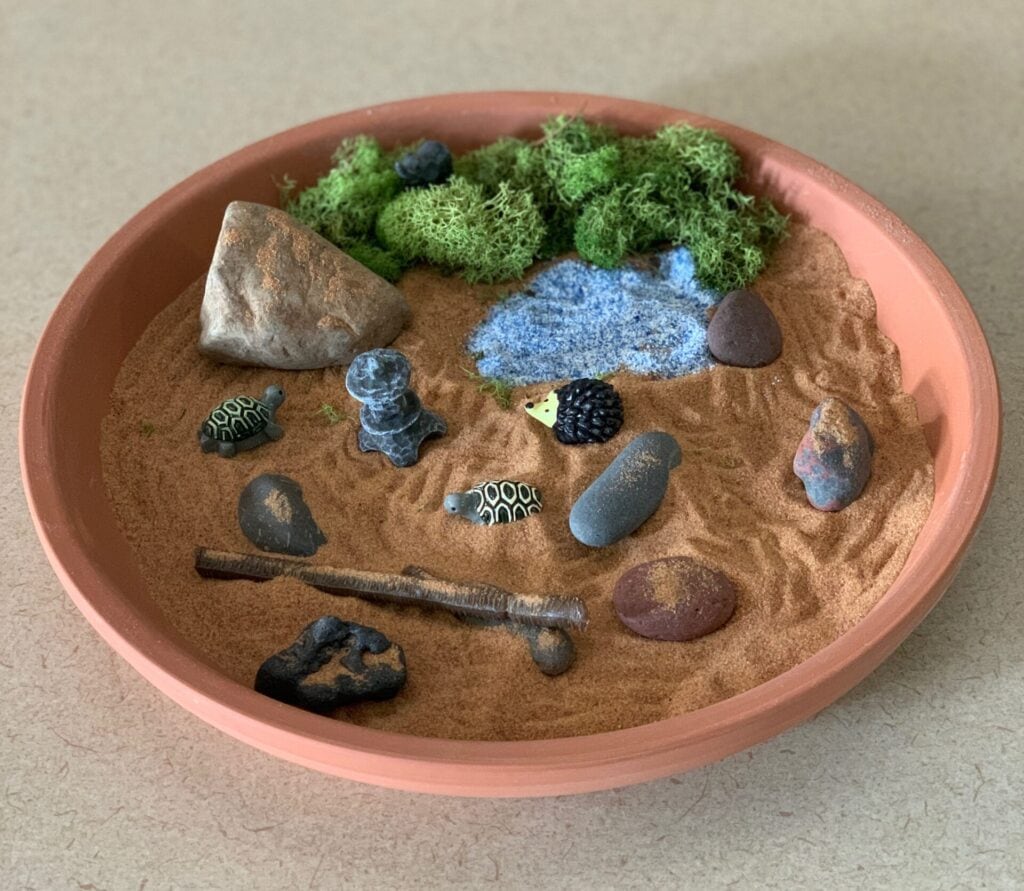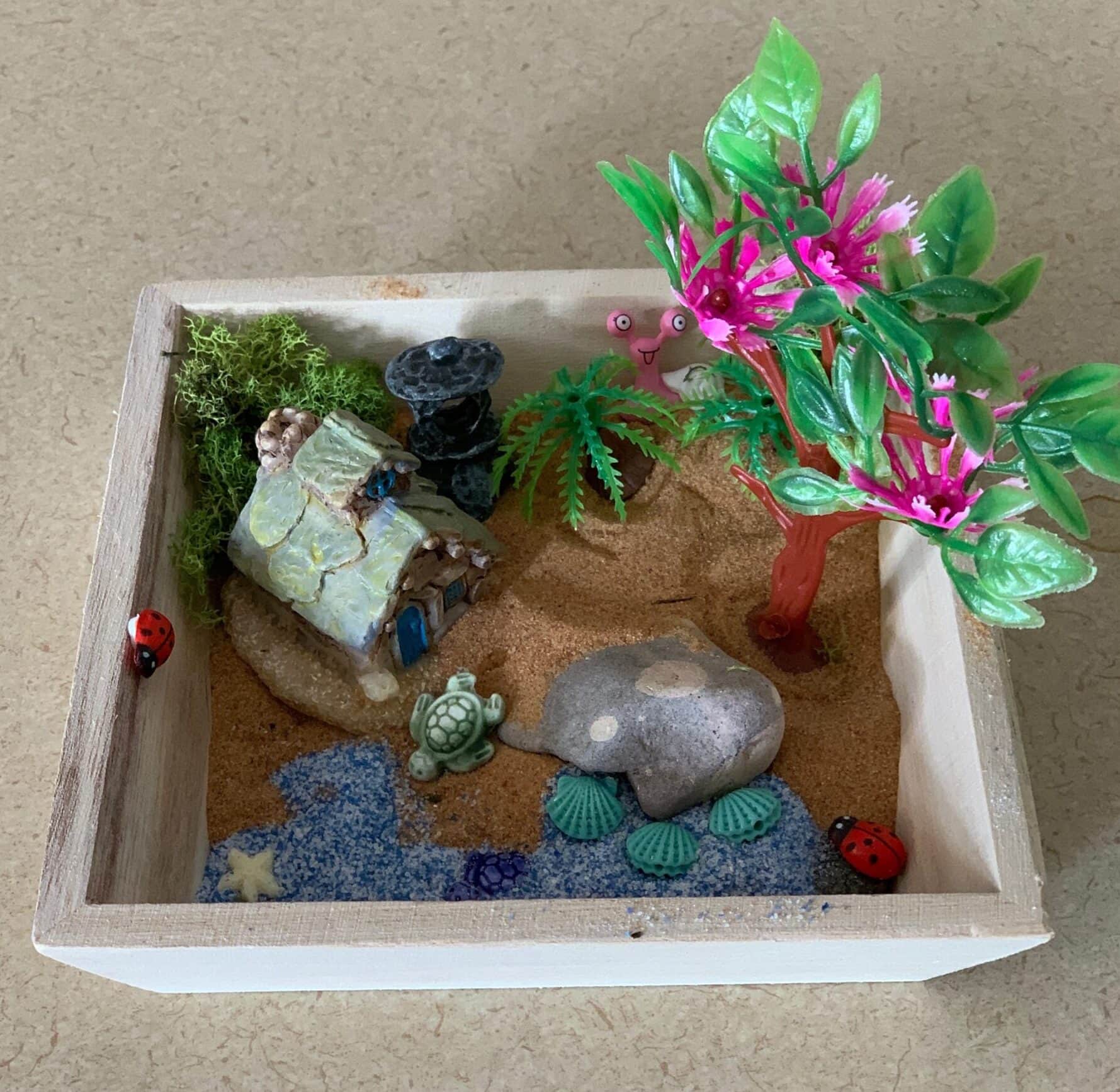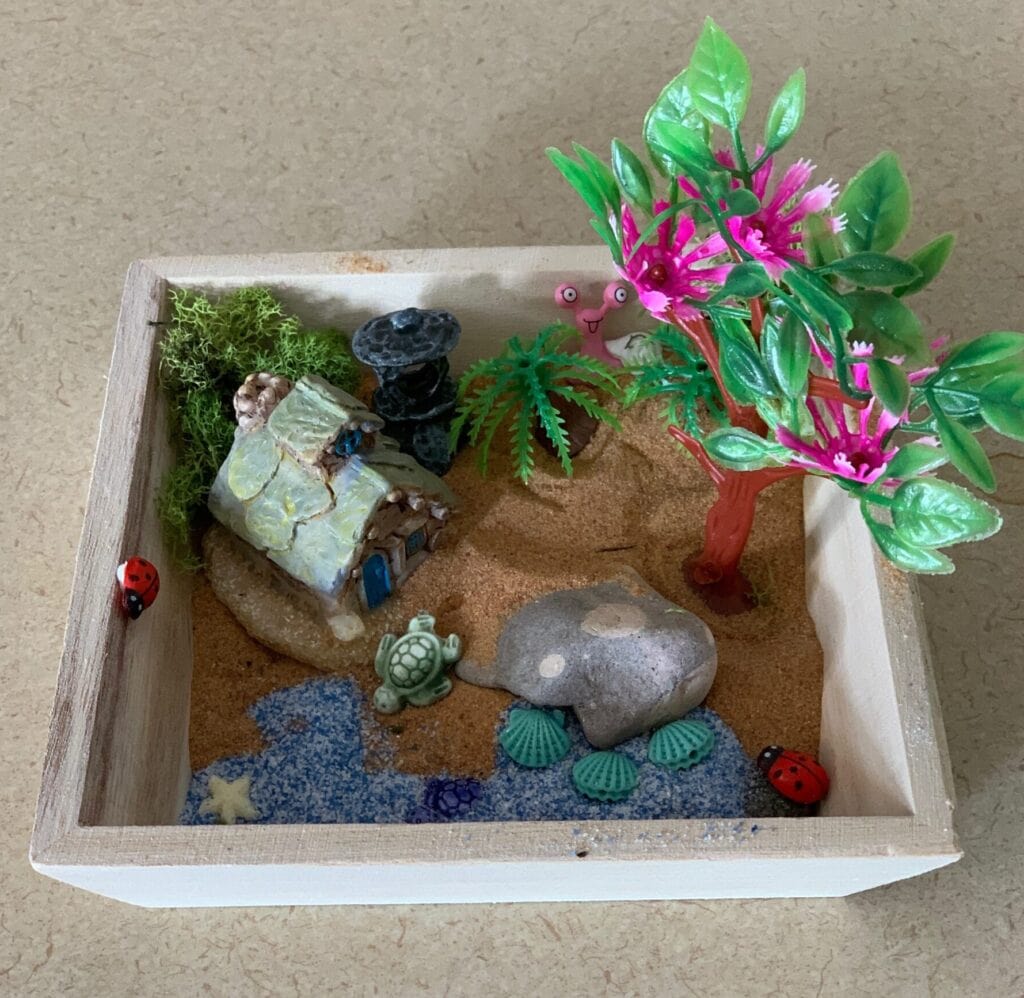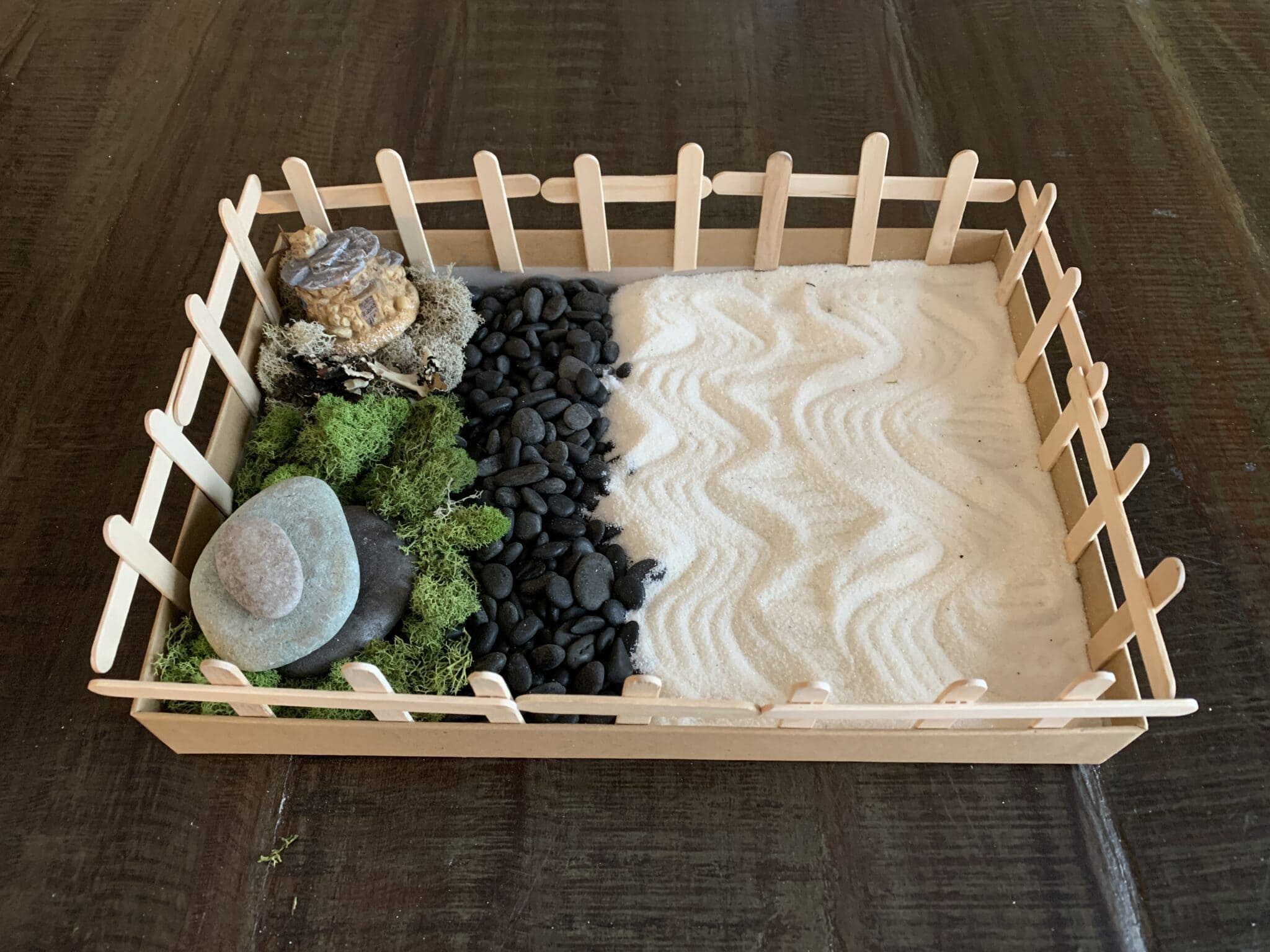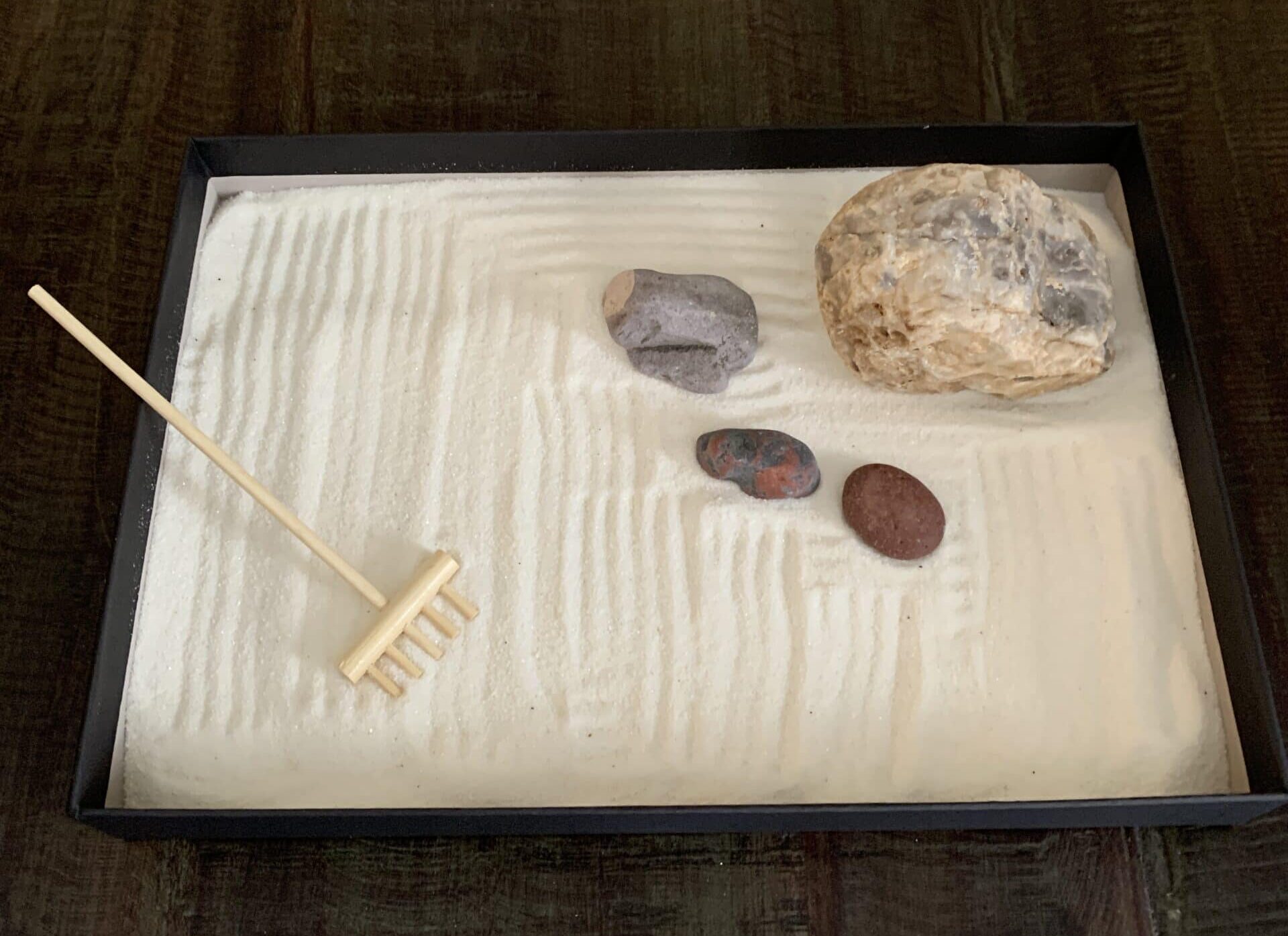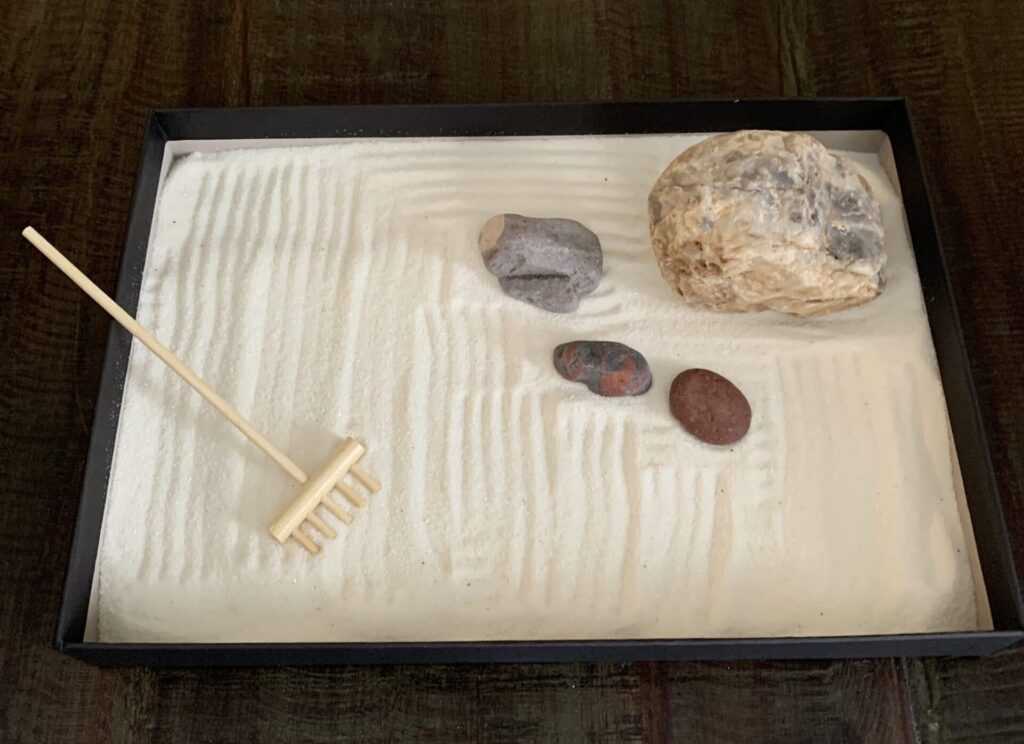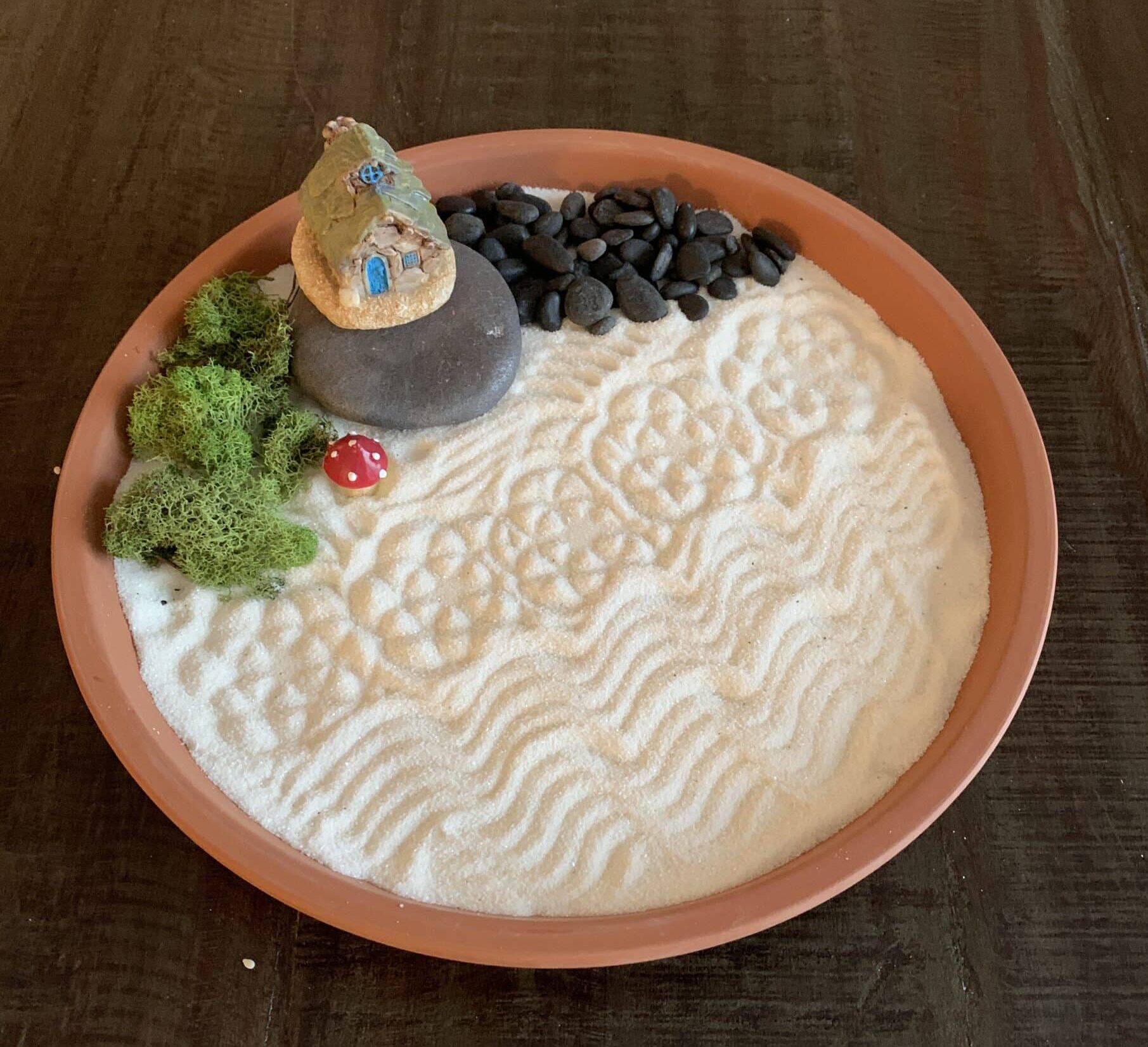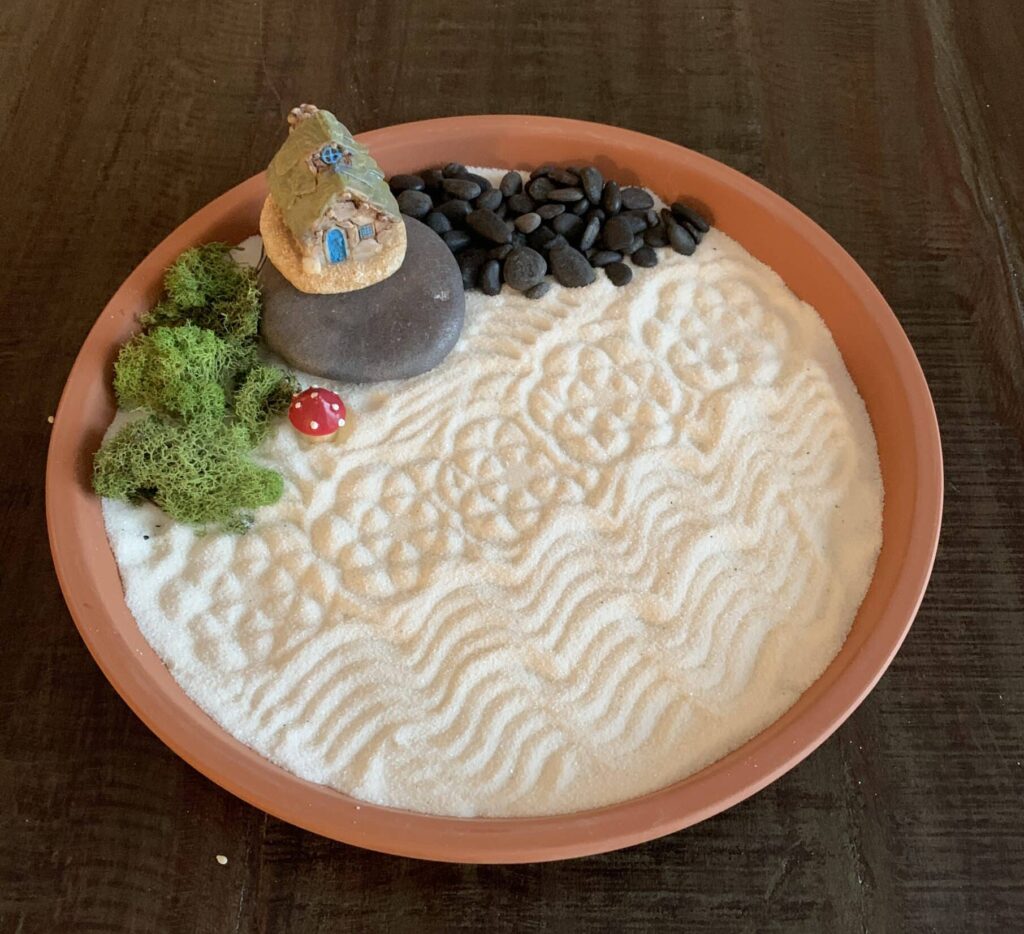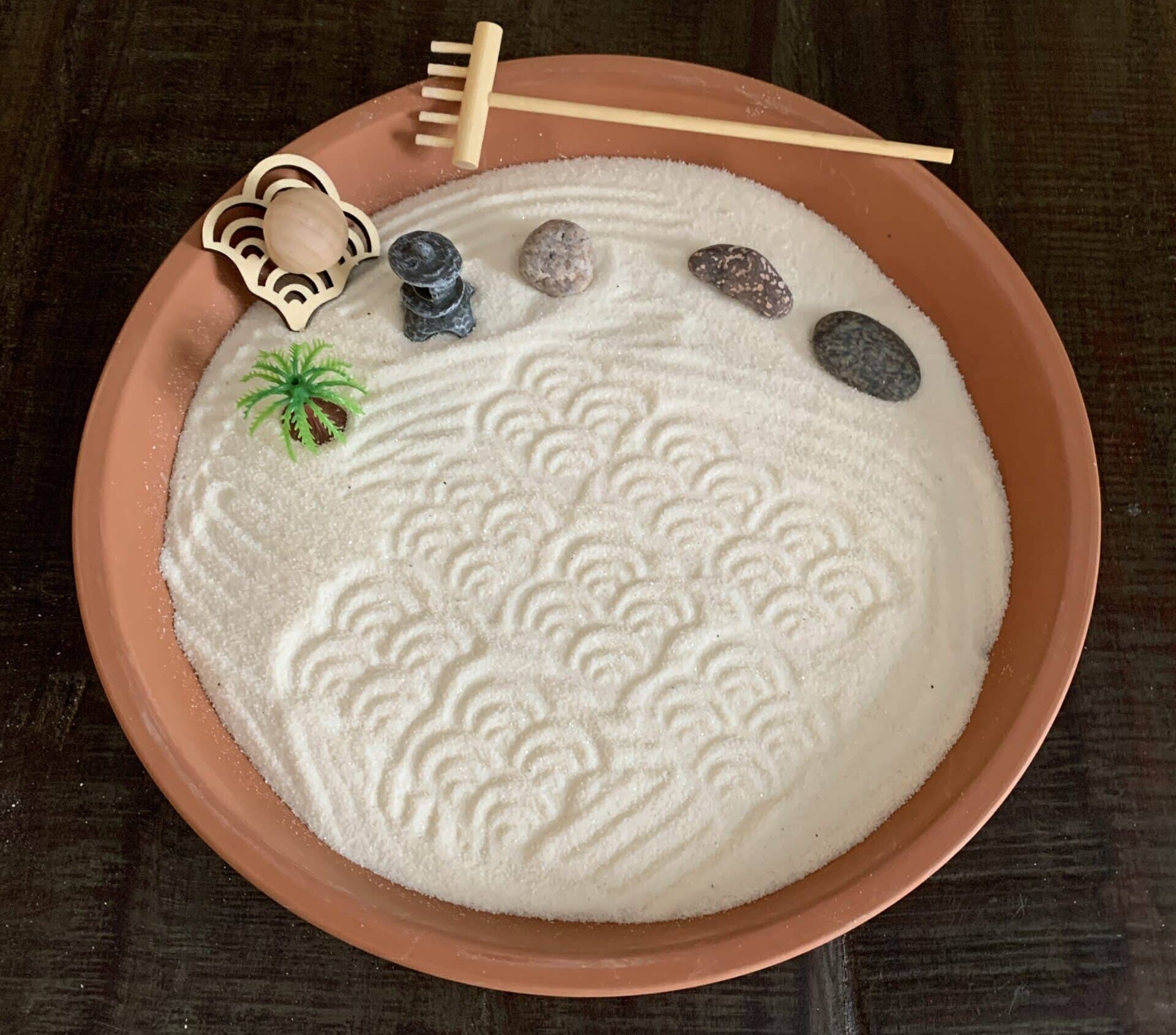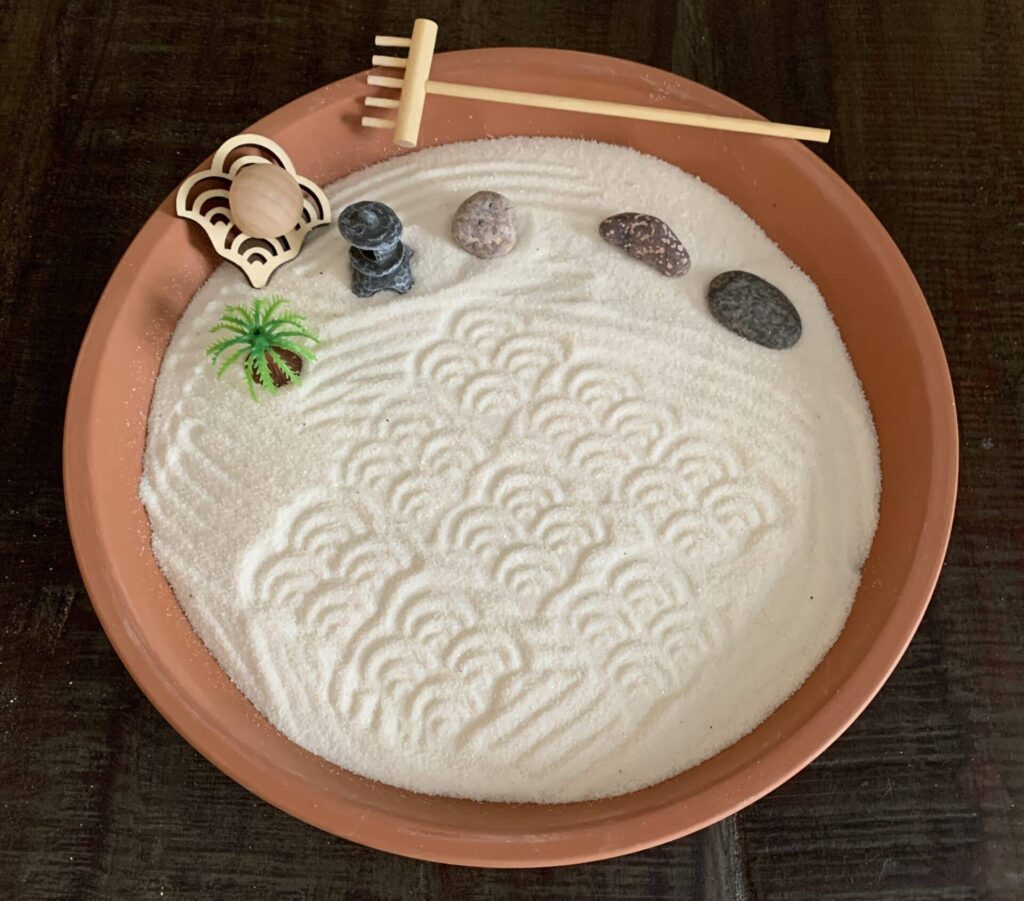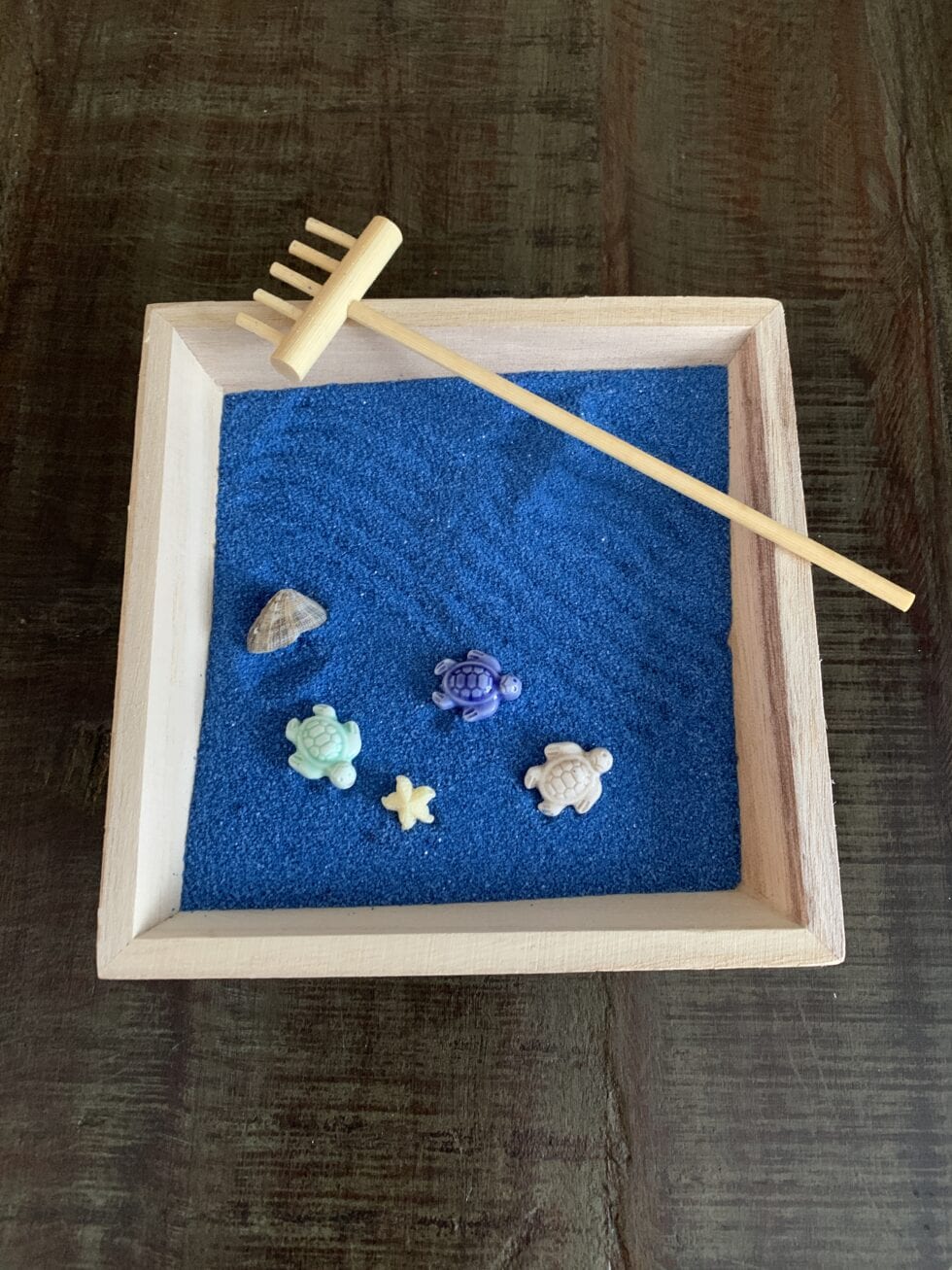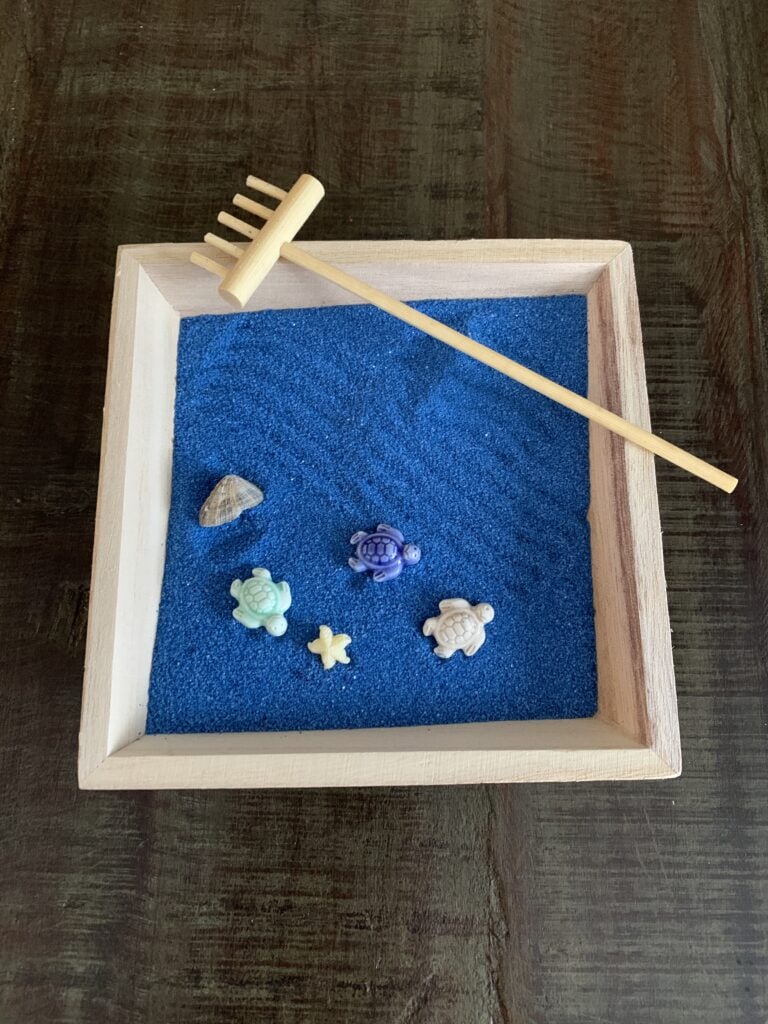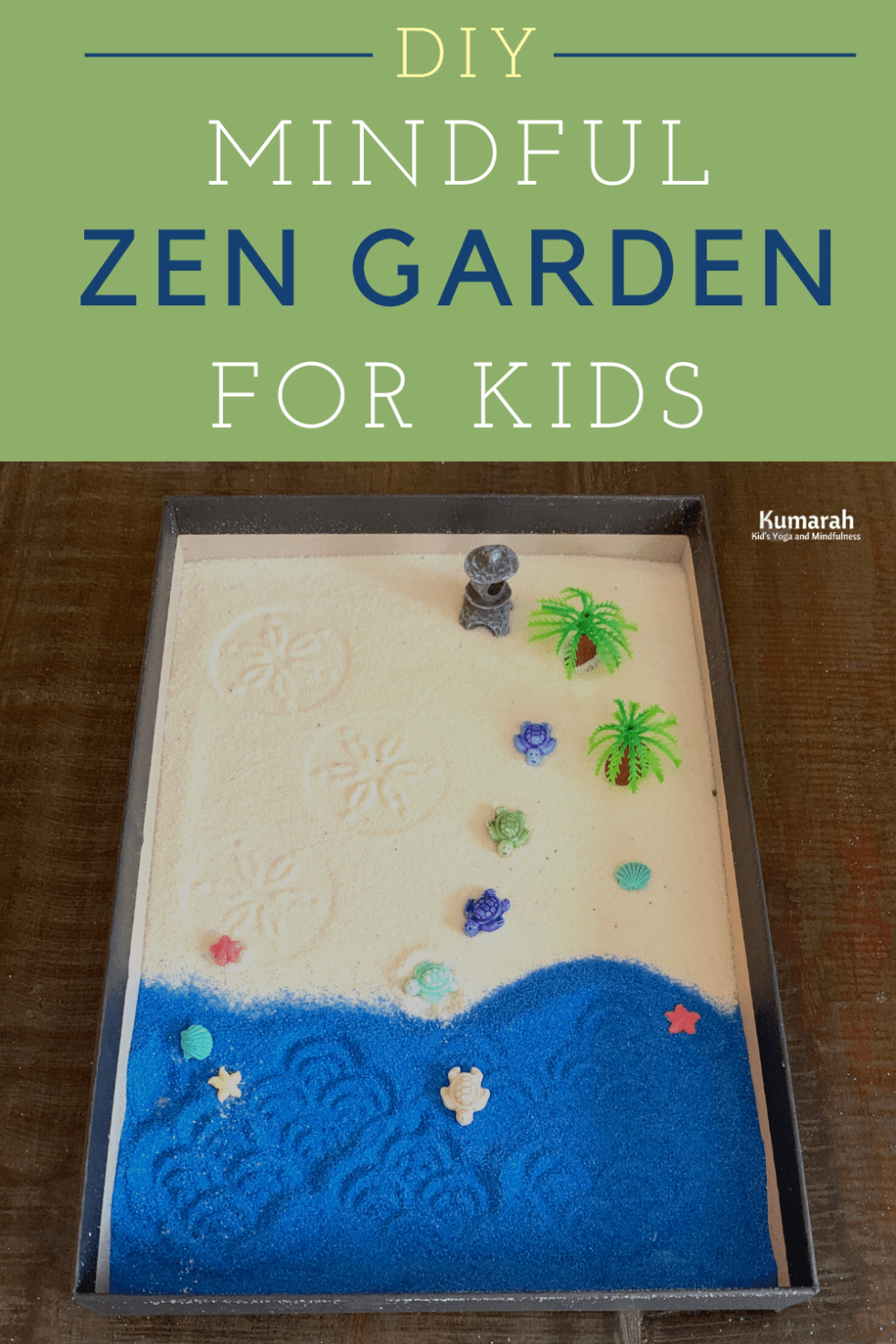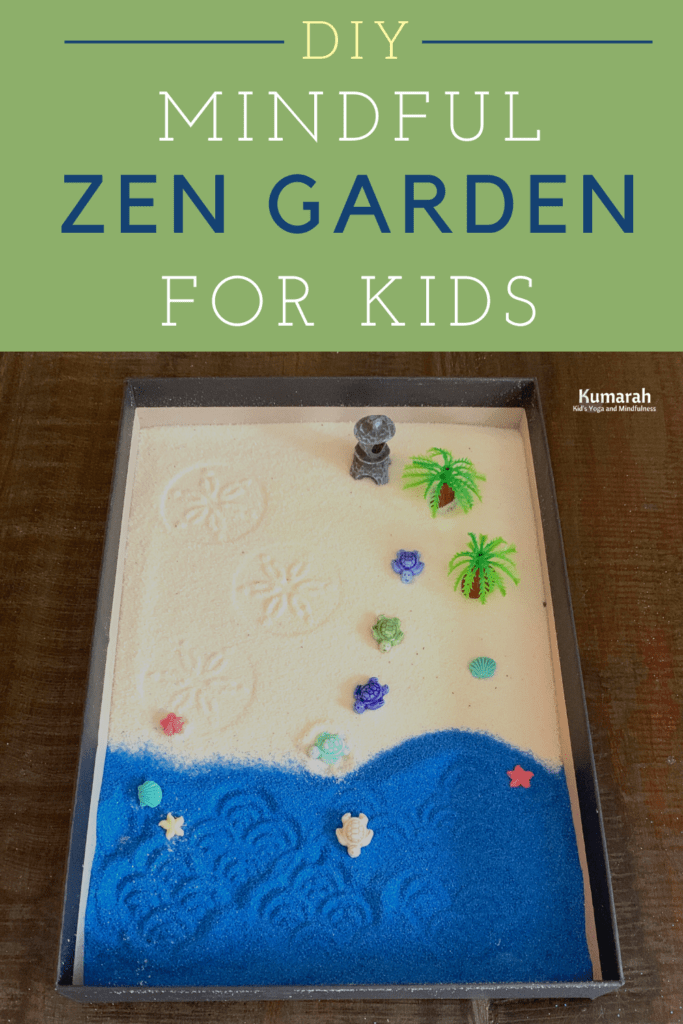 What other mindfulness crafts have you done with kids?
Here is what I have so far, I'll be adding more soon!