Christmas is a great time to connect with others and remember the joys of playtime and innocence. What better way to connect and play than to try some kids yoga poses with your little ones at home?
Or try some yoga in your classroom to infuse a little more joy?
Kids are great at yoga when you allow them to create, imagine, play, and connect with others!
Yoga also naturally helps kids learn to focus on their body, emotions, and connect to their brains with some mindfulness. Yoga is also great for balance, flexibility, strength, coordination, and developing self awareness.
Try some Christmas themed yoga poses with your kids or students in class to help them be even more creative and connected.
*scroll down for your free Christmas theme yoga lesson plan based on the book, Santa Duck!*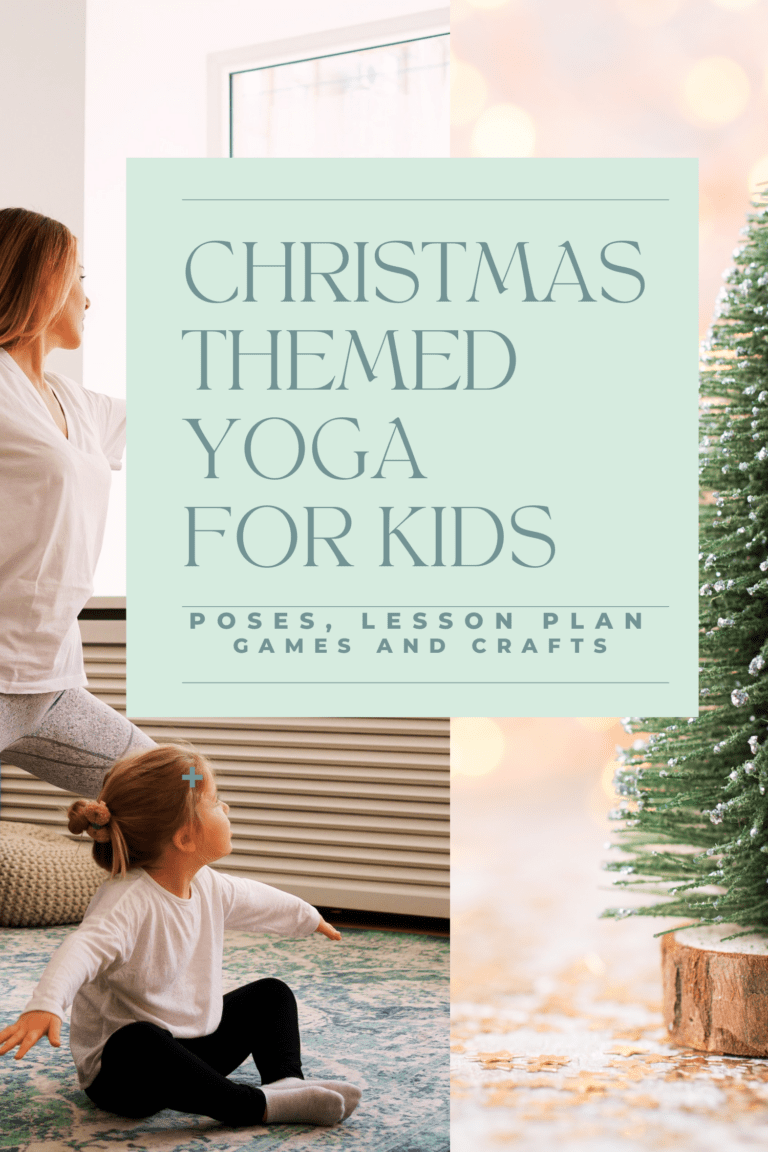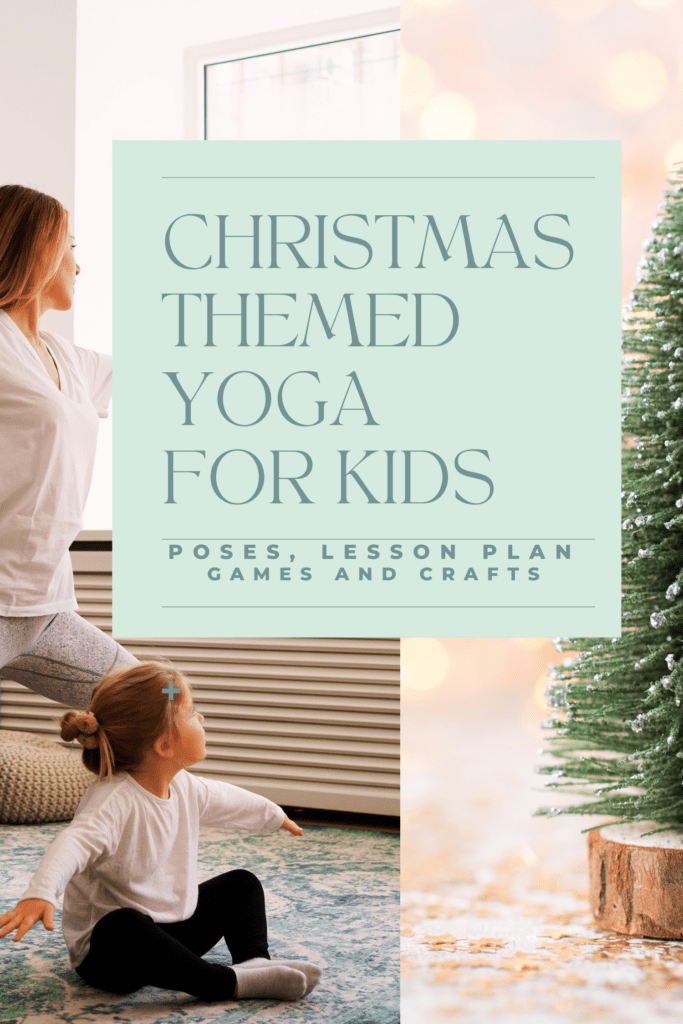 Mindfulness activities to start a Christmas themed kid's yoga class
It's a good idea to start your class with a mindfulness meditation or activity to help kids focus in or feel "grounded" (connected to themselves).
Play "I spy" with Christmas themed objects around the room, or just things that are red or green
Use a sensory bag or box to let kids reach in and feel something and describe it (pine branch, pine cone, elf shaped figure, bows and ribbons for wrapping, etc)
Ring a set of jingle bells and listen to the sound continue until you can no longer hear it (or use a singing bowl, which lasts a nice long time)
Move into a Yoga Flow to get kids warmed up and moving
A yoga flow is a great sequence for kids of almost any age. When you've gotten used to how to teach it consistently to kids you can add in additional fun themed poses, like these Christmas ones.
Here are the best Christmas themed yoga poses to add into your yoga flow:
Christmas Tree (Upward Mountain)
Snowflake (Star pose, tilting to one side)
Skiing (Chair pose with elbow tucked in)
Baby Penguin (Locust, instead of baby cobra)
Christmas wreath (Bow pose)
Arctic Seal (Up Dog)
Polar Bear (Down dog)
Snowboarding (Warrior 2)
Ice skating (Airplane or Warrior 3)
Arctic fox (Tiger)
Arctic wolf (Camel)
Snow ball (Child's pose)
Mindfulness Breathing Exercises for Kids
After getting kids warmed up, it's important to help them take a few deep breaths to activate their lungs and increase their focus, and help them slow their heart rate back down (the Yoga Flow tends to be pretty fast paced).
Try a mindful breathing exercise called "Hot Chocolate":
Imagine you are holding a warm mug of hot chocolate
Sniff in to breathe the chocolatey scent
Blow out gently to cool it off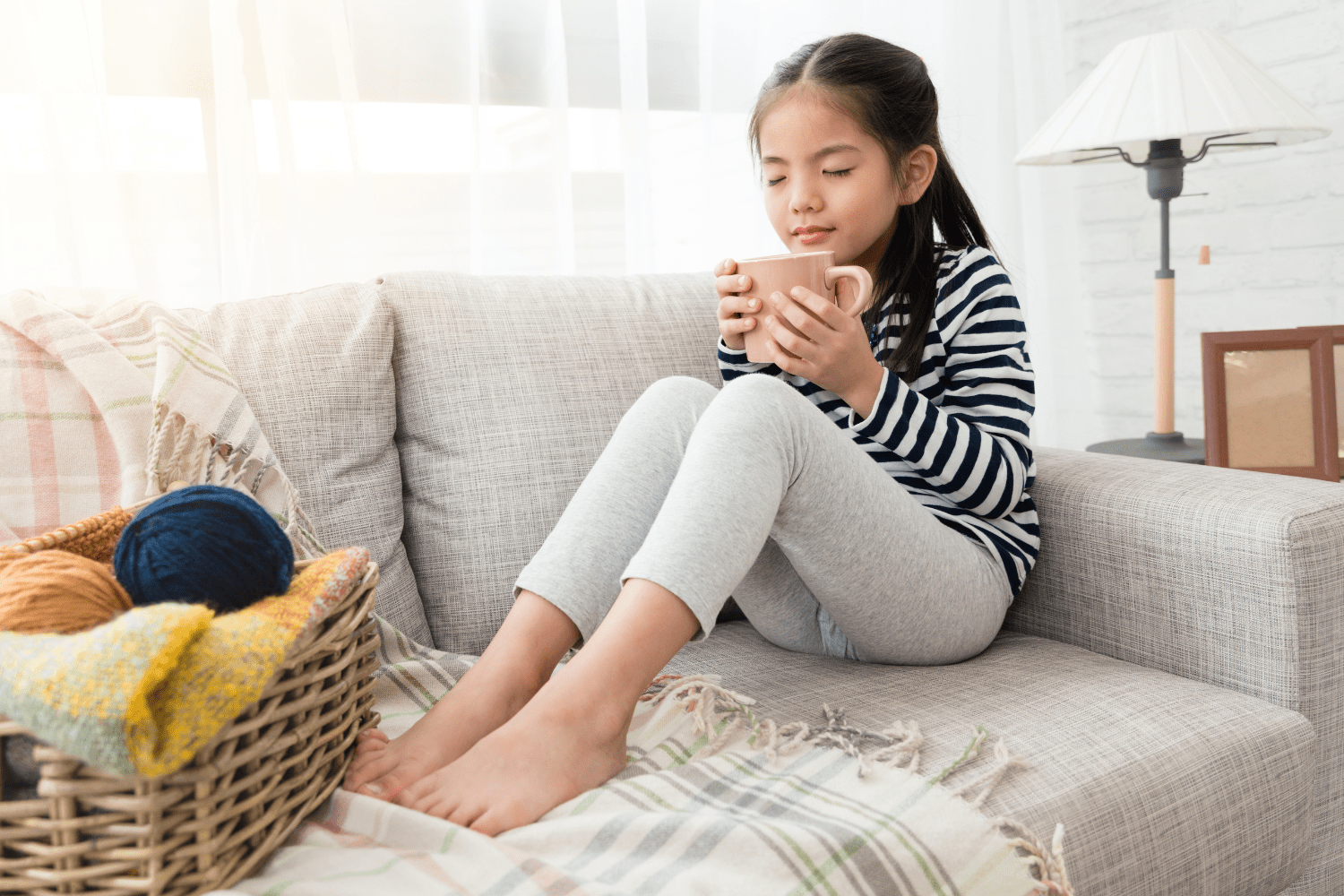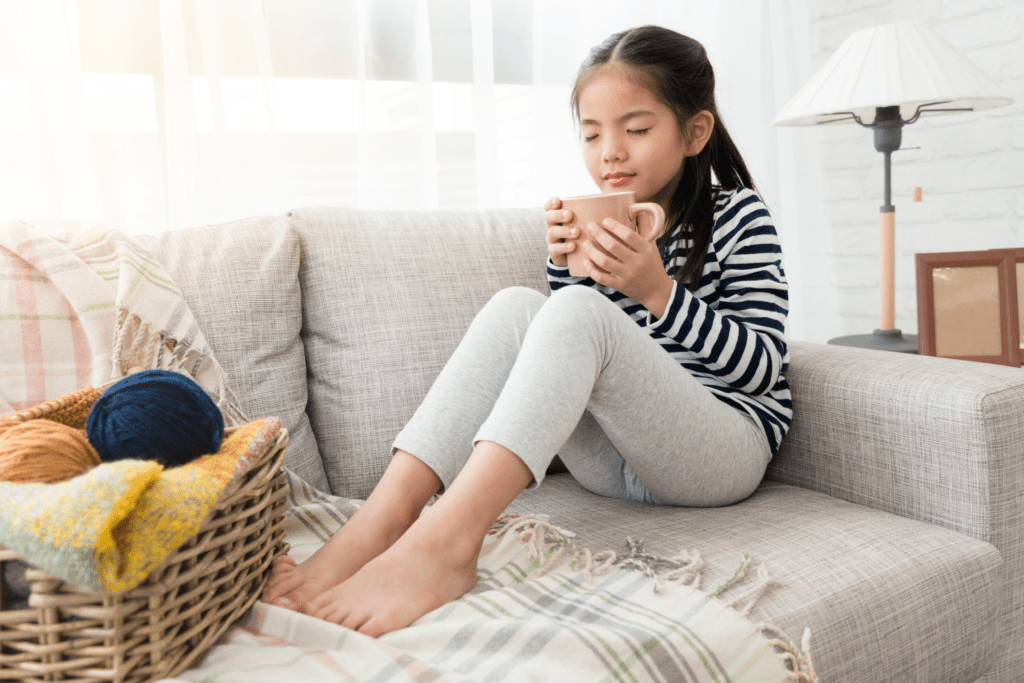 Or, try Santa's Ho-Ho-Ho breathing:
Sit up tall and place your hands on your belly
Breathe in deeply through your nose to fill your belly until it is nice and round
Breathe out with a loud "HO – HO – HO" and continue laughing out all the rest of the air
Try it a few times in a row to really get the giggles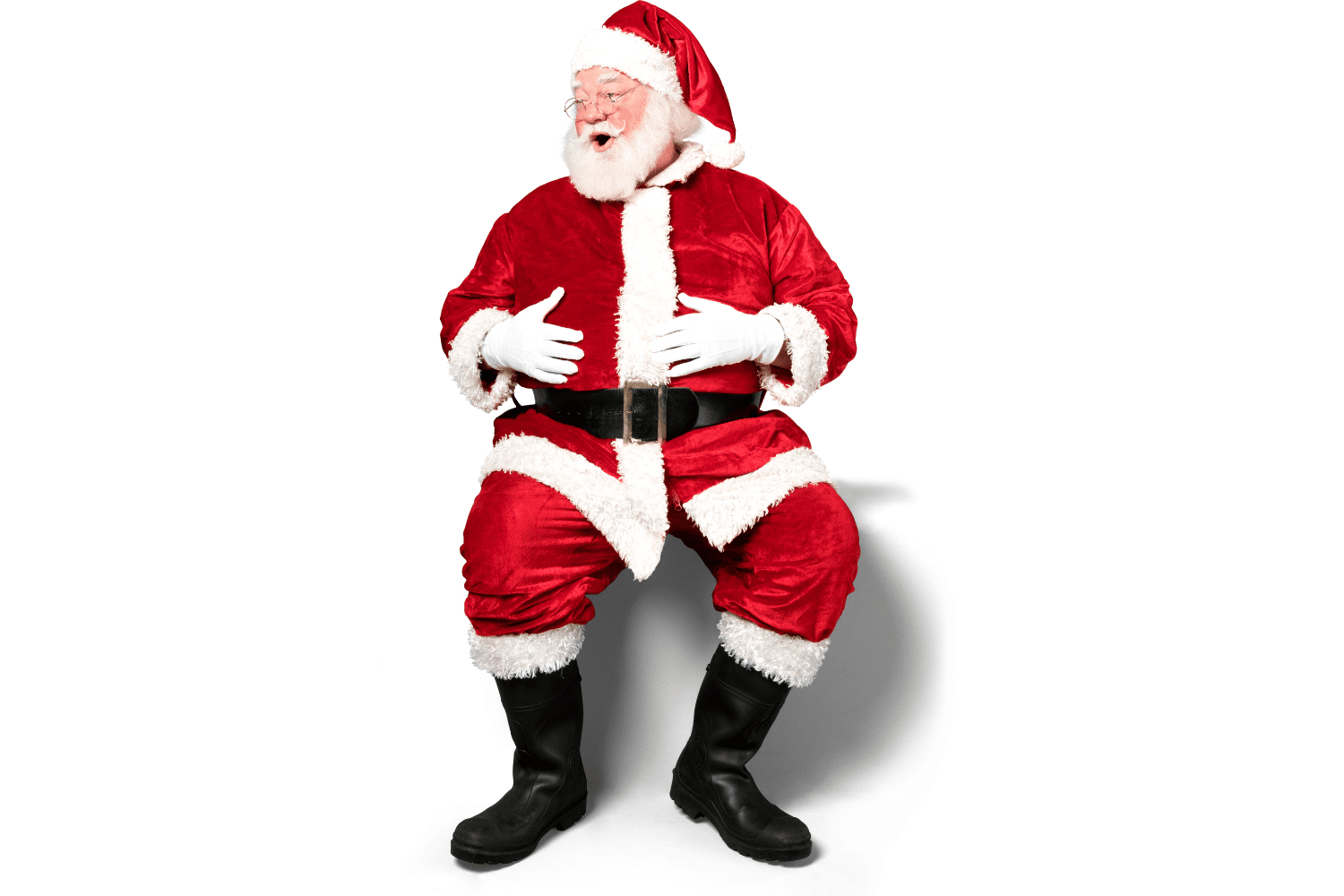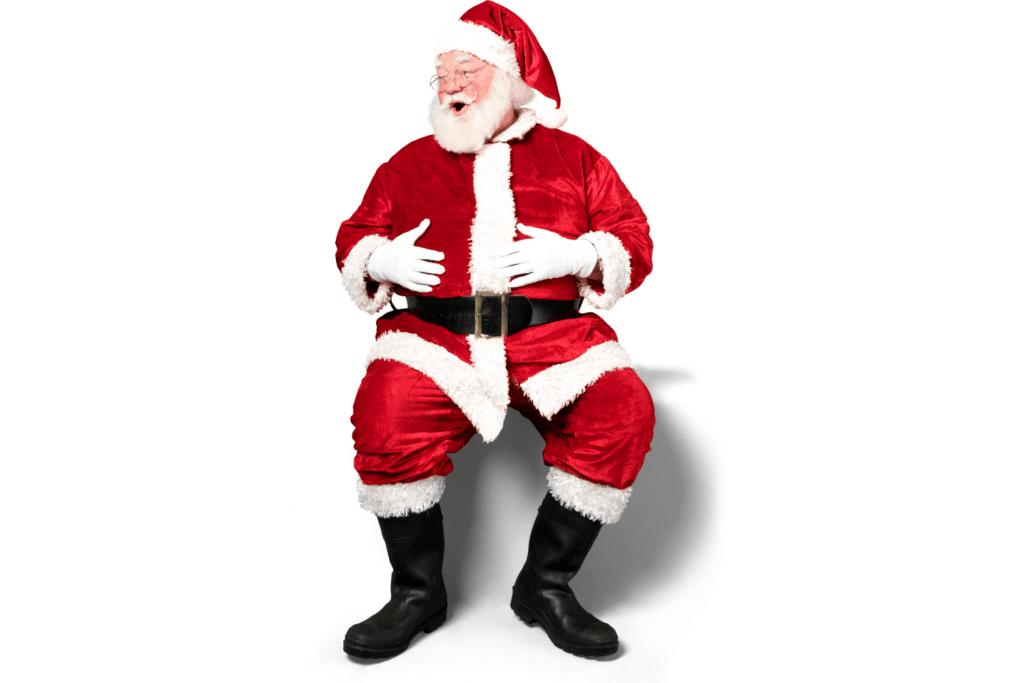 Add in a few more playful Christmas themed yoga poses and movements to try with your kids
Christmas Star: Stand with your feet far apart and your arms out wide to make a star shape. Close your eyes and imagine the bright light that you shine!
Snow Angels: Lay on the ground with your legs together and arms out to the sides. Move your legs apart and together, and your arms up and down from your hips to above your shoulders to make an angel shape.
Christmas Tree: Tree pose with your arms in a triangle shape above your head. Pair up and let one person pretend to "decorate" the tree while the other holds the balance. Then switch roles.
Reindeer: Stand on your knees and put one foot flat in front. Reach your hands up on your head and spread your fingers apart like antlers. Rock forward and back like a reindeer flying through the sky.
Snowflakes: Start in Star pose and rock slowly to one side, as if falling gently, then rock to the other side. Go back and forth a few times, or even melt all the way down to the ground.
Sleigh ride: Pretend to go on a sleigh ride. Sit with your legs straight out and your arms in front of you as if you are holding reins. Lean side to side to steer, and up and down as if you are going over hills. Bonus: sing "Jingle Bells"!
Christmas Themed Games and Activities for a Fun Yoga Class
Dance and sing to "Rockin' Around the Christmas Tree", and pause the music to freeze like a tree.
Arctic Animal movements! Move on your mat, or move from mat to mat in a sort of obstacle course or "river" across the room.

Waddle like a penguin
Roll like a polar bear in snow
Prance like a reindeer
Gallop like a moose
Stalk like a wolf
Pounce like an arctic fox
Jump like a hare

Pretend to ice skate on paper plates. Use paper plates to slide and glide around the room, putting on your favorite Christmas music to dance to.
Red Light, Green Light, TREE: A Twist on Red Light, Green Light– kids should tiptoe towards the caller, pretending they are the grinch sneaking to steal presents. When the caller yells TREE (instead of Red or Green), everyone freezes in Tree pose!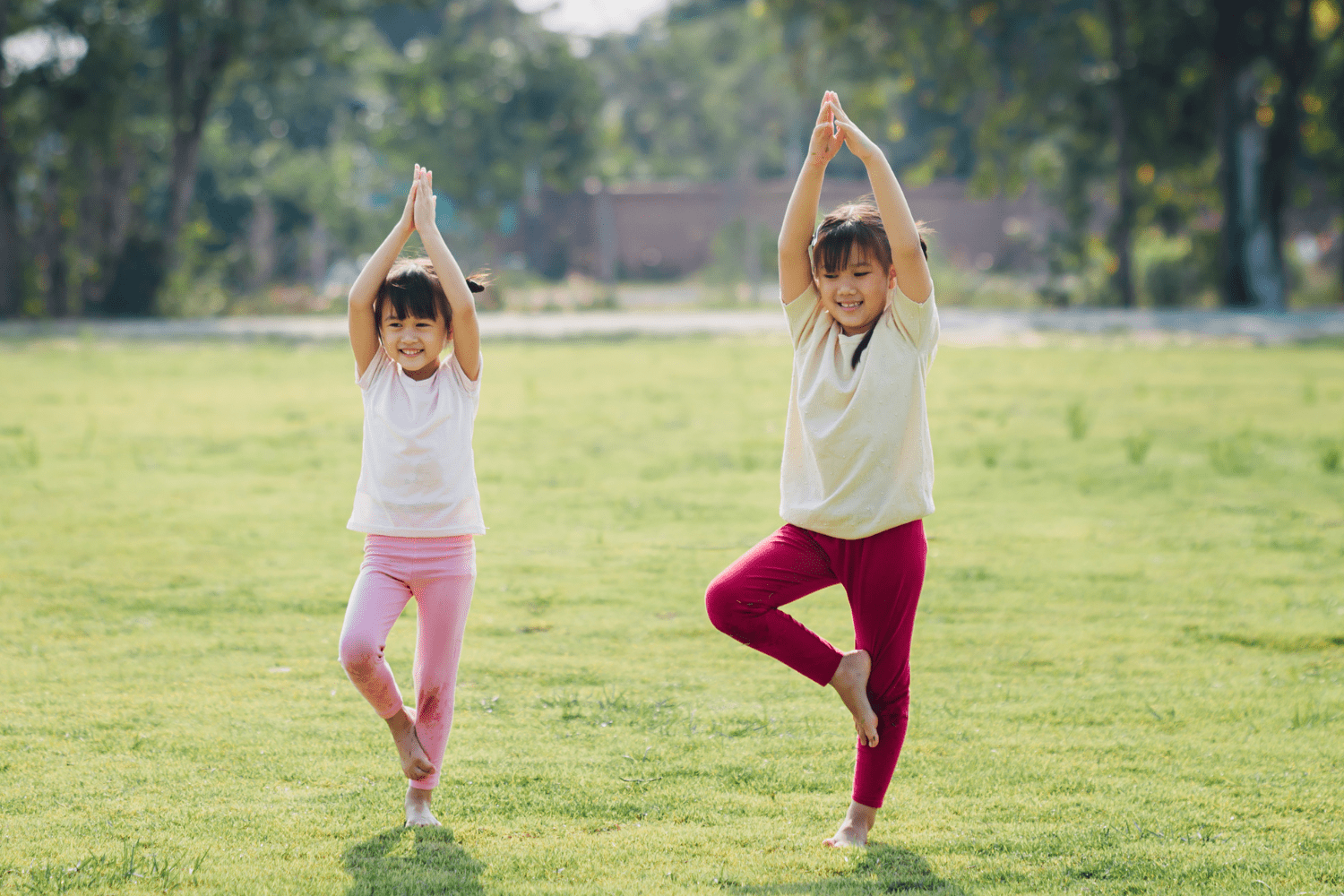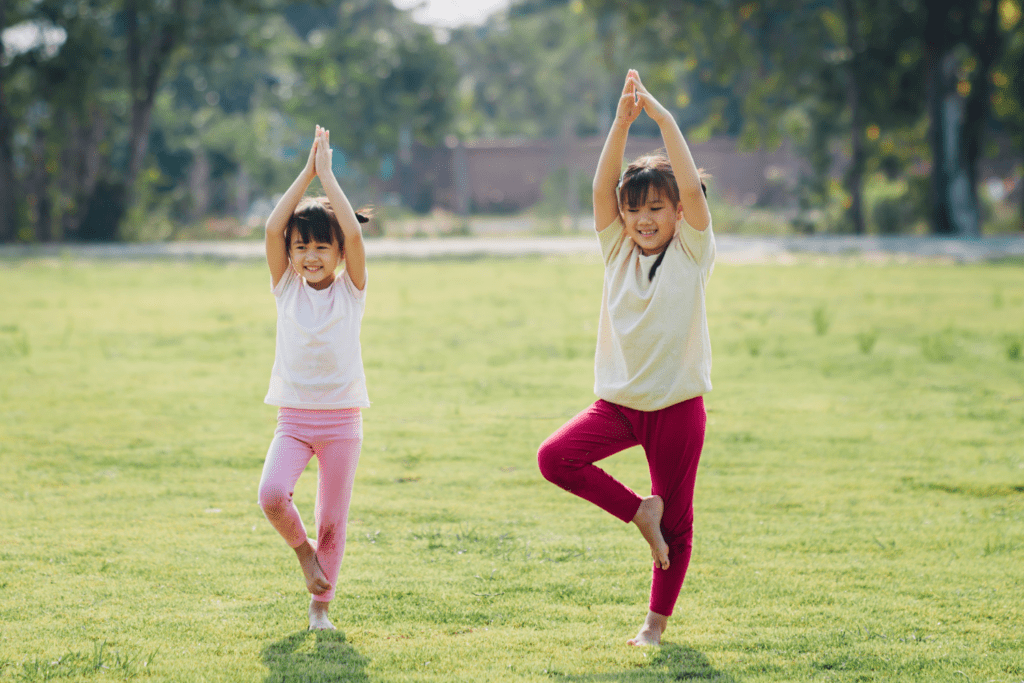 Santa Duck by David Milgram, Read Aloud with Yoga Poses
There are a lots of great Christmas books that you can read to your kiddos and add in yoga poses. Christmas Duck by David Milgram is one that works great because there are lots of animal characters, which are easy to convert into yoga poses.
So, grab a copy and read it to your kiddos, while adding in a yoga pose for each of these characters or objects. You can read and pause after each page to try the poses that go with each character (and their Christmas wishes!).
Box at the door – Jack in the box pose
Duck gets a Santa Hat – Triangle pose
Chicken – Toe stand with arms like wings
Helicopter – Star pose with arms whirling
Cat – Cat pose
Fish – Fish pose
Turtle – Turtle pose
Race car – Seated "L"
Squirrel – Yogi squat
Nuts – Rock and roll
Rabbit – Rabbit pose
Carrot cake – Upward Mountain
Hat – Triangle
Cow – Cow pose
Skateboard – Warrior 2
Kangaroo – Chair pose
Pig – Happy baby
Mouse – Child's pose
Goat – Unicorn
Duck – Toe Stand
Run in place!
It's ok to just read the last few pages with the climax of the story. Then let your kiddos lay down and rest as Duck also climbs into bed for some happy dreams on Christmas eve.
After you finish, let them rest and "dream" of how nice it is to have felt helpful to their friends. When they sit back up, maybe share the things they know their friends and family want for Christmas to continue the theme of giving to others and being a good helper.
For more books with lesson plans, especially themed lesson plans, check out the Empowered Educators community! There are over a dozen ready made lesson in there, with new ones being added monthly 🙂
Grab your free download of this lesson plan here:
Here are some other great Christmas themed books that work well for a yoga class:
Christmas Themed Crafts for Mindfulness and Fine Motor Skills
Reindeer Ornaments: These adorable reindeer fingerprint ornaments are a fun way to add some festive homemade cheer to a Christmas tree. Get your supplies ready and let the kids help you with these cute crafts they can take home.
Kindness Chain: Cut out colored strips of construction paper, a foot long and a few inches wide. Instruct kiddos to write a compliment to themselves, or someone else. Mix them up, then start to glue them into circles and link them together to make a chain> read each complement as you put it together.
Pom pom Christmas Tree: Trace a zig zag line of a Christmas Tree shape on construction paper with a sharpie. Use tweezers, chopsticks, or just fingers to glue small green pom poms on the line. Then add in other colors to decorate the tree in between.
Nature walk inspired ornaments: Go for a mindfulness walk outside (notice the sights, smells, textures, and temperature. Gather some sticks, pine cones, branches, etc. Arrange your findings into some creative shapes like trees or stars. Secure them with hot glue and decorate with ribbons to make your very own Christmas tree ornaments.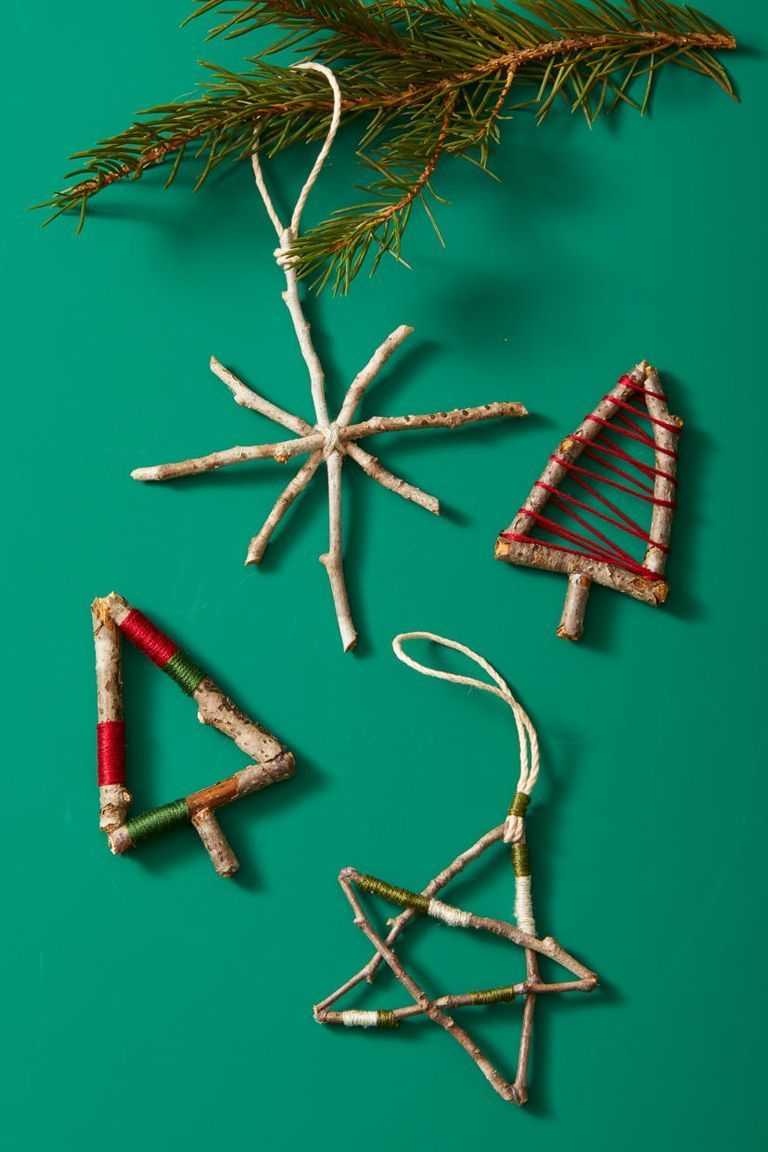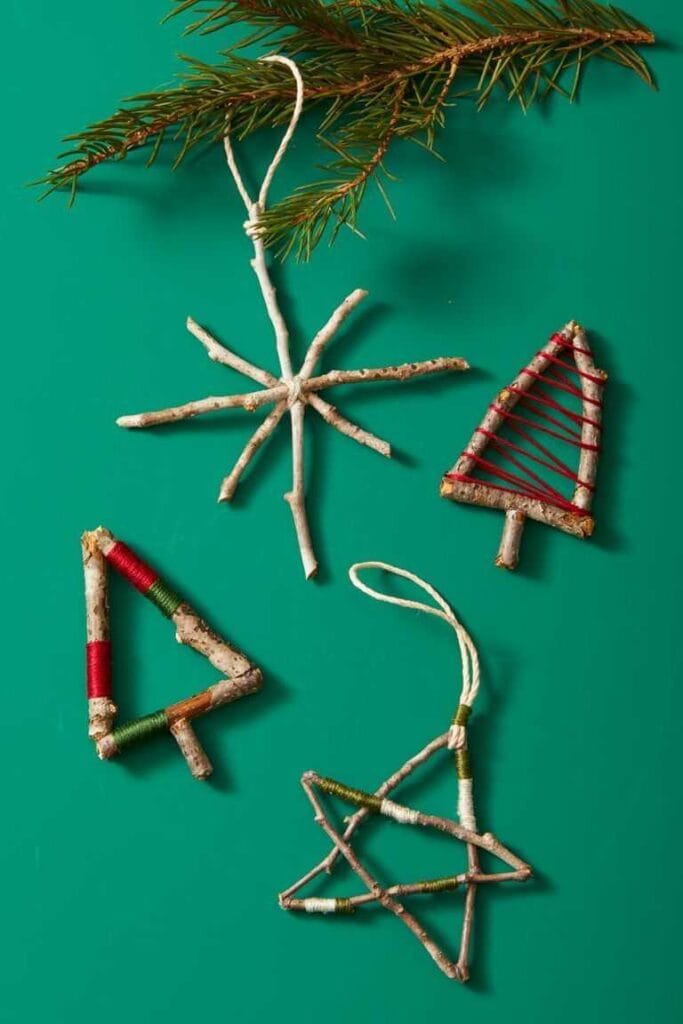 Mindfulness Glitter Jar Snow Globe: Use a wide-lidded plastic bottle or glass jar (if you are careful). Fill with glycerin, warm water, white chunky glitter, and some fine silver glitter. Glue a few plastic pine trees or a snowman to the inside of the lid, then seal it all together. Shake it up and watch your globe become a winter wonderland!
Click here to learn the recipe for a Calm Down Glitter Jar.
Enjoy these fun yoga, mindfulness and crafting activities with your kids in school, at home, or at the yoga studio. Let me know what else you have tried for celebrating the holiday seasons with your students!